Everybody is excited over a proposal coming from San Miguel Corporation to build a new $10 billion airport to replace the hopelessly decrepit and congested Ninoy Aquino International Airport (NAIA). NAIA is the main international gateway for travelers to the Philippines and is the hub for all Philippine airlines. The airport is named after the late Senator Benigno "Ninoy" Aquino, Jr., who was assassinated at the airport in 1983. In 2012, all terminals at NAIA handled a record breaking annual passenger traffic of 31,558,002, making it one of the busiest airports in Asia.
According to Manila Standard Today columnist Florencio Fianza, the San Miguel proposal is a game changer…
The proposal is for the reclamation of part of the Manila Bay to put up a modern international airport complex with four runways. If this plan pushes through, it will truly be a game changer for the country. We would have a first-class airport that could rival the best in the world. This is exactly what we need at this stage of our development. If we want to join the big time, what we need is a WOW airport that we Filipinos could all be proud of and foreigners,upon landing on our shores, could not help but be impressed by their first sight of the country. This, instead of a squatter colony that one sees upon leaving Naia. First impressions are important when you go to a foreign country and it is important that we showcase our best in our international airport.
The future looks bright then, if all this comes to fruition. Here is a rundown of the competition:
Singapore Changi Airport (SIN), Singapore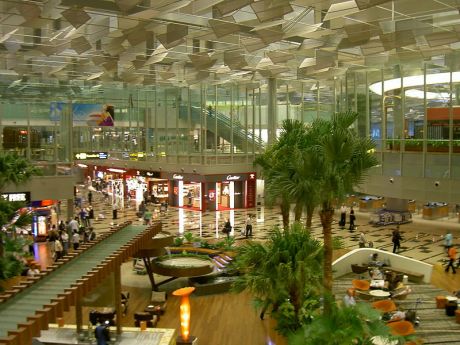 In 2013, the airport handled 53.1 million passengers, a 5% increase over the previous year. This made it the fifth busiest airport by international passenger traffic in the world and the second busiest in Asia by international passenger traffic in 2012. The airport registered 4.92 million passengermovements in December 2012, a growth of 8.6% year-on-year. Changi's daily record was broken on 21 December 2013, the Saturday before Christmas Day, with 191,800 passengers passing through the 24 hours. In addition to being an important passenger hub, the airport is one of the busiest cargo airports in the world, handling 1.85 million tonnes of cargo in 2013. The total number of commercial aircraft movements was 343,800 in 2012.
The airport has won over 430 awards since 1981, including 30 'Best' awards in 2012. Changi Airport's efforts to counter the onset of age include periodic physical upgrades to its existing terminals and building new facilities.
Kuala Lumpur International Airport (KUL), Malaysia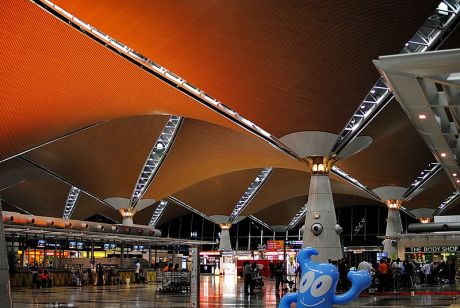 As of 2013, the airport handled 47,498,157 passengers and was Asia's fastest growing airport recording a 19.1% growth year-on-year. It was ranked the 9th busiest airport in the world by international passenger traffic, and is the 4th busiest international airport in Asia. It was ranked the 19th busiest airport by cargo traffic in 2010.
Its international terminal (Satellite Terminal A) has prayer rooms, showers and massage services. Various lounge areas are provided, some including children's play areas and movie lounge, broadcasting movie and sport channels. The terminal also features a natural rainforest in the middle of the terminal, exhibiting the Malaysian forests.
Bangkok Suvarnabhumi Airport (BKK), Thailand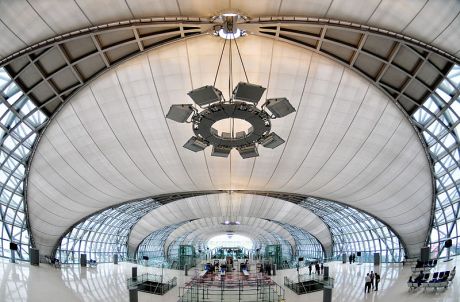 The airport has the world's tallest free-standing control tower (132.2 metres or 434 feet), and the world's fourth largest single-building airport terminal (563,000 square metres or 6,060,000 square feet).
Suvarnabhumi is the sixteenth busiest airport in the world, sixth busiest airport in Asia, and the busiest in the country, having handled 53 million passengers in 2012, and is also a major air cargo hub, with a total of 96 airlines. On social networks, Suvarnabhumi is the world's most popular place where Instagram photographs were taken in 2012.
Jakarta Soekarno-Hatta International Airport (CGK), Indonesia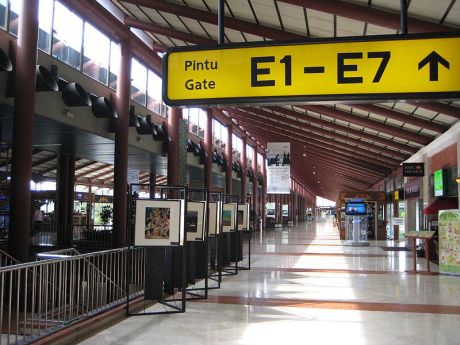 Soekarno–Hatta International Airport has 180 check-in counters, 36 baggage carousels and 45 gates. The sub-terminals (1A, 1B, 1C, 2D, 2E, and 2F) have 25 check-in counters, 5 baggage carousels and 7 gates each. Terminal 3 has 30 check-in counters, 6 baggage carousels and 3 gates.
Although the airport is running over capacity, on May 4, 2012, after verification from April 23 to May 3, the Airport Council International (ACI) stated that Soekarno–Hatta International Airport is clearly being operated safely. To overcome the overcapacity, on August 2, 2012, ground was broken at terminal 3 to make it into an Aerotropolis airport which can serve 62 million passengers per year.
Ho Chi Minh City Tan Son Nhat International Airport (SGN), Vietnam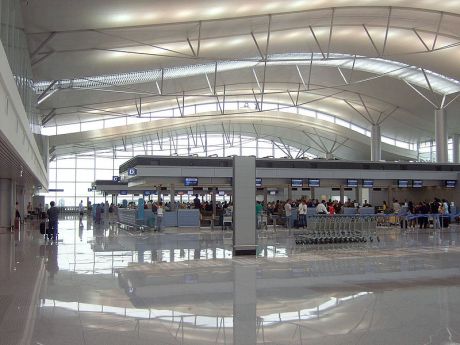 Tan Son Nhat International Airport is the largest airport of Vietnam in terms of passengers handled (with a number of 17,538,000 passengers per year in 2012, accounting for 46.6% of Vietnam's air passenger traffic),[7] serving Ho Chi Minh City as well as the rest of southeastern Vietnam. Its IATA code, SGN, is derived from the city's former name of Saigon.
[NB: Parts of and photos used in this article were lifted from various Wikipedia.org airport articles in a manner compliant to the terms stipulated in the Creative Commons Attribution-ShareAlike 3.0 Unported License that governs usage of content made available in this site.]
benign0 is the Webmaster of GetRealPhilippines.com.