Seems like the 'in' place in the UP Diliman campus of late is the College of Public Administration. If you had happened to have been a student there in 2010, you would've been able to make tambay with the likes of Ai Ai delas Alas.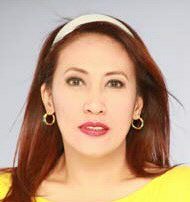 It is there, according to the Inquirer, where Ai Ai has been "preparing" for her plan to run for office in 2016.
Beyond the tighening of certain female orifices, I wonder what Ms Ai Ai will be championing as a Philippine government official.
Well I found the answer to that to be a bit ironic…
If she makes it to Congress, De las Alas hopes to champion the welfare of women, especially battered wives, "because I went through that." In March, a Las Vegas, Nevada, court granted her petition for divorce from husband Jed Salang, a businessman. She accused Salang, who is 20 years her junior, of physical abuse.
Fortunately, that didn't put her off remaining active in the dating scene. Ms delas Alas according to reports continues to maintain a vibrant lovelife, preferring younger men to men her age. "Men my age are most likely married, with kids. I don't want to ruin marriages," she explains. But then she also said she prefers Filipino men over foreigners. "I struggle with English," she also says.
Wait a minute, aren't all Philippine laws written in English??
Patay.
Maybe next term, UP students in English language courses will be treated to the sight of Ai Ai preparing some more. 😉
Frustrated artist doing geek for a living.