The clamor to have a document containing a list of members of Congress who allegedly had dealings with accused pork barrel scam ringleader Janet Lim-Napoles is growing louder, fueled by indignation mongering drummed up by both traditional and social media. Leading the charge is a certain "Scrap Pork Network" (or just #ScrapPork), a coalition of various activist groups that reportedly includes "Angkop (Aksyong Kabayanihan para sa Organisadong Pagbabago), Bagac Bagong Mukha, AkapBayan (Alyansa ng Kabataan Pilipino para sa Bayan), Juana Change Movement, Sunken Garden United, Project Nameless, Peace Church, Whistleblower's Association, Institute for Freedom of Information and individuals like Carlos Celdran, Rafael Alunan III, Fr. Robert Reyes, Butch Garcia, among others."
So far, #ScrapPork Network is pretty much the only "civil society" group making any waves of consequence as they have been recently cited in reports in the Philippines' Big Three traditional media outlets, ABS-CBN, GMA Network, and the Inquirer.net. The key artefact around which these reports were fielded is a letter released by the group addressed to Department of Justice Secretary Leila De Lima demanding "full-disclosure" of the contents of the puported list.
"The people are clamoring for transparency and accountability. The people are hungry for justice… Madam Secretary, as a public servant of the Filipino people, we enjoin you to make available any and all information which Mrs. Napoles relayed to you in relation to the PDAF scam," the letter read.
It certainly sounds serious. One would wonder though whether a bunch of "activists" publishing photos of themselves sporting Kardashianian duckfaces can really be taken seriously…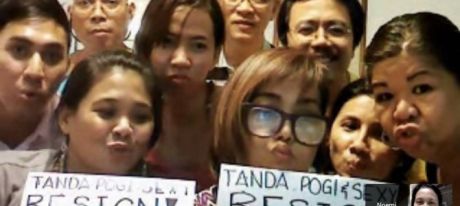 Inquirer.net columnist Randy David today weighed in on the issue of whether the thinking behind the calls to release this purported list of tainted members of Congress is sound. David frames his assessment on the premise that, really, when a crime has been reported and suspects identified, it is normally up to the justice system alone, left to its devices, to work through due process. David observes that in the Philippines, where politics trumps thinking, this has never been the case in most instances…
If we step back and view this practice from a distance, we will find that it is, ironically, the political system itself—with the mass media—that is preventing the legal system from quietly doing its work. Notice how typically, in nearly every celebrated case, at least three forms of inquiry are going on at the same time, sharing witnesses and asking the same questions: first, a talk show or press conference, followed by a congressional investigation, and finally, the least exciting one, a formal hearing in a prosecutor's office or a courtroom. Without exception, the political overrides the legal. Need we still ask what has been the root cause of our societal dysfunctions?
Interestingly, David points out that those who stand to gain the most from all the noise surrounding this issue could be top suspects Senators Juan Ponce Enrile, Jinggoy Estrada, and Bong Revilla…
At this point, who stands to gain most from the publication of a long list of pork barrel scammers? Certainly not the justice system, which is already choking with the cases that were filed soon after the first incriminating disclosures were made by the former Napoles employee Benhur Luy and his fellow whistle-blowers. Definitely, the ones who stand to gain the most are the big fish who have been breathing laboriously because their gills are wedged in the law's net.

It is they who seek to sow doubt in the public discourse: If a majority of our legislators, past and present, have been clients of Napoles, can the practice of receiving pork barrel kickback be so morally reprehensible? If almost every politician in the country has been doing it, would it still be a crime? Is it the act itself that is being punished, or is it the political affiliation of the perpetrator?
Normally you'd think that all this is just a straightforward legal exercise. There is a clearly-articulated law, an act deemed criminal in the context of that law, and evidence that conclusively points to certain people. Then there is the Napoles List. Secretary De Lima asserts that the information contained in the list has yet to be verified. The demand for full disclosure espoused by the #ScrapPork Network revolves around a need to "enable citizens to independently inquire into and verify what funds and projects were involved, and who among our public officials may have been involved…" The group invokes the citizens' constitutional right to information stipulated in Article III Section 7 of the 1987 Philippine Constitution which reads…
The right of the people to information on matters of public concern shall be recognized. Access to official records, and to documents and papers pertaining to official acts, transactions, or decisions, as well as to government research data used as basis for policy development, shall be afforded the citizen, subject to such limitations as may be provided by law.
The question therefore is:
Is the Napoles List an official government record or document that pertains to an official act, a government transaction/decision, or a form of input into research used for policy develoment?
If the answer to the above is a "Yes", then certainly, Secretary De Lima would be obliged to release the document for public consumption.
My feeling is that the Napoles List does not fit the above criteria. It is a piece of evidence gathered in the course of an on-going criminal investigation and, as such, subject to full jurisdiction of the investigating bodies who are its custodians.
The argument that the public have a right to be privy to evidence used in this case would fly if this exercise were political in nature. But, unlike the impeachment trial of former Chief Justice Renato Corona, this is not a procedure being facilitated by a political body. It is being undertaken within the framework of a system owned by the Judiciary.
[Photo courtesy ScrapPorkNetwork.com.]
benign0 is the Webmaster of GetRealPhilippines.com.