A TV report on Bandila that aired some time this week had me a little flabbergasted.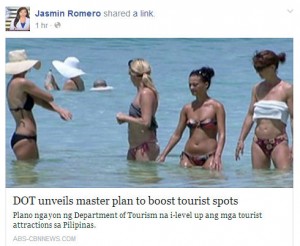 According to a report from Jasmine Romero, the Department of Tourism had created yet another "master plan" to "level up" the country's tourism and part of that masterplan involves turning Roxas Boulevard into a tourist attraction.
Let's forego the discussion of whether or not the fact that a government agency made a master plan is actually NEWS.  Never mind, also, that the featured image carried by the online version of the TV news report is actually of tourists soaking in Boracay and not Manila Bay.
Thing is, I simply can't remember just how many master plans have been made for the country's tourism.  It seems every administration has one and they're usually introduced right around the start of the new President's term when it would have some kind of chance of being implemented.  The fact that this latest tourism master plan has been unveiled near the end of Pnoy's term should probably be a huge hint that it doesn't stand a chance of being substantially implemented.
If the plan for turning Roxas Boulevard into a tourist attraction means putting up covered walks and comfort rooms, it would still be an abysmal failure when you think of what really ought to be done: CLEAN UP MANILA BAY.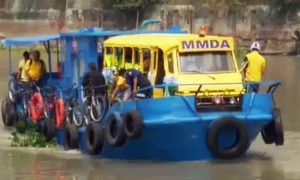 Right after the MMDA paraded its Pasig River showboat, the latest brain-fart that in no way will actually ease traffic congestion on EDSA, we now have the Department of Tourism telling people that foreign tourists will want to stroll near the toxic waters of Manila Bay.
And proof that good intentions are worthless without actions, let me remind you that in 2011 the DILG made a big announcement about "bringing back the glorious beauty of Manila Bay.
In a bid to bring back the glorious beauty of Manila Bay, Interior and Local Government Secretary Jesse Robredo led Metro Manilans last weekend in the massive clean-up drive of Metro waterways, rivers and creeks dubbed as One Day, One Bay.

Robredo said One Day One Bay aims to encourage Metro LGUs, the general public and other concerned sectors to participate in the drive to restore the innate beauty of Manila Bay.

"We all enjoy watching the sunset at the Manila Bay. Let this not be a thing of the past. Let us act now to save Manila Bay and take part in this clean-up revolution," he said.
That was way back in 2011 when Jesse Robredo was still alive.  Now that nearly a third of 2014 has passed and intramurals for the 2016 elections has begun, I don't think Pnoy's administration was at all serious about cleaning up Manila Bay because it still pretty much smells like an open septic tank.
More than 5 years after the Supreme Court ordered government agencies to clean up Manila Bay, "nothing much has improved" in terms of water quality.

This was the bad news shared by Manila Bay Coordinating Office (MBCO) executive director Noel Gaerlan to Rappler during a Department of Environment and Natural Resources (DENR) event on Friday, February 14.

"In fact, if we're talking about seasonality, halos pareho lang ang trend (the trend is practically the same). It's even increasing, if we're talking about coliform levels."

An indicator of water quality, coliform is a bacteria found in the fecal matter of all warm-blooded animals, including humans. The higher the coliform levels, the more likely other bacteria are present, and the more polluted the water.

The Writ of Continuing Mandamus for the rehabilitation of Manila Bay called on the government in 2008 to restore Manila Bay water to class "B" level, meaning fit for swimming and other forms of contact recreation. The ideal coliform level for this water class is 1,000 MPN (most probable number per 100 milliliters).

So what's the current coliform level of Manila Bay now? In the millions, said Gaerlan.
Well, really, did we expect President Aquino to achieve anything with his term? We knew that this administration was full of BS to begin with, so the proliferation of master plans and lack of actual implementation should be no surprise at all — especially for an administration led by someone who should be writing with crayon.
(Post Script: Ever come across the 3M waste marketing strategy?  Supposedly, in coming up with band-aid strips, it deliberately sold them in packs of three.  The usual small cut or wound lasts for about 4 days and with a pack of just three strips, people buying the pack would be one strip short.  This would lead the buyer to get two packs instead of just one, immediately doubling their sale. 
How does this relate to the Aquino Administration? Well, call it crazy, but perhaps the huge number of unfinished and unaccomplished projects will be Pnoy's argument for people to vote for whoever he endorses.)