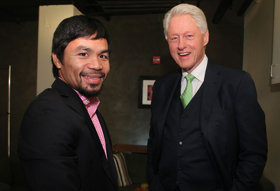 Talk surrounding who might be Philippine President Benigno Simeon "BS" Aquino III's successor in 2016 is getting more and more interesting by the week! On Jimmy Kimmel Live, former US President Bill Clinton issued his view on the prospects of boxing champ Manny Pacquiao moving up the political ranks in the Philippines…
"He's already in the Philippine Parliament, and I hope he goes right up on the ladder, and I think he's a great guy and he's a great role model for the country and he's very strong and honest and so he's thinking about the rest of his life," said Clinton.
…a view which Kimmel, in turn, relayed to the Champ following Clinton's appearance…
"President Clinton says he hopes you eventually will lead the Philippines that you one day will run the country, is that something that's in your brain?" asked Kimmel.
To which Pacquiao replied, "Right now I'm focused on my position as a congressman".
Mid last year, Pacquiao had also hinted at plans to run for President of the Philippines…
When pressed on whether he had thought about shooting for the top job, the softly-spoken 34-year-old replied "Yes".

Drawing parallels between his pugilism and politics careers, the former world champion in eight weight divisions said: "When I started boxing, of course I was planning, you know and thinking about getting to become a champion. So when I enter politics it's the same thing.

"But, you know, it's far away," he said, adding: "It's God's will."
Pacquiao will need a lot of money to mount a presidential campaign. This is going to be a tough challenge considering his on-going tax issues with the Philippines' Bureau of Internal Revenue (BIR) which, itself, is under a lot of pressure to collect more taxes from the Filipino people. It all started with "reports" following the boxing match between Pacquiao and Brandon Rios in Macau that Pacquiao's bank accounts were "frozen" over a long-pending Php2.2-billion rax case. The news first broke in a Manila Bulletin report of a warrant of garnishment (WG) issued by the BIR that effectively bars Pacquiao from accessing his bank deposits among other assets.
To follow through on his awesome achievements as a boxer, and then as a Philippine politician, Pacquiao has long been busy styling himself as the Ninong ng Bayan — the "godfather of the Filipino people". But there is a looming risk to Pacquiao's fortunes down the path if he is to go down this slipperly slope. When the awesome income he derives from his stellar boxing career dries up, where will he get the funds to sustain that image?
The only real next step for Pacquiao is the Philippine presidency. When one has been the world's "pound-for-pound best fighter", where else do you go but down? Fortunately for Pacquiao, there isn't much in the way of real qualifications that stand between him and the Philippine presidency. Pacquiao is certainly popular. And in Philippine "democratic" politics where "the majority rules", he's got it made.
[Photo courtesy Yahoo! Sports.]
benign0 is the Webmaster of GetRealPhilippines.com.