Indeed, the Philippines is a wild trail that needs to be negotiated. And as experienced trackers and wilderness negotiators will point out, navigating a wild trail is not for the faint-hearted and dimwitted. You need brains, you need stamina, you need guts.
Do Filipinos have any of those virtues?
Well now, don't get us started.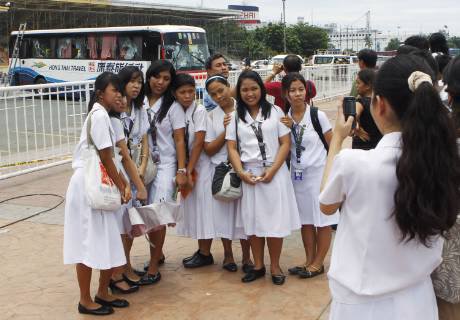 To begin with, Filipinos do not have any brains. That fact is reflected in the quality of their leaders in the Executive branch and their representatives in the Legislative branch of their government. All of these people were elected by popular vote.
The Vote. Remember that concept? That was the notion put on a pedestal by an entire generation of "activists" to represent that nebulous "power" that Filipinos "regained" after that so-called "revolution" in 1986. What we are seeing today is the utterly brainless way with which Filipinos wielded that power. So, invoking democracy's most fundamental concept and the exceedingly simplest logic that uderpins it, these politicians represent — no, are embodiments of — the "will" of the Filipino people.
At the helm is one of the most uninspiring and unqualified leaders in Philippine history. And the bozos who preceded him in that office? Well, every camp in the Philippines' vacuous political "debate" will have something to say about the quality and integrity of those as well. As for these "representatives" in Congress, no need to elaborate on that. We are in the midst of a vast thievery scandal the likes of which boggles even the minds of the very crooks themselves. The Senate, we are told, have "recommended" the filing of charges against a handful of them for gross malversation of hundreds of millions of pesos in public funds. Quaint. Like a den of thieves ratting on their chosen fall guys when feeling the crunch. Just another circus act in the on-going circus that is Philippine politics.
Second, Filipinos do not have stamina. Another no-brainer there. This is a society, after all, renowned for a national philosophy built around two key catchphrases: pwede na yan ("that'll do, mate") and ningas cogon ("adios, so much for that project"). So go figure. The Philippines today is the massive outcome of thousands of unfinished businesses and half-assed "results" from those proclamed "completed". Much of its infrastructure is still hinged on cornerstones laid by former colonial masters America and Spain — 68 years after being granted "independence"! And as we are seeing today, the United States card still accounts for 99% of the Philippines' defense strategy against external aggression and disaster response framework for domestic catastrophes. Mantakin mo yan.
Finally, Filipinos do not have any guts. Well, they do, but all of it has been laid in one basket: Manny Pacquiao. Beyond Manny Pacquiao, the Philippines really has not much to show as far as real guts in the real sense of the word are concerned. The whole Bangsamoro "Framework Agreement" recently touted as the herald of eternal peace in Mindanao is a case study of gutlessness on a national scale. That "peace" was bought at a huge cost to national equity — in exchange for the Philippines' long-standing claim on the territory of Sabah and through the creation of the appalling precedent of a national government negotiating with armed terrorists. Guts, indeed. The only thing achieved here is a unilateral re-definition of that concept. Chalk one up for Pinoy Pride!
The lesson is quite simple. You can't be a great nation unless you've got clear achievement to buttress that greatness. For now, it is all a nice and peachy exercise imagining that greatness and exchanging a few high-fives about it. But imagining it and actually aspiring to it are two vastly different exercises. With imagination, you only get ideas. With aspiration, you are likely to get real next steps in the right direction.
benign0 is the Webmaster of GetRealPhilippines.com.