At first glance, competition seems like a dirty word if you're a Filipino. But what formal definition/s exists/exist of the word "competition"?
1. The act of competing; rivalry for supremacy, a prize, etc.;
2. A contest for some prize, honor, or advantage;
3. The rivalry offered by a competitor;
4. A competitor or competitors, and;
5. In sociology, rivalry between two or more persons or groups for an object desired in common, usually resulting in a victor and a loser but not necessarily involving the destruction of the latter.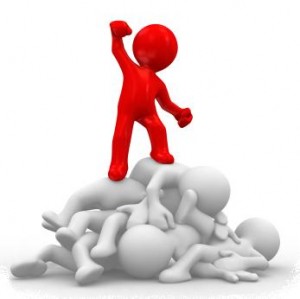 Why is it a dirty word, you may ask?
Because, on a macro level, Filipinos don't seem to like competition. You can see it in how some people insist during discussions – both online and offline – on "complementing each other's ideas instead of competing." The 1987 constitution seems to be yet another example of aversion to competition – with its provisions that spell out restrictions on foreign ownership in businesses. The allegations of price fixing and collusion, and the existence of an oil cartel, for example, seem to persist.
Zoom in to a more micro level though, and one can find that Filipino society is basically one big survival of the fittest jungle. Individual Filipinos will step on each other to get that shiny new gadget first. Or they may step on each other to catch the train or bus commute home. They might even conduct pissing contests on who can break rules and regulations to the greatest extent – without getting caught, of course.
Is there something that needs to be clarified about this seeming contradiction? Well, do remember that the Filipino IS a study in contradictions and ironies.
There are some basic traits of Filipinos, however, that shine through no matter what:
Filipinos are hypersensitive to criticism, opposition, and dissent.
Filipinos take opposition and dissent as an attack on their person.
Filipinos have a pwede-na-yan and bahala na mindset which stifles their ability to learn from their mistakes and from external factors.
Filipinos subscribe to a theory that popularity is a reliable indicator of an idea's/event's/person's validity.
Filipinos have a baseless sense of being more important than anybody else – and each other.
Filipinos don't like situations which aren't gamed to their advantage.
Yet Filipinos romanticize about the underdog and "the comeback".
Filipinos never fail to brandish their "victim mentality".
The key word, of course, to making competition work to your advantage is healthy. Yet let us remind ourselves: is the Filipino known to take opposition, dissent, and criticism in stride, as an opportunity for improvement?
Competition enables one to learn new techniques and approaches he/she never thought possible. It enables a healthy "marketplace" where ideas and other commodities can be made better, faster, and even cheaper. Competition encourages innovation, critical analysis, and the exploration of other points of view that may be alien to one's own.
And all that renders competition anathema to the Filipino, because they have a comfort zone of mediocrity and resistance to change which, if "intruded upon", causes them to lose their sense of self-worth and instills an imaginary "loss of face" within them if they fail to respond or adapt to it. They forget the key word to always keep in mind: healthy.
Taking it personally, acting like a victim, rejecting any idea that is different prematurely – such are the traits of a society that does not know how to embrace competition. And will consistently lose as they get further left behind by the rest of the world.
Kawawa naman mga Pinoy.
[Photo courtesy: stopsellingvanillaicecream.com]
А вы, друзья, как ни садитесь, все в музыканты не годитесь. – But you, my friends, however you sit, not all as musicians fit.