Filipinos like to see themselves as happy people. But this contradicts the numerous times Filipinos express outrage against something. Outrage fads come from time to time. Adam Carolla's criticisms, Katherine Ryan's joke using Filipino children, a woman named Kiki, and many other things seem to bring out the Filipinos' anger hormones. Worst of all, some writers even have the gall to say Filipinos deserve to be outraged when they see something "insulting" to their race, no matter how petty and trivial it is.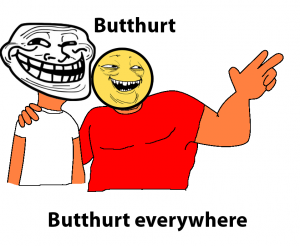 Lately, there have been a string of topics of outrage, such as Agness Walewinder's controversial post on Filipino food, and a recent article by a Filipino expat in Singapore that described his difficulty in adjusting to his home country. While these pieces may be flawed in some ways, I see the problems they highlight: for the Walewinder article, it's food safety, and in the expat's case, nothing has really improved after so long. Despite the flaws of these accounts, the message they bring still rings true: the Philippines still has problems that should have been solved a long time ago.
Aside from the above, there are still worse idiocies, such as the Filipino expat in Australia complaining about a local person named Kiki, or insulting Iranian players just because they won over the Philippine team. Lately, some Filipinos are raging against news of recent study findings that violent video games may increase violent behavior in children. It may be self-fulfilling when you see Filipinos rage in the comment threads, likely proving the study right.
It seems that Filipinos have a "butthurt" radar, as if they're looking for things to rage about. The problem is, when there is something truly worth raging about, such as the victims of the Bus Hostage crisis not being given due attention, bus accidents killing so many people because of negligence and a bad transport system, a fraternity claiming another life through hazing and one of our own OFWs slapping a helpless elderly patient, Filipinos seem relatively quiet. There is clearly something wrong about the way Filipinos direct their outrage.
And this makes we wonder: do we Filipinos really want to be happy, or do we love to be outraged?
I posited that Filipinos imagine themselves to be a people oppressed by foreigners. They think every country in the world is out to get them, so they look for ways to attack the other countries as "getting back;" but this is immature and does not work. Another is that Filipinos want attention, and thus they rage at something to show that they exist, somewhat like the immature teenager who tries to look tough or "siga" because of their hormonal influences. This would be overcompensation, an attempt to overcome feelings of inferiority – which should not exist in the first place. Or is it because Filipinos, when they are experiencing hardship, believe they have the right to pull others into hardship, because it should be the "other person" and not them suffering. Or maybe the happiness of Filipinos is actually mostly fake and fragile, and any perceived threat to it is pounced upon, including truthful criticisms. That only highlights insecurity.
But here is a theory I would like to offer: Filipino outrage is being manipulated.
A note on "Filipino outrage:" The ones following outrage fads online and in mass media are from the middle or upper classes. They are similar to Filipinos during Rizal's time: people who are in middle or upper classes in the Philippines. Indios were not called Filipinos, then. Today, it's the middle and upper classes who seem to be the only Filipinos online spewing the outrage. They are the ones the foreigners see, so they are the targets of articles like this. Most of the poorer people, who have no Internet, sometimes no TV, and have to work hard, don't have time or the venue to outrage. They're too busy trying to solve their poverty.
What's happening is that mass media is using Filipino outrage for their own purposes. Whether it is to generate hits or views, they actually do it for themselves. They try to portray certain things in a biased angle to provoke outrage, and then come out with messages encouraging outrage, implying that if you don't have outrage, you are a traitor or something. In truth, they are getting attention at the expense of our comfort. Sometimes, I wonder if the viewers should sue the media companies for creating health hazards, since they're causing high blood pressure this way.
Perhaps outrage fads serve the purpose of poverty porn. Showing the world that they are downtrodden, poor, helpless, oppressed saps is the easiest thing to do instead of solving the problems that keep them downtrodden, poor, helpless, oppressed saps. Outrage is actually being used to draw attention to oneself, likely for attention's sake, or maybe just to ask for dole-outs.
Such intense outrage at things like Carolla's criticisms, Chip Tsao, Walewinder's criticism of Filipino food, opposing sports teams who win against ours and a woman with an offensive name is useless. The best it will do is make us look like the town jester who gets angry when people are laughing at him. We need to be more careful than ever of outrage fads, because sometimes, we get angry at the things that are actually helping us.
The best thing that Filipinos can do is ignore these things that seem to be causes of outrage. If they even pay attention and comment, they are in effect "feeding the troll," and just causing headaches for themselves, the equivalent analogy being taking a hammer and hitting oneself on the head with it. "Happy" Filipinos contradict themselves when they pay attention to perceived "insults" against them. They should realize outrage fads are wasting their time and even endangering their health. Best let these things slide off and keep one's head, and proceed to make a more worthwhile achievement on one's own, whether a scientist, nurse or artist, to show the world what Filipinos are truly capable of and build a better reputation through work achievements.
I believe, as my cohorts here do, that what Filipinos embrace as their culture is what actually pulls the country down. And those who seem to be anti-dictators, who may also believe themselves to be "heroes," are the real dictators.