If you read carefully what Kris Aquino says on record regarding this matter, that "It has never been discussed," and that such a concept is "not on the table" you will find that she basically deferring the decision to other people, whether that decision comes from the President himself or his sidekick Mar. In this sense, Kris isn't categorically denying that she will be running for VP in 2016, only that the matter hadn't been discussed — yet. Sounds familiar, doesn't it? That's because it is under similar circumstances surrounded by similar bullshit that her brother emerged as the preeminent winnable candidate back in 2009.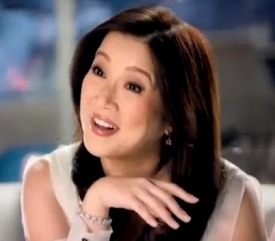 If an unqualified Aquino could win in 2010, what could possibly stop another unqualified Aquino from winning in 2016? For that matter, what's stopping Kris from running for President? If she runs, she will likely win. Indeed, fielding candidates and organising campaigns in Philippine elections has always been singularly about one thing: winnability. And if there is one person in the Philippines who can win a presidential election, hands down it would be Kris Aquino.
Sound like a ridiculous notion? Think again. We may be looking at this from the lens of the thinking that is familiar to our kind. But we are talking about an "intelligence" all but alien to us when it comes to the Filipino voter. Look no further than the biggest winners in the last Senatorial elections — Grace Poe and Nancy Binay. Both were widely derided in social media as the biggest affronts to the "intelligent" vote and thumbed down at every opportunity by the nation's top social media mavens. Yet both defied the "wisdom" of the social media chatter and went on to top the polls.
The vast base of voters in the Philippines do not think like the 1 percent that make up much of the social media characters that pops up on our radar. Filipino voters will vote who they want to vote.
For now, the current "expected" standard bearer of the administration for 2016 is Mar Roxas. That's the official position at the moment of the Second Aquino Administration. But being so does not mean this will necessarily come to pass. Roxas, after all, was an epic public relations failure at the height of the Super-typhoon Haiyan disaster of November 2013. Indeed, the Aquino administration is in a bit of a bind considering they had promised Roxas Malacanang in 2016 back in 2009 after the then-reluctant BS Aquino seized the presidential candidacy from him. They're pretty much stuck with a dud. Roxas is a washout and a persona non grata to the voters of in the Visayas and Mindanao.
Speaking of the Philippine South, look who's so far reportedly amassed signatures in a petition for him to run for president in 2016 — no less than popular Mindanao badass Rodrigo Duterte…
Around 800,000 residents from 170 barangays, most of them registered voters, signed a petition urging Duterte join the presidential race.

The campaign is spearheaded by the barangay captains in Davao City. They call their group "Pilipinas Duterte 2016 Movement."

Residents in 12 barangays have yet to sign the petition, but advocates are confident that they will be able to collect more signatures by the end of the month.
The Rodrigo Roa Duterte for President Movement Facebook Page created in July, 2013 as of this writing has more than 9,800 "Likes". Look through the roster of presidents the Philippines has suffered over the last century and you will find that the Visayas and Mindanao are sorely under represented. A president from those regions is long overdue, and this is evident in their appallingly underdeveloped infrastructure and the lack of attention they get from the Manila government even when thousands of their people die in preventable disasters.
Mindanaoans are an untapped source of much-needed collective outrage that need to step up to arrest the north's sorry track record of producing the mob of crooked politicians that had run the country to the ground. They may be too late, however. Manila with the help of its partner-in-crime the Malaysian government is already well on its way to setting up its vassal Bangsamoro state over there as well.
But all of that is good news for Kris. Kris Aquino's clout transcends age, religious creed, tribal affiliation, and social class. Duterte's 800,000 is no match for the Bangsamoro's two-odd million voters and certainly dwarfed by the tens of millions of voters in Luzon where even traditional stalwarts like current Vice President and 2016 presidential wannabe Jejomar Binay enjoy undisputed relevance.
The choice is pretty clear considering the key winnability metric: popularity.
That the otherwise astoundingly ridiculous notion that Kris Aquino could be Vice President is being entertained means that her ascending the presidency in 2016 is actually possible. Kris may be wise to re-think her assessment that Filipinos aren't "ready" for her. Filipinos were born ready for a Kris Aquino presidency.
benign0 is the Webmaster of GetRealPhilippines.com.