So apparently, three months after Tropical Storm Haiyan (local name Yolanda) hits the Philippines, the Department of Tourism (DOT) comes out with a short video called "The Philippines says Thank You", with the accompanying hashtag #PHthankyou.
Ok. So what then?
Frankly, the video just fails to move me. I'm probably only a handful of Filipinos who's not going to be amazed by such a WTF move from the DOT.
As a first impression, it was rather underwhelming to see that video because, as usual, a big deal is being made out of something that is considered a common courtesy in civilized societies. You know, the type of society that the Philippines has long been aspiring to but has consistently fallen short of?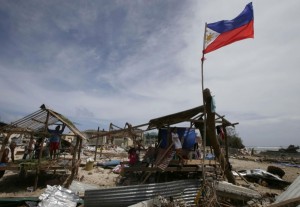 That it even took three (3) months for the Philippines – one that is represented by a government they elected, mind you – to muster what can be considered a collective thank you message should be rather appalling in itself. Plus consider the source – the Department of Tourism. So does this mean that the Philippines is pitching itself as a tourism destination because the people know how to say thank you for being helped? And that makes them and the Philippines as a tourism destination special?
And just like the previous promotion "It's more fun in the Philippines", this one is one big walking ambiguity. The tag line "You're making all the difference" is of no help either.
One cannot just stop at taking this "thank you message" at face value because of the context of the typhoon relief efforts.
No matter how loud or how many times the Philippines says "thank you for the donations", it misses the bigger point, and the more fundamental question that people observing the Philippines have been wanting an answer to:
What has happened to all the donations?
At a time when the Philippine government is neck-deep in controversy regarding the Haiyan donations, they come out with a tourism advertisement. The foreign aid that has either vanished or not arrived to the victims, the permanently crappy temporary shelters, the mound of clothes discovered in Cebu believed to be for the victims, etc. No matter how one looks at it, this "show of gratitude" is seeming more and more like one big distraction from all that, while at the same time providing another opportunity for shameless self-aggrandizement and promotion on part of the Philippines.
In a way, they tried to be clever – and nearly succeeded, but the DOT and the Philippine government might have done better to keep their mouths shut.
The underlying point that many Filipinos will most likely miss is that if they want to be really sincere about showing gratitude, then they should be able to show results that the foreign aid that has been received has been utilized very well. Unfortunately, the Philippine government has been nothing but one inefficient, wasteful, corrupt, and highly politicized bureaucratic mess. And as government is merely a reflection of the people who voted its constituents in, Filipino society is nothing but one inefficient, wasteful, corrupt, and highly politicized mess. It's a hopeless basketcase.
That is no way to show gratitude for being helped no matter how one looks at it.
Yep, "You're making all the difference" all right – because Filipinos have shown just how helpless and pathetically dependent they are on foreign aid. They are unable to translate that foreign aid into anything sort of a local initiative that will eventually wean them away from it.
Under normal circumstances, a Filipino thanking someone for help is rather rare. What is the typical Filipino response to being helped?
Go ask for more help. If you stop giving help, they will come up with yet another pathetic whiny victim or sob story. Worse, if you criticize, they will give you the middle finger.
As one GRP commenter has put it, eventually the law of diminishing returns (or generosity, in this case) will settle in. That the Philippines has not shown any less inclination to depend on foreign aid is, quite frankly, becoming tired and embarrassing.
It's more fun in the Philippines – to be an ungrateful mendicant.
[Photo courtesy: collegemagazine]
А вы, друзья, как ни садитесь, все в музыканты не годитесь. – But you, my friends, however you sit, not all as musicians fit.