Time and again, Filipinos and their government (which, in a democracy, reflects its citizens' character) have proven a lack of ability to step back and manage their affairs to a level of competence befitting a modern 21st Century state. In key occasions when it was a national imperative to exhibit a collective resolve to squarely face challenges or die, Filipinos dropped the ball. In the on-going foreign relations crisis with China over territorial claims spanning disparate little islands in the West Philippine Sea, the Philippine Government's biggest mover and shaker was none other than ex-convict Senator Antonio Trillanes who was caught out engaging in backdoor negotiations with China even as official channels managed by the Department of Foreign Affairs under Sec Albert del Rosario remained open. And in the also on-going humanitarian crisis following the devastation wrought by Typhoon Haiyan in November 2013, Filipinos huffed and puffed in efforts to relieve the suffering of the victims only to be left, two whole months later, with the still open festering wound that is Leyte and Samar.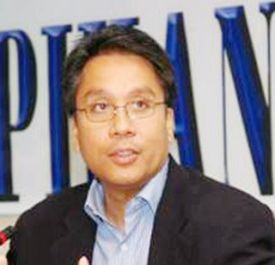 In both crises, politics was the common denominator. To be precise, politics surrounding the Promised President of the Philppines, current Department of Interior and Local Government (DILG) Secretary Mar Roxas.
Those two occasions alone give us an idea of what lengths Philippine President Benigno Simeon "BS" Aquino III will go to make good on his promise to Roxas. The backdoor negotiations with China over the territorial dispute was, itself, endorsed by President BS Aquino and the agenda of this covert activity seemingly highlighted during a spat between Trillanes and then Senate President Juan Ponce Enrile in 2012…
Trillanes supposedly alleged that del Rosario was not for any peaceful settlement with China because he wants to boost Pangilinan's chances in the exploration of the Recto Bank in the South China Sea. That part is also being claimed by China.

Trillanes also supposedly asked the Chinese which official in the country they would prefer talking to as an "alternative channel." The Chinese officials supposedly asked for Vice President Jejomar Binay.

It was then that Trillanes suggested the name of Mar Roxas to become the channel between the Chinese and Malacañang. He also suggested that Roxas become DFA chief.
More recent, and still fresh in the minds of many Filipinos and the world community, is Roxas's failed monumental effort to look like the go-to crisis manager in Typhoon Haiyan's wake. Instead, Roxas came out of all that looking more like a goat after his spectacular Freudian slip during a meeting with Tacloban Mayor Alfred Romualdez where he let loose the true agenda of the National Government saying to Romualdez "You're a Romualdez and the President is an Aquino. We just want to legalize this. If it's not legalized then, ok, you're in charge… Bahala kayo sa buhay niyo [you all can go take care of yourselves]."
President BS Aquino owes Mar big time. Roxas famously put his presidential ambitions on hold in the 2009-2010 campaign in favour of his chum BS Aquino after the death of the latter's mother and former Philippine President Corazon "Cory" Aquino in 2009. Riding on a wave of resurgent euphoria fueled by nostalgia over the 1986 EDSA "Revolution" in which Cory was a key personality that followed that, the then reluctant soon-to-be candidate BS Aquino emerged as The Winnable One. Tough luck for Roxas.
Since then, 2016 seemed like a sure thing for Roxas — until he was given the opportunities to prove what he was made of, that is.
One thing's for sure, we all know that the Philippines' problems cannot be solved using indigenous Filipino thinking — which brings us to that other common denominator underlying the China and Haiyan crises: the United States. The Philippines needs the United States — a fact that was made glaringly evident many many times since they were kicked out of their exquisitely-crafted military bases in 1991 by a bunch of self-important Philippine Senators. With a third crisis looming in the horizon — the train wreck that is the Bangsamoro "peace deal" with the terrorist Moro Islamic Liberation Front — it will be in the interests of ALL Filipinos to open their arms and assume the position to any prospect of Uncle Sam's return. Indeed, no less than a massive American return of World War II proportions can save the Philippines now as it staggers under the weight of multiple failures in domestic political leadership…
The stakes are high: the Philippines needs an ally in its territorial disputes with China, which have been steadily worsening, and the Philippines' century-long military and political relationship with the US makes it a key component of Obama's military rebalancing plans in Asia.

"A failed agreement would send the alliance back to the stone ages," says Ernest Bowers, a senior adviser at the Centre for Strategic and International Studies in Washington, D.C.
…and…
"The massive relief operation conducted [by United States military forces] after Haiyan gave the executive branch a really basic rationale for US military presence – that [the Philippine] armed forces simply don't have the capability for disaster response," says Renato De Castro, a professor of international studies at De La Salle University in Manila.
If only Uncle Sam could run for Philippine president in 2016, the road to prosperity for the majority of Filipinos would finally be paved — not with mere promises but with lots of dollars, many C-130 planes, and enough naval firepower.
benign0 is the Webmaster of GetRealPhilippines.com.