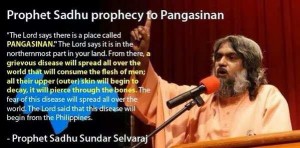 So the story goes like this: Sometime in April of last year, a self-styled "prophet" — an Indian man whose name is either "Sadhu Sundar Selvaraj" or "Vincent" — of a hiterto unheard-of religious organization called Jesus Ministries delivered a fire-and-brimstone sermon to a gathering in the Cuneta Astrodome, in which he prophesied, among other things, that a terrible flesh-eating disease would sweep the world, beginning in the province of Pangasinan. On Monday, the prophecy, at least to those with extraordinarily poor critical thinking skills, appeared to have come true, thanks to a hilariously-dramatic report on the ABS-CBN news program Bandila, replete with a correspondent interviewing pathetic victims of the "strange new disease" while swathed head-to-toe in surgical garb.
The disturbing story immediately started a storm on Twitter, with the hashtag #PrayforPangasinan being the country's top trending topic for most of the day, even long after the story was revealed by anxious provincial and Department of Health officials to be a complete hoax — the two victims ("two" being a rather small number for an epidemic of any sort) were immediately hospitalized after the story was aired by ABS-CBN, whereupon it was discovered the first, a young woman, was suffering from the combined effects of leprosy and an adverse reaction to some medication, whereas the male "victim" had nothing more than a severe case of psoriasis.
So far, no word from ABS-CBN as to when they plan on eating the humble pie they so richly deserve for seizing a moment in the spotlight as the World's Stupidest and/or Most Irresponsible News Network, but Filipino people being what they are, the embarrassed media outlet may yet avoid any repercussions, thanks to this: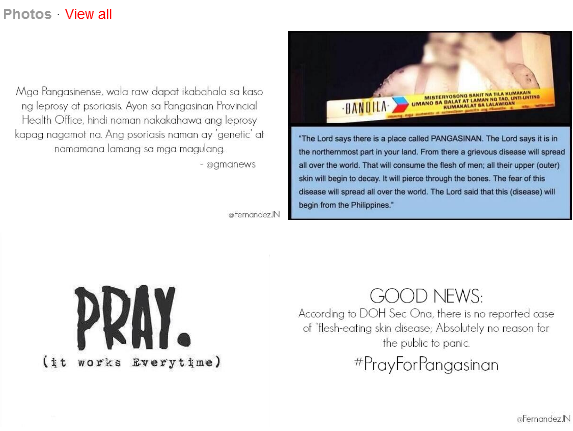 Yes, you are seeing that correctly: The mood among the country's netizens has quickly shifted from "unfounded panic" to "See, the prayers worked!"
As some of us here at Get Real are fond of saying — and find ourselves having to say far, far too often — the joke writes itself.
I write a column for The Manila Times on Tuesdays, Thursdays, and Saturdays. Most of the energy sector and the heads of several government agencies probably wish I didn't.