Back when I first hobnobbed with the current Get Real Philippines bloggers at the now defunct Filipino Voices, I agreed with them against voting B.S. Aquino, since I observed that his supporters subscribed to flawed populist beliefs, including that of Pinoy Pride.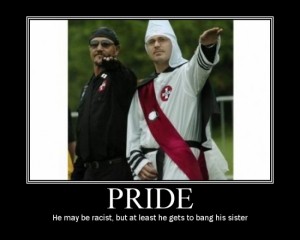 Those supporters still display the same attitude today. To again quote presidential spokesperson Edwin Lacierda, on the win of Rose Fontañes in the Israeli version of the talent show X-Factor:
"The Filipino has an innate advantage when it comes to the arts…. It clearly shows that the excellence of the Filipino can be expressed anywhere, everywhere, when they are given the opportunity to show their talent."
The first part of this quote is problematic. It is true that the excellence of a Filipino can be expressed anywhere, everywhere… but to say it is an innate advantage has the sense of Nazi doctrine. To say that a nationality or specific group of people have an advantage in their genes is a mark of egocentrism, and thus could be tagged as racism or imperialism. Thus, what Lacierda's words have implied is that the current administration supports wrong notions of Pinoy Pride.
I will take a different angle from fellow blogger Gogs and I will congratulate Fontañes for her win. But I agree with the rest of his article; riding on Fontañes' win is a desperate attempt to draw attention to oneself. Following the principle I earlier explained, she won not because she is Filipino. More like, she won despite being Filipino. She won because of her own personal talents and discipline. From what I know, talent is a personal thing, as with good personal discipline in using it. Sadly, good discipline not a trait of all Filipinos, and thus they have no right to claim greatness because of Fontañes.
Well, perhaps the government is doing what it is expected to do – support its citizens who are achievers. Especially one who is an overseas worker. However, it is doing so the wrong way. The words used reflect the populist tendencies of this administration and how it tries to keep people placated rather than offer substantial solutions for the country's true problems. Sollution like making sure Fontañes has a job at home than abroad (she's a caregiver, what some will derogatorily call "tagahugas ng pwit"), and that her talent is recognized here first (remembering how Charice Pempengco started out).
Pinoy Pride the way many Filipinos do it (like that Facebook post in Gogs' article saying Filipinos should rule the world – what? Filipinos rule the world? That's scary) has only shown that we are a desperate people with empty aspirations. Gogs highlights this when he asks, will the Israeli government issue a public statement if an Israeli wins a Filipino singing contest? Israelis obviously have a better source of pride than that. Not like Filipinos. He also recalled what when Phillip Phillips won over Jessica Sanchez, there were racist comments from many Filipinos. Or, if someone better wins over them, they will claim that they were cheated. These Filipinos are desperate for something to draw attention away from their being from a nation of servants. And sadly, for some Filipinos, that escape is all they desire.
So back to what Adam Carolla said… get your S*** together, Philippines.
Congratulations Rose Fontañes… but not the Philippines. It is her victory alone.
Personally, I hope she does what Yelle Castro did – stay at her job or any regular job, because Filipinos do have a positive image of being good workers (though unfortunately typecast in those "servant" fields, and not in being scientists or such). But anyway, the decision is hers.
I believe, as my cohorts here do, that what Filipinos embrace as their culture is what actually pulls the country down. And those who seem to be anti-dictators, who may also believe themselves to be "heroes," are the real dictators.