Earthquakes, super typhoons, bus accidents, mall robberies, among others – if you were to dispassionately look at the Philippines at any angle, you would get the feeling that it wouldn't be a very safe place to live in.
On the other hand, you've got electricity rates (just raised before the holidays) that count as among the highest in the world. You've got a calamity-stricken region where aid was allegedly stalled due to the mayor's being affiliated with the political enemy of the current president (that's Benigno Simeon "BS" Aquino, in case people didn't get that one). You've got the policeman who was "debriefed" for estimating the casualty of typhoon Yolanda much higher than the government wants it to be. To add to the mix, you've got lawmakers drawing up impeachment complaints against Supreme Court justices allegedly for declaring their pork barrel unconstitutional. Let's not forget the case between Makati Mayor Junjun Binay and the guards of the Dasmariñas subdivision.
From the instances listed above, one can infer that one can't feel very secure in the Philippines either. If one does his/her job properly but makes a higher up look bad, he/she should start looking for another one. No good deed goes unpunished here. Following the rules and enforcing them will usually net one a reprimand of some sort. And with costs of utilities and commodities uncontrollably going up, one doesn't know whether the salary he/she gets will still be enough to sustain him in the coming time periods.
If you can't feel safe and secure wherever you live, then it must mean that uncertainty at the very least plays a big part in, if not dominates, your way of life.
Indeed, uncertainty has become all but a way of life here in the Philippines. Getting from point A to point B in this jungle is more harrowing than it needs to be, and sometimes unnecessarily lethal.
Take the case of a bus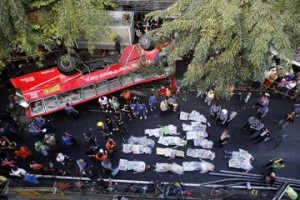 commute to…wherever at any given time of the day. Sometimes, all one can do as a passenger is hope and pray, really. The bus may be old or dilapidated, or the body may be tipping over to one side. If the side rails on the highway aren't strong or high enough, the bus may tip over while it's running fast. If the bus is going too fast, or just even if the bus driver is careless, it could find itself smacked against another vehicle, a wall, a building, a telephone pole, or it could find itself at the bottom of a ravine or gorge. The bus driver may be on shabu (so the urban legend goes) because he needs to stay awake while working long hours to meet his "boundary". The bus driver may feel like the king of the road and race down the highway if he thinks or knows that there won't be other cars around, or policemen, again, maybe because he needs to get as many passengers as possible. While you're aboard the bus, you don't know if there are crooks sitting among the crowd and waiting for the perfect time to declare a hold-up. You wouldn't know if the food available from the multiple vendors coming aboard when the bus stops contains some substance which could incapacitate or kill you. When getting off the bus, you're not sure if the bus driver will just lazily open the doors and force you to get off in the middle of the road.
See, that's just a bus commute. There are too many uncertainties, most of them within the control of the bus operator, in that situation alone.
Are the affluent exempted from the lack of safety and security here in the Philippines? Perhaps not. It wouldn't be hard to guess that they are very careful not to step on the wrong toes, especially with government officials, or else they could find themselves in jail, or worse, with a bullet in their heads. The reason many of them stay in their exclusive gated communities is that they don't trust the local police to do their job well, and also because they want to keep those they perceive and deem as "undesirables" out of their enclaves. From their point of view, being subject to rules and regulations not of their own is a threat to the "safety and security" of their status as affluent people, so they find ways to constantly put themselves above it all.
I guess, the underlying question that needs to be asked is this: Where is the "culture of safety and security" here in the Philippines?
Whenever one speaks of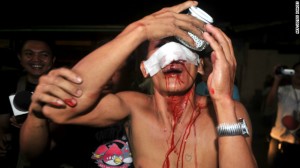 New Year's celebrations, this question becomes even more poignant, as many Filipinos are still into using fireworks and firecrackers despite their being banned, illegal, loud, and downright dangerous. Hospitals will be packed with patients with fireworks related injuries: fingers missing, nth-degree burns all over the body, bloody all over, other limbs missing – you name it. Gun owners and policemen are also known to discharge their firearms during the coming of the New Year. Many of their countrymen have become victims of stray bullets.
In a culture of pwede-na-yan and bahala na, safety and security are definitely at the bottom of the list of primary concerns here in the Philippines.
The thinking in Filipino society seems to be that if anything untoward happens to you, it's your own fault. You fell into that open manhole? Antanga-tanga mo naman kasi, bakit di ka tumitingin kung saan ka tumatapak? (You're stupid, why didn't you watch where you're going?) You got hit by a car while crossing the street when on a red light? Alam mo naman di sinusunod ang batas trapiko dito, diba? (You know that traffic rules are merely suggestions here, right?) You got fired/killed for reporting an executives' bad behavior? Dapat nanahimik ka na lang. (You should have stayed quiet.) Filipinos like to think that the conditions of their society force its citizens to become street-smart, to adopt a heightened sense of survival, and to become as aware of their surroundings comparable to other places in the world. However, if one looks at the flipside, it merely highlights just how negligent, lazy, indifferent, how utterly unconcerned Filipinos are about each other, and how doing the right thing is so wrong in the Philippines.
A culture of safety and security will not be able to take root in a society where its inhabitants tend to place their own interests above everybody else. It will not flourish in a community where very few people are inclined to be disciplined and to follow the rules. Such a culture will not prosper in a society that prefers to take shortcuts and to leave many things to chance because "it's too hard", "it costs too much money", or because "prayer is a form of protection" and especially because its members are too lazy, self-absorbed, and preoccupied with "survival".
Most of all, a culture of safety and security will not take root in a society where there is no greater sense of community, where the members aspire to be part of something bigger than their own selves.
The Philippines is, undeniably, such a society. The Wild, Wild West lives on in this country once known as the Pearl of the Orient. It will be that way for years to come, because Filipinos lack the imagination to work towards anything better.
[Photo courtesy: GMA 7 and CNN]
А вы, друзья, как ни садитесь, все в музыканты не годитесь. – But you, my friends, however you sit, not all as musicians fit.