Normally giving stuff to poor people and taking the opportunity to adorn these "gifts" with logos or representations of your organisation is not necessarily bad. So, on one hand, I do agree with communications expert JP Fenix "tak[ing] exception to the negative comments on [ABS-CBN broadcast journalist Korina Sanchez's] advocacy of giving away new rubber slippers to poor school kids all over the country". Corporations do it, non-profit organisations do it, even the Roman Catholic Church does it. There is nothing wrong with it within the context of normal circumstances.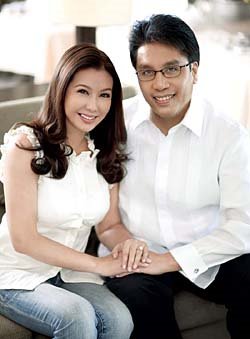 The trouble is, on the other hand, the Philippines is not a normal country. A vast corruption scandal that had recently erupted after the crooked activities that precipitated it festered under the radar for more than two decades was the final straw that broke the camel's back. The Philippines has, for the longest time, been beset by macro-level trust issues that go way back and profoundly underlie the character of its society. Back in 2003, I wrote the article Corruption: Root cause or mere symptom? where I observed…
Trust is progressively eroded in a society afflicted by endemic corruption. When trust among a people is reduced, more control measures are applied. And as more control measures are applied, the more the atmosphere of mistrust thickens. More control measures mean slower processes and more human intervention in these processes breeding more opportunity for corruption. The grotesquely convoluted systems and procedures that paralyse our nation's bureaucratic processes are a legacy of this runaway positive feedback loop — corruption breeding mistrust, mistrust breeding controls, controls breeding more corruption.
Jaime Licauco in an Inquirer article dated 22 May 2001 went as far as saying that: "A nation whose policies and rules are based on the assumption that everybody is a cheat and liar unless proven otherwise cannot long endure. Take a close look at our bureaucracy and its rules. It is burdened by elaborate and often unnecessary checks and balances so that nothing ever gets done in the process." So even before anti-pork "activism" became a national fashion statement, the Philippines has already been suffering from a crisis of mutual trust. In short, even way back, Filipinos, as a matter of personal policy, do not trust one another.
What does this have to do with Korina Sanchez? Everything. What would normally be construed to be a benign act of printing one's name on a pair of slippers given out for charity purposes became darkly suspect in the eyes of a Filipino public made irreversibly cynical by decades of institutionalised thievery and grotesquely perverse feudal politics. It also did not help Sanchez that her husband is erstwhile Disaster Management Posterboy Mar Roxas, Interior and Local Government Secretary Extraordinaire, and that she proved a bit witless when she failed to realise that that marriage turned her position as one of the country's most revered broadcast "journalists" into a sad conflict-of-interest waiting to happen. Trouble is, Sanchez just had to open her big entitled mouth. And so the worms in that canned conflict-of-interest were sprung.
No matter how you look at analysing this circus, all causal roads lead to the daftness of the Roxas-Sanchez celebrity couple. You'd think a Harvard grad and an experienced broadcast personality would have worked out what the future holds for a marriage between a politician and a media mannequin.
Tough luck. At least this lack of foresight only resulted in a bruised mega-ego and a toasted media career. For some less fortunate souls, lack of foresight can prove to be fatal. So let's get over feeling sorry for Mar and Korina.
They'll live to epal another day.
benign0 is the Webmaster of GetRealPhilippines.com.