Super-typhoon Haiyan (Philippine code-named "Yolanda") continues to barrel towards the Philippines threatening to wreak havoc across southern Luzon, the Visayas, and northern Mindanao as it plows through the Philippines…
Haiyan is expected to reach central Philippines as a super typhoon by Friday noon local time, packing winds of 233-249 kilometres per hour, according to Michael Ziobrol.

"If people are in the Philippines, they should start preparing too, especially the central Philippines," he said.

Dr Jeff Masters, a contributor to the weather blog Wunderground, says Haiyan will likely be the most dangerous tropical cyclone to affect the Philippines this year.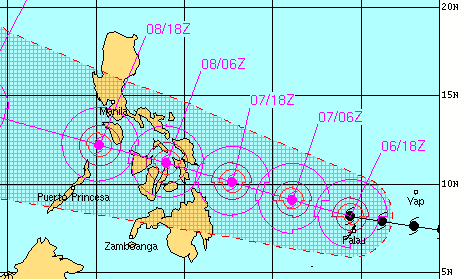 The Philippines holds a poor record of preparing for and responding to natural disasters such as typhoons and heavy monsoon rains. Hundreds of thousands of residents in its biggest megalopolis, Metro Manila, illegally reside in ramshackle shacks along the city's garbage-clogged storm water canals (esteros). Vast tracts of flood plains along Metro Manila's main river systems have been developed into residential areas. The vast scale of negligence in the regulation of land development and enforcement of building codes are hopelessly compounded by the renowned kids-gloves treatment of squatters (known as "informal settlers" in polite conversation). Much of the country is rendered helpless against natural calamities as a result of this institutionalised ineptness…
An Asian Development Bank (ADB) study has revealed that "Metro Manila is now probably the only Mega City in Asia that uses uncontrolled open dumping and a series of uncontrolled dumpsites to dispose solid waste". No wonder much of the 1,500 tons of garbage produced by Manila everyday just goes directly into rivers and creeks. Even dumpsites managed by the Metro Manila Development Authority (MMDA) are located near the sea.
Indeed, Metro Manila even in relatively good weather is flooded by water as it is by humans. When you increase throughput without increasing channel capacity, you get latency. Just as Filipino commuters are bogged down in traffic on their roadways everyday, Manila's rain water is suffering from the same condition — heavy traffic along Manila's waterways. Just as Manila's roads have been clogged by street vendors and buses and jeepneys driven by idiotic drivers, rivers and canals crisscrossing the city are blocked by silt, garbage, and human refuse. Unreliable and impassable roads routinely make access to emergency and relief services a monumental challenge in the Philippines when disaster strikes a monumental challenge.
The result is a system of man-made factors that pretty much doom Filipinos to repeated tragic outcomes year-in and year-out…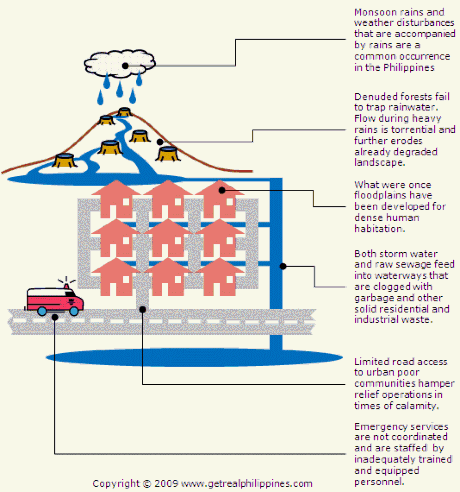 [Forecast Haiyan movement diagram courtesy USAF Joint Typhoon Warning Center.]
benign0 is the Webmaster of GetRealPhilippines.com.