The recent cyber-attacks, this time against the websites of the Philippines' Office of the Ombudsman reflect a growing frustration among Filipinos over the failure of the government President Benigno Simeon "BS" Aquino III to live up to its big campaign promises.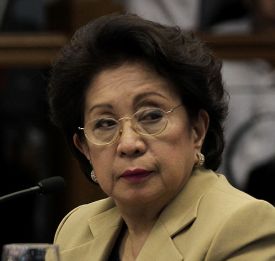 Conviction rates have declined under the watch of Conchita Carpio Morales who took over the Office of the Ombudsman following the resignation (under threat of impeachment) by her predecessor, Mercedita Gutierrez. The House of Representatives voted to impeach Gutierrez on the 22nd March 2011 then sent the committee report as the Articles of Impeachment to the Senate which will have acted as an impeachment court. A vote of at least two-thirds (16) of all senators (24) will have been required to convict Gutierrez and remove her from office. However, Gutierrez resigned on April 29, 2011, thereby canceling the impeachment trial of the Senate.
It is likely that the impeachment of Gutierrez by the House and Senate were similarly incentivised by pork barrel money dispensed by Malacanang in much the same way that they were during the trial of former Chief Justce Renato Corona.
The message reportedly posted by the hackers (signed "Anonymous Philippines") on the sites hit by this latest cyber-attack was quite clear on the issues being highlighted…
"We apologize for this inconvenience, but this is the only easiest way we could convey our message to you, our dear brothers and sisters who are tired of this cruelty and this false democracy, tired of this government and the politicians who only think about themselves," the message read.

"The government, in many ways, has failed its Filipino citizens…. Let us remind the government that fairness, justice and freedom are more than words."

The message did not name any politician, but it warned: "To the corrupt—fear us."
The situation in the Philippines is widely perceived to be untenable. There is no real organised opposition today as politicians affiliated with most of the major Philippine political parties are themselves tainted by the pork barrel corruption scandal. As such, many Filipinos have lost trust in any channels they traditionally rely on to air their grievances or lodge their complaints. The police, the National Bureau of Investigation, opposition politicians, Philippine Media, and, of course, the Ombudsman itself no longer come across as trustworthy guardians of the common interest.
The government, as the Anonymous Philippines message states, has "failed its Filipino citizens". "Walang masumbungan." This is the sentiment many Filipinos harbour in their minds nowadays in light of developments that emerge by the day that progressively reveal the astounding extent of the institutionalised thievery gripping the nation from the highest levels to the lowest levels in government.
As government fails and an already gaping confidence void in the public trust widens by the day, what does the future hold for the sad nation that is the Philippines?
Only time will tell.
As always: Abangan ang susunod na kabanata.
[
NB: Parts of this article were lifted from the
Wikipedia.org
article "Impeachment of Merceditas Gutierrez" in a manner compliant to the terms stipulated in the Creative Commons Attribution-ShareAlike 3.0 Unported License that governs usage of content made available in this site
.]