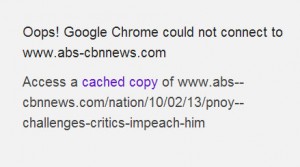 As of this writing, an article titled "PNoy challenges critics to impeach him" which appeared on the ABS-CBN News website can't be opened and if you really want to bother with reading this latest Presidential brain-fart, you'd have to go to retrieve it from Google Cache.
Given the run of things (a number of web-pages from the Manila Standard exposing an alleged meeting between Pnoy and Janet Lim Napoes before her surrender), there is some cause to suspect that the Ayala sponsored army of Malacanang trolls/hackers patrol may be up to its dirty tricks again.  Then again, that is assuming that the ABS-CBN's news website needs to be attacked in order to take control over one web-page to keep it from being spread on social media.
Whatever. Who cares.
But what I really want to get to is, what is so bad about President Benigno S. Aquino III daring his critics to impeach him?  Well, despite having mobilized the usual social media personalities to describe Senator Jinggoy Estrada's Privilege Speech on PDAF as a dud, his revelation on what is now dubbed as "Secret Pork" or the Disbursement Acceleration Program ignited a gigantic firestorm that Malacanang's Top Spinmeisters are struggling to put out.
"Hindi na tuloy nakapagtataka ng kumalat ang balita na ang mga kongresista at mga senador ay inalok din ng PDAF para siguraduhin ang impeachment at conviction ng dating punong hukom ng korte suprema.

"Hahayaan ko na ang taong bayan ang gumawa ng konklusyon kung ito ay totoo o hindi, pero ito ang aking maidadagdag sa kwento — after the conviction of the former chief justice, those who voted to convict were allotted an additional 50 million pesos as provided in a private and confidential letter memorandum of the then chair of the senate finance committee. Saan galing ang pinamigay na pondo? I am sure alam ni secretary Abad ang sagot sa tanong na ito. At sigurado din ako na hindi unilateral decision ni senate president Drilon ang pamimigay ng 50 million pesos kada senador.

"I maintain however mr. President that i stand by my decision in my vote to convict the former chief justice and assure our people that i was never influenced by this incentive which came after the fact."
Malacanang is trying its absolute best to lead people to believe that:
One. The money given to senators and congressmen for the conviction of Supreme Court Chief Justice Renato Corona WAS NOT A BRIBE.

Two. The manner in which money was to senators and congressmen (which was sourced from unused government funds from various departments) is legal and did not violate any government regulations on the use of public funds.
While the first one may be easier to talk one's way out of, but the second one is pretty difficult to wrangle out of — if it is true that the manner in which the funds were "re-aligned" goes against regulations.
Thing is, Senator Miriam Defensor Santiago and Senator Joker Arroyo called the DAP illegal.
Sen. Defensor Santiago points out that DAP may be illegal if it is proven that the funds were taken from slow-moving projects and therefore were not savings:
Sen. Miriam Defensor Santiago said that the scandalous DAP (Disbursement Acceleration Program) is illegal, because it was not contained in the 2011 or 2012 budgets; and because alleged savings were used to augment new budget items which was not previously authorized by Congress.

The senator said DAP violates the constitutional provision that: "No law shall be passed authorizing any transfer of appropriations; however, the President, . . . may, by law, be authorized to augment any item in the general appropriations law for their respective offices from savings in other items of their respective appropriations."

Santiago said that the Constitution allows fund transfers, only if there are savings, meaning that the project was completed, and yet the appropriation was not exhausted; but there are no savings if a project was merely deferred.

The senator said it appears that DAP funds were taken from alleged slow-moving projects. If so, no savings were generated, and therefore the DAP is illegal.
Sen. Arroyo points out that DAP is a creation of the Department of Budget and Management and this is illegal:
"This DAP is a creation of the Department of Budget and Management and being a creation only of the department, that is illegal and disbursements of DAP would also be illegal. [The DBM] has no business issuing or forming this DAP because they cannot do that without a supporting law," Arroyo said at a news conference in the Senate.

"The DAP involves money so to disburse that they must have the authority (to do so). Nowhere in any of our laws and any of our general appropriations act does it appear that DAP was created at all with the sanction and support of Congress," Arroyo added.
One of the grounds for impeachment is the culpable violation of the Constitution and so, Pnoy being Pnoy answers thus:
President Benigno Aquino III reiterated that the release of funds under the disbursement acceleration program (DAP) is legal and challenged critics to impeach him over its alleged misuse.

"Isulong nila kung palagay nilang nasa tama sila. Pero kakabasa ko lang sa Constitution, merong authority sa savings to put to other uses basta nandoon sa ating budget," Aquino told reporters when asked for his reaction to reported statements of former Senator Joker Arroyo and Senator Miriam Santiago that DAP is illegal.

Aquino also denied using the DAP as a means to bribe or reward senators for voting to convict former Chief Justice Renato Corona.

He pointed out that Corona was convicted in May 2012 while funds under the DAP were not released until October.

"So meron bang bribe after the fact?" he said.
Yes, Mr. President, the payment of the bribe can happen either before or AFTER an act is committed.  Timing of the payment is not what really defines bribery.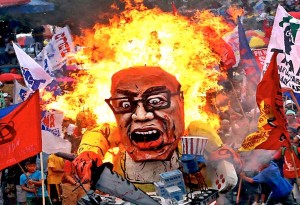 But what is really appalling about President BS Aquino III's challenge to be impeached is that it comes AFTER THE FACT that senators and congressmen have been proven to be PLIABLE under Malacanang's hands given the right INCENTIVES — 15 to 50 million incentives.
So, if it was easy enough to railroad the impeachment of Ombudsman Merceditas Guttierrez and Supreme Court Chief Justice Renato Corona with the power of pork (secret or otherwise), how hard can it be to thwart an impeachment with the same incentive?
Not hard I guess… unless the callouses on the faces of our congressmen and senators somehow fell off.