Former Budget Secretary Benjamin Diokno today confirmed policy surrounding the way Malacanang can allocate discretionary "development" funds reportedly saying that;
[…] Malacañang cannot augment funding for new projects but can only add funds to existing programs.

"The constitution is very clear that no law shall be passed authorizing any transfer of appropriation. They allow augmentation of existing budget items in the budget. The President, Senate President and Speaker can augment any item in the budget. It has to be there already, out of savings from other appropriations," he said in an interview on ANC's Headstart.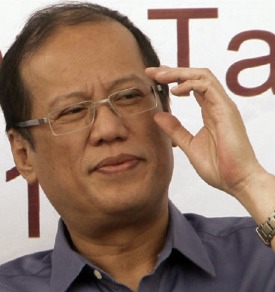 But in an earlier statement, Senate President Franklin Drilon asserted that the controversial 100 million pesos he received after the impeachment trial of former Chief Justice Renato Corona were to be used for "additional" infrastructure projects supposedly to benefit the tourism industry in Iloilo and "boost" the city's bid to host the Asia-Pacific Economic Cooperation (APEC) forum to be held in 2015. Interestingly, he also said "the fund after it was granted to his office went straight to the Department of Public Works and Highways (DPWH) for implementation", which makes us wonder why such a roundabout way of allocating funds was needed when the DPWH is a department within the Executive branch that reports directly to the Office of the President.
Many people have long suspected that pork was the carrot being dangled before the "senator-judges" who tried Corona in 2012. Recent revelations of millions of pesos being re-allocated by administrative sleight-of-hand from the national budget into the "offices" of certain senators shortly after the trial had confirmed these suspicions. A scramble by some Senators (Drilon being one of them) to rationalise these "allocations" have come up against sound challenges to their legality coming from some of the finest minds in Philippine politics. Constitutionalist extraordinaire Father Joaquin Bernas himself has recently weighed in on the matter saying that "[…] savings in the President's budget can be transferred to items in his budget not to other departments", but only when authorised by Congress. Senator Miriam Santiago, for her part, noted that ad hoc appropriations like the DAP could only come from "consolidated savings from the unused appropriations of agencies."
Even esteemed Noynoy apologist and Inquirer columnist Conrado de Quiros noted the many "holes" in the stammering explanations issued by Budget Secretary Butch Abad…
The most obvious is that if the P50 million each given to the senators was a way of precipitating growth by funding their favorite infrastructure projects, how come Miriam Defensor-Santiago and Bongbong Marcos got nothing? Both voted in favor of Corona, along with Joker Arroyo.
According to de Quiros, Abad is in major big trouble…
Arroyo is furious about being used as a stooge and has every reason to be. To dissimulate the fact that those who did not vote for Corona's conviction got no additional PDAF, Abad made it appear that Arroyo did so as well. Specifically, he said Arroyo got P47 million from the DAP.

That's a lie, says Arroyo. The P47 million in fact came from "amendments introduced in the General Appropriation Act of 2013 and not PDAF by any language…. Secretary Abad maliciously bundled the budgetary amendments I introduced for medical and educational provisions together with the questioned 2012 releases. He said the funds given to the senators came from a newly minted program designed by the DBM, called the DAP, yet again another one of those lump-sum appropriations unheard of until he pulled it out of his hat."

That's not just unethical, Arroyo proposed, that's criminal. Abad, he said, has just opened himself up to prosecution for falsification of legislative documents. The Penal Code holds liable "any public officer … who causes it to appear that persons have participated in any act or proceeding (when they did not do so) or making untruthful statement in the narration of facts."
President Benigno Simeon "BS" Aquino III for his part has already shifted into his usual awkward damage control form, reportedly challenging critics to "impeach" him in light of what are becoming clear cases of his culpability for the behaviour of his minions by virtue of his command responsibility. And it has already started. He along with Abad are now the subject of a plunder complaint reportedly filed with the Ombudsman by the militant group Kilusang Magbubukid ng Pilipinas (KMP).
KMP Secretary General Antonio Flores said the case is anchored on the P10 billion pork barrel scam involving lawmakers who funneled their priority development assistance funds to fake NGOs.

"The Ombudsman has the power to investigate even a sitting President and the Filipino people have every right to know his participation in the pork barrel scam. Aquino cannot hide under the mantle of presidential immunity," Flores said.

In including Aquino as respondent, Flores cited the Doctrine of Qualified Political Agency. He said the acts committed by the Cabinet are deemed acts of the President.
Exciting times ahead! It seems President BS Aquino is the "hero" of the straight path he fancied himself to be during his campaign — except that he may have to fall on his own sword to live up to that image. Hopefully the other senators will also make good on the "Honourable" in their salutations and be just as honourable, Japanese style.
Refer to our previous treatise covering five articles on why BS Aquino should be impeached. We may today be seeing the sixth and most compelling one of all.
benign0 is the Webmaster of GetRealPhilippines.com.