I'll get to the point: never assume that every issue posted on mainstream social media is true. Over the weekend, Baguio's Facebook community went on alert when a picture of two documents was posted online by a certain popular provocateur.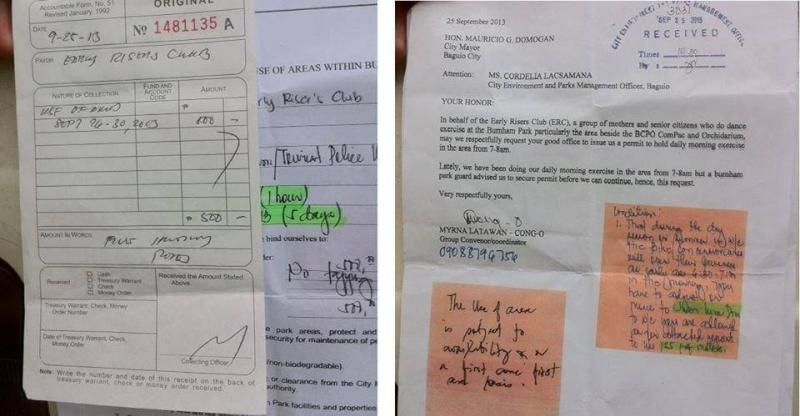 The photograph shows a letter of request to the Baguio government to allow a certain exercise group to use a portion of the park for their activities; beside this is the official receipt revealing a transaction of PhP500.00 paid by the group.
In no complicated language, said provocateur then exclaimed that this was "proof" that people now needed to pay PhP500.00 just to work out at Burnham Park. To date there have been around 585 replies to the posting, all expressing varying levels of disgust and shock that Baguio's local government has now apparently found a way to fleece people for an exorbitant amount of money.
At almost exactly the same time as that pair of photos went viral over Facebook, this came out: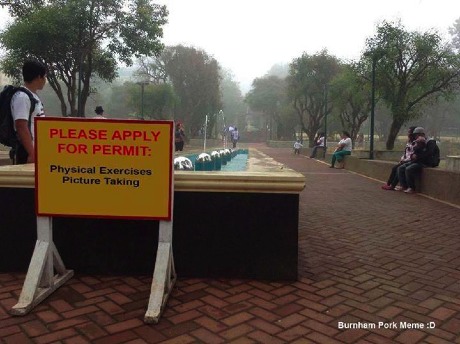 This photo is of the central pool of Burnham Park's newly-renovated Rose Garden, a bone of contention that I might focus on in a later posting. Like the first photo, this also garnered a lot of negative attention; most posters then believed that even the simple joy of taking pictures in Burnham Park now needed payment.
I think it would be best for me to start with this latter photo first, since it obviously says "Burnham Pork Meme" at the lower right, and the yellow sign is doubtlessly photo-manipulated. Despite the fact that a journalist for Sun*Star Baguio already posted an unretouched photo of the same scene sans the sign, the hysterics didn't seem to dissipate. Worse, people who read the "meme" tag on the lower right of the photo completely and deliberately ignored it and still claimed that Baguio's government was still hellbent on charging people for taking photos.
On October 11, 2013, a day after the photos went viral, an aide to the Baguio City Mayor's Office released this statement:
BURNHAM PARK IS FREE FOR ALL, except those who use the premises for commercial purpose or simply those activities that require paying of fees.

EVER SINCE, NO FEES ARE BEING COLLECTED FOR WALKING, JOGGING OR RUNNING AND TAKING PHOTOS AROUND THE PARK. Anybody can go and do their regular morning walk, jog or run around Burnham Park. Anybody can also take photos of the park. In fact, we encourage you to take photos of the park and its attractions and share it to the world. If somebody is collecting fees for using a place in Burnham Park for you to have pictures, the same is ILLEGAL. Report the person doing it so that the proper case be filed against him.

On the issue of the collection of park fees from groups using the premises for organized physical fitness purposes, please take note that the City Mayor or his administration never issued an Order for the collection of fees from the said groups. For the information of all, what the City Environment and Parks Management Office (CEPMO) has done in order to fulfill its mandate to maintain Burnham Park is continue the regulations and collection of regulatory fees being done and implemented by the then Philippine Tourism Authority (PTA) through National Parks Development Committee (NPDC) in collecting regulatory fees from organized groups for the cleanliness and maintenance of Burnham Park at the time at the time they were the ones managing the said Park. This is the basis and the reason why the CEPMO had asked the organizers/teachers of the organized physical fitness groups to pay/contribute One Hundred Pesos per hour for their entire group for the cleanliness and maintenance of the Park for in the first place, they collect Twenty Pesos per hour from each of their members. [emphasis mine] In short, City through CEPMO does not collect from individual users of Burnham Park.

On the issue of the payment of fees or application of permits before taking photos in the park – Ever since, the City NEVER collect fees nor require permits for taking photos in Burnham Park. Taking photos or videos are absolutely free, except for those who use the park for video shooting purposes with or bringing in big equipments for in this case, bond and fees are collected based on the regulations inherited by CEPMO from PTA and NPDC. "
So apparently Baguio's CEPMO had a reason to collect from the exercise group after all, since the group itself was collecting money (PhP20.00 per hour per person, to be more specific) from those who wished to join them in their activities. As for the first photo with the receipt, the PhP500.00 was payment not for a single session but FIVE sessions (at PhP100.00 each). Nevertheless, this didn't apparently deter a lot of "concerned citizens" from coming up with their own conclusions while ignoring all aspects of the issue.
Physical fitness is, I believe, a right that each individual inherently possesses, and recreational spaces such as Burnham Park provide a great venue for people to exercise their right, pun intended. The statement above supports this idea, proving that for as long as you don't profit from an extensive commercial activity on public recreational facilities, parks are FREE OF CHARGE. Jogging around the Burnham Lagoon is FREE OF CHARGE. Taking photos is FREE OF CHARGE. But if an exercise group, which apparently asks for PhP20.00 per person per hour, attracts a large group of people that they block off a significant portion of one of Burnham Park's roadways, then doesn't the government have all the right to ask for a fee? I think it's common sense: for-profit groups exploiting public resources for private gain without paying anything back is not right.
Unfortunately, mass-induced online outrage once again got into the way of reasoned thinking. The often-invoked but rarely-applied mantra that "Parks Are Beyond the Commerce of Man" was resurrected once again against Baguio's government, downplaying the fact that it was the exercise group that was asking for payment from others in the first place. Meanwhile, boats and bicycles are still being rented in and around the Burnham Lagoon, plants and tree seedlings are still being sold at the Orchidarium, food is still served at the Ganza Restaurant, and numerous vendors still ply their wares across the length and breadth of Baguio's premiere park. If the Online Outrage Squad continues invoking the mantra, they perhaps need to face the for-profit groups they defend so much.
I now await them, and since apparently I'm supporting the local government on this matter, they might even brand me the Mayor's "paid hack."