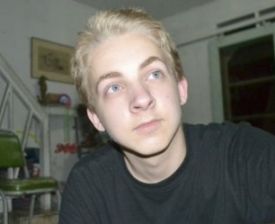 Poor Thomas Van Beersum. He now stands as a shining lesson to Western Europeans of what it means to get in trouble in a Third World country half a planet away. Beersum is a Dutch activist who made headlines after participating in a protest rally during the delivery of the State of the Nation Address by Philippine President Benigno Simeon 'BS' Aquino III. Just as he was leaving the country he was arrested by Immigration officers at the international airport in Manila and detained possibly to be subject to deportation proceedings. Bulatlat reports on the boy's current plight…
In a phone interview with Bulatlat.com, Ephraim Cortez of the National Union of Peoples' Lawyers (NUPL) who was able to talk to Van Beersum over the phone, said the Dutch activist was being asked to get a clearance from the National Bureau of Investigation (NBI) before he can leave the country. Cortez said a certain Soloren who introduced himself as an intelligence officer of the Bureau of Immigration told him over the phone that Van Beersum needs to secure a clearance from the NBI stating that he is not facing any pending charges. As of press time, Cortez is seeking ways to talk with the Dutch activist in person.

"He is not aware of any charges filed against him," Cortez told Bulatlat.com. "He did not do anything illegal and merely voiced out his opinion regarding the human rights situation in the country. He was only exercising his freedom of speech."
Perhaps Beersum was, indeed, exercising this guaranteed "right". But if one were to take the digital image — the "Five Saints of Communism" Ben Kritz notes in his article "Go Home Before Something Bad Happens to You, Thomas van Beersum" — that adorns Beersum's Facebook profile at face value, one would conclude that Beersum is an avowed commie. And what are commies all about? They are, by their very nature, necessarily all about violent overthrow of any incumbent government. Indeed, this is the very issue that hobbles the credibility and undermines the emo rhetoric of politicians like former senatorial candidate Teddy Casiño who at one time was the subject of rife speculation that he continues to harbour strong links with the Philippines' Communist Party.
As many are aware, the Communist Party of the Philippines (CPP) is supported by its military arm, the terrorist New People's Army (NPA) in its presumed mission to carry out an "armed struggle" against the Philippine Government. Chairman Mao Tse-tung wrote about this "armed struggle" in 1939 (text formatted in boldface for emphasis)…
What is guerrilla warfare? It is the indispensable and therefore the best form of struggle for the people's armed forces to employ over a long period in a backward country, a large semi-colonial country, in order to inflict defeats on the armed enemy and build up their own bases. So far both our political line and our Party building have been closely linked with this form of struggle. It is impossible to have a good understanding of our political line and, consequently, of our Party building in isolation from armed struggle, from guerrilla warfare. Armed struggle is an important component of our political line. For eighteen years our Party has gradually learned to wage armed struggle and has persisted in it. We have learned that without armed struggle neither the proletariat, nor the people, nor the Communist Party would have any standing at all in China and that it would be impossible for the revolution to triumph. In these years the development, consolidation and bolshevization of our Party have proceeded in the midst of revolutionary wars; without armed struggle the Communist Party would assuredly not be what it is today. Comrades throughout the Party must never forget this experience for which we have paid in blood.
Unfortunately for Beersum, mere belief alone in the righteousness of violent overthrow of a national government already puts him squarely on the wrong side of the Law as far as the "rights" he enjoys as a visitor of the Philippine Republic. The following passage from Section 37(a) of Philippine Immigration Law is quite clear as far as what constitute offenses that warrant deportation…
8.Any alien who believes in, advises, advocates or teaches the overthrow by force and violence of the Government of the Philippines, or of constituted law and authority or who disbelieves in or is opposed to organized government, or who advises, advocates or teaches the assault or assassination of public officials because of their office, or who advises, advocates, or teaches the unlawful destruction of property, or who is a member of or affiliated with any organization entertaining, advocating or teaching such doctrines, or who in any manner whatsoever lends assistance, financial or otherwise, to the dissemination of such doctrines;
Yikes! So any alien who, in principle, believes in, advises, advocates or teaches communism could actually fall within the domain of what constitutes grounds for deportation. Makes sense, doesn't it? Unlucky for Beersum. Whatever motive or action of his, being a foreigner "coming from one of the richest countries in the world" to "take the cause of the Filipino people for national liberation and genuine democracy" (in the words of the esteemed Karlo Mongaya) may simply become a mere footnote in light of that other ironic pillar of Philippine activism: Rule of Law.
benign0 is the Webmaster of GetRealPhilippines.com.