The chatter on social media that erupted over the surrender of Janet Lim Napoles seemed very much like the roar of a lynch mob.  It's pretty much a given that the constant stream of "news" about the details of Janet's supposed involvement in the alleged P10 Billion Pork Barrel Scam has gotten a lot of my friends on Facebook condemning her ahead of her being charged and tried in court.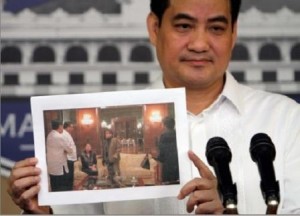 It seems that while many are demanding that Janet be made to answer for allegedly stealing billions of pesos from government or debating passionately about the legality of making her a state witness, not enough people seem to have noticed that she was arrested for  illegal detention — which is actually a different crime from kidnapping and abduction. (If you want to look it up, go to Kidnapping and Serious Illegal Detention at Dr. Jovito R. Salonga Center for Law and Development and Difference Between Info's "Abduction and Kidnapping")
Perhaps, like Corona's impeachment, what mattered most to the crowds screaming for blood at that time was the public humiliation and the pageantry of the farcical trial that ensued.  It was plain old street justice dressed in taffeta robes where the accusation was the evidence, the trial was governed by a mish-mash of half-understood rules, and the outcome wasn't determined by principled judgement as much as the largess of bestowed by transactional politics.
Looking back on the Corona Impeachment, I think another thing Yellow Army members can't get their minds around is the irony of their position now as they call for the scrapping of the pork barrel system.  Corona was impeached and convicted by PORK.
Moreover, without Pork Barrel funding, there will be little or no way to stave off an impeachment complaint against President Noynoy Aquino  in congress should one be filed.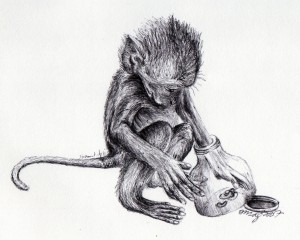 Thing is, what the Aquino Administration looks like to me right now is a monkey caught with it's hand in jar.
Given all the accusations thrown at Napoles, I'd think that if there is anyone who can considerably unravel the network of corruption in government, it would be her.
Assuming this, I think Aquino has the key to really make good with his campaign promise of eradicating corruption.  If only they can keep themselves from trying to manage and control Napoles.
Just to give you an idea of the extent of what Napoles I hope will unravel, I'll re-post a Facebook status update from Kris Ablan, whose father is a congressman:
Not to defend my dad or any congressman or senator for that matter, but this PDAF scam is bigger than them. It involves dozens of regular government employees at all levels. To get the "check" you need a lot of paperwork. And who gets this done? The congressmen? No. They're just one signature. This scam involves people in Batasan, DBM, COA, DPWH, and DSWD to name a few. It's the little guys who do all the work.

If we want to get anything from this ordeal, it's for Mrs Napoles to reveal all her contacts in these agencies.

Ang congressmen at senador napapalitan. Pero ang appointed government employee may security of tenure.
What this underscores is the fact that the backbone of the network of corruption in government is more likely comprised of little known members of the bureaucracy who've been in position for decades and are experts in the intricacy of government transactions.
Another thing about this is that it tends to run against what Atty. Raymond Fortun said on Facebook against the idea of making Napoles a state witness:
Let's assume there are 23 congressmen who dealt with Napoles. Assuming that each congressman turned over their entire Php70Million to Napoles's bogus NGO's, and the "deal" was that each congressman would get 70% (with Napoles getting 30%), each congressman would get Php49Million (70% of 70M). On the other hand, Napoles would stand to gain a grand total of Php483Million (30% of 70M x 23 congressmen). Do the math — Php49M as against Php483M. Who benefited the most?

In the concept of a grand conspiracy, it is highly unlikely that 23 congressmen from various districts all over the Philippines (including party lists) would get together and instruct Napoles to set up bogus NGO's so that they can all get 70% of their pork barrel allocation. Rather, it is easier to surmise that NAPOLES separately approached 23 congressmen, told them of her scheme to use bogus NGO's to extract the congressmen's pork barrel allocations under a 70-30 sharing arrangement. Under the latter scenario, it is NAPOLES who masterminded the entire scam, with the congressmen being the greedy and willing participants thereto. Suffice it to state that the mastermind CANNOT become a state witness; the mastermind is the MOST GUILTY.
Perhaps Atty. Fortun is assuming that the "services" that Napoles is of the normal sort that can be openly offered to congressmen. In any case, it is equally likely that being an illegal service and prone to all the risks that such deal can entail, Napoles could have only gotten access to other congressmen by being "endorsed" by others who have had satisfactory dealings with her.
Given the number of people whose signatures and cooperation is need to release government funds, I'd think that it would be impossible for Napoles to have corrupted all of these people and organized them into a network — creating the whole system by herself.
That system surely must have existed LONG BEFORE the pork barrel scam.