I would have to say that the outrage being shown at the persisting pork barrel anomalies – at least in social media as far as I can see – is both unprecedented, and quite frankly, a bit astonishing. There are calls to assemble at the Quirino Grandstand in Luneta on August 26, 2013, to call for an abolition of the pork barrel. The organizers are aiming for at least one million participants to show the government just how fed up the people – their bosses – are that this source of corruption persists. In fact, news reports and exposes have been coming out that involvement in the pork barrel scam is not limited to just the opposition and non-allies of President Benigno Simeon Aquino III (BS Aquino). BS Aquino has also been reported to have his own pork barrel that puts all the other allotments to shame.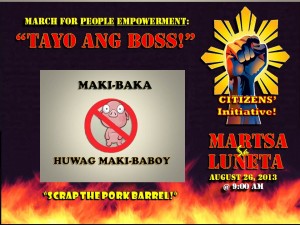 With that being said, there is a reason that I view street revolutions with a little bit of apprehension and even disdain every time I hear calls for them, mainly because in hindsight it is very apparent that past instances of street rallies were mainly focused on just ousting the current person in charge and not much else. There was no follow through from the people, no plan beyond the venting and outrage, no inclination to follow democratic institutions that have already been put in place, and certainly a lot of grandstanding by certain self-righteous and self-important folk.
At this point it is not clear as to what the nature of this rally will be. I've seen a few accounts on Facebook that predict that this latest rally may inevitably turn out to be a "picnic". I've also read a few comments that even the organizers themselves seem disorganized and unsure of what to do.
If the organizers and participants of this rally are serious about making sure that their event accomplishes something, I think there are a few questions that must be answered before they go and do their thing.
What happens after the rally?
Is there going to be anything substantial underneath all the posters, slogans, and paraphernalia?
How are the organizers of this one going to make sure that this doesn't end up like one of those EDSA street revolutions, where after the protest, bahala na? (I bet someone's going to say "because it's going to be done in Luneta") What is the plan for all the politicians who will be investigated and found to be involved in the pork barrel scam? What is the plan to make sure that the pork barrel doesn't come back under another fancy name or, most especially, a more inconspicuous form? If the protesters get the attention of people who are sympathetic to the cause and are in positions of influence and/or power, what is the proposal for the method by which the pork barrel will be eliminated?
Who is going to back the protest up?
As much as we don't like to admit it, the Philippines has a strong executive, top-down culture and form of governance. There are powerful influencing forces in the Philippines, and without them, the rage of the people will definitely not be enough. This is the reason why, for example, the Reproductive Health Law had been stuck for a long time in both houses of Congress. This is also the reason why the Freedom of Information (FOI) Bill keeps getting shot down.
Definitely, the validity and the power of popular support for an idea or piece of legislation is at times overestimated here in the Philippines.
How do they plan to convince others who are not yet in on the cause?
If the protest organizers are planning on getting a million people, that's all well and good. But take into account the other 99 million, majority of whom most likely don't have a Facebook account, how are they going to get them to care? It's hard to tell how many of the poor even have an idea of what the pork barrel is. Quite possibly, perhaps through some sort of donation or dole-out from the local government, there have been "beneficiaries" from it who will find it difficult to see the point in having the pork barrel scrapped.
I think these are valid points that only the cynic in me (I would like to think pragmatist, though) could ever raise. Filipinos shouldn't mistake those who ask such questions like this as wanting the whole initiative to fail; on the contrary, more than wanting it to succeed, we want to see it accomplish something where previous ones have failed. To do that, there has to be a plan and an overarching vision beyond the rally.
Well, if it really isn't meant to accomplish something, and is just yet another forum for the disgusted 1 million to vent, well, what can I say? Life goes on in the Philippines…
А вы, друзья, как ни садитесь, все в музыканты не годитесь. – But you, my friends, however you sit, not all as musicians fit.