Phew! That was one hectic week and I hope I don't go through another one like that again in the next month or so.
Sunday ushered in heavy rain and flooding that sank most of Manila and as usual, for me in Marikina City, I had to implement my household's "flood disaster plan" — which, I think, still needs some more refinement.
A "movement against to scrap pork" goes underway and is headed for a climax of sorts on August 26, but even before that happens the Senate announces a plan to scrap its pork barrel.
Law enforcement still can't find Janet Lim Napoles, the central figure in the so-called P10 Billion Pork Barrel Scam.  A warrant of arrest has been issued for Napoles on the basis of "illegal detention" raps and the latest word from the National Bureau of Intelligence is that she may have gotten cosmetic surgery to evade apprehension.
And news of yet another girl in the life of President Benigno Aquino surfaces… as if we haven't had enough of those kinds of news items.  Then again, it's pretty much a routine by now for the President or his sister to come up with something like this whenever terrible publicity looms — the current cycle beginning with that Ballsy Aquino/Inekon alleged P30 million extortion attempt and punctuated by the President's absence while Maring/Habagat wrought havoc on most of Mega Manila.
But floating in the along with various news items that loomed on Facebook and Twitter were a couple of good things.
One bit of "good news" that got passed around a lot on Facebook was that SM and other malls stayed open during the height of the recent storm.
Annie Garcia, president of Shopping Center Management Corp (SCMC), said SM Sta Mesa became host to 230 overnight parkers — free of overnight charge– as well as another 60 in SM Manila and two in SM Marikina.

SM Manila also had more than 150 stranded customers inside the mall. SCMC operates the SM shopping centers.

"Those customers who parked their cars in the carpark buildings chose to stay inside their cars because they had kids sleeping. We provided them with coffee and crackers in the admin office and use of [comfort rooms]," Garcia said.

SM also made available its power supply so the stranded people could charge their cellphones. The mall operator also set up a television so they can monitor the news.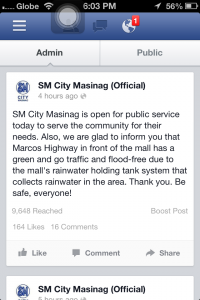 Moreover, near my part of Metro Manila, it seems the usual flooding in Masinag was vastly reduced.  A friend who lives up in Antipolo and goes by the place was actually surprised that he was able to pass through the area without incident.  He says this could be because SM Masinag has a rain catchment system or rainwater holding tank which guzzles up rain water that could otherwise flood the street.
And still yet another thing, SM MOA in the reclaimed area on Manila Bay didn't have the flooding and trash tsunami experienced on Roxas Boulevard.  It's been proven by DOST-Project Noah and other government agencies that the cause of flooding on Roxas Boulevard are STORM SURGES.  MOA, being built on reclaimed land acted as a barrier against the storm surge which could have aggravated the flooding in Pasay.
This tends to fly in the face of leftist groups like Pamalakaya who have been opposing reclamation on Manila Bay on the basis of reasons which were already thrown out by the Court of Appeals.