Evidently, a wait-and-see position taken by both the president and members of Congress on how the brewing outrage over pork barrel thievery in the Philippine government may play out did not work. The issue did not go away and the outrage has snowballed in the lead up to what may be a massive protest rally in Luneta on Monday, the 26th August. What's a bunch of people caught red-faced with their hands in the cookie jar to do but come out and join the bandwagon.
Coming at the heels of an already long-overdue acknowledgment from legislators that the pork barrel funding of pet projects that had become the whole point of seeking Congressional office is now a national affront to modern governance is an even longer-overdue statement from President Benigno Simeon "BS" Aquino III on the matter.
Departing from his earlier statements, President Benigno Aquino III on Friday said it is time to abolish the Priority Development Assistance Fund (PDAF).

At a press briefing, Aquino also vowed that those who benefited from the alleged misuse of these discretionary funds will be held accountable.

"Nakita natin sa mga ulat na lumabas nitong mga nakaraang linggo: kailangan pa ng mas malaking pagbabago upang labanan ang mga talagang pursigidong abusuhin ang sistema. Panahon na po upang i-abolish ang PDAF," Aquino said.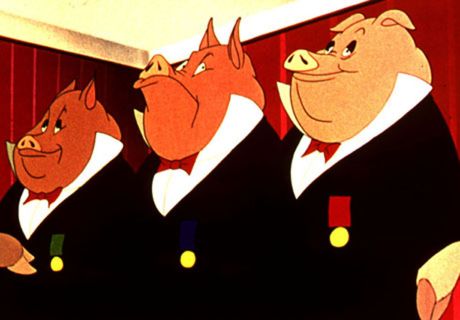 Yadda yadda yadda… How does the President continue to say such things while keeping a straight face?
But some of the good news first. Considering his track record of waffling about long-term plans and visions, the one impressive aspect of the President's pronouncement was to commit to chasing down and bringing to justice those who are found to be guilty of plundering what may amount to billions of pesos in public funds doled out as pork over the years. The bad news is around the dubious characters who have been charged with spearheading the manhunt. In barely-comprehensible Tagalog, the President expressed his "confidence" in the integrity of whatever these investigations reveal under the leaderhip of the Ombudsman, Conchita Carpio-Morales and Department of Justice Secretary Leila De Lima…
"Buong-buo po ang kumpiyansa ko sa integridad nina Ombudsman Conchita Carpio-Morales, Kalihim Leila M. de Lima, at Chairperson Grace Pulido-Tan; alam kong wala silang kikilingan. Kinakatawan nila ang panunumbalik ng tiwala ng publiko sa mga institusyong kanilang pinamumunuan," he said.
…which is quite ironic considering how back in 2010, the outcome of an investigation led by De Lima to identify who were responsible for the botched handling of a hostage situation that led to the deaths of nine Hong Kong tourists after rogue cop Rolando Mendoza hijacked their tour bus was ignored by President BS Aquino. Indeed, this lack of closure remains a source of frustration for Filipinos outraged by the gross incompetence that played out before the world and, specially so, for the families of the victims themselves some of whom are reportedly planning to take legal action against the Philippine government…
They name the Republic of the Philippines as the first defendant. The eight officials include then Manila mayor Alfredo Lim, Manila police superintendent Rodolfo Magtibay, Police Special Action Force chief Leocadio Santiago Jnr, Philippine National Police director general Jesus Versoza, Interior and Local Governments Undersecretary Rico Puno, chief hostage negotiator Orlando Yebra, and Chief Inspector Santiago Pascual III.

Solicitor John Clancey, who represents the trio, said the eight officials were sued because they were criticised in an investigation report by Philippine Secretary for Justice Leila de Lima.

The three did not specify the amount of compensation, but legislator James To Kun-sun, who has been helping the families, estimated that the compensation would be "at least several million dollars.
Apparently not learning the obvious lesson from all that, BS Aquino said he expects the probe on pork barrel thievery to take "three to five years for each and everyone" (of the persons of interest, presumably) — well beyond the remaining years of his term as President. That's rather convenient as he likely will not need to face the accused come the time the guillotine blades need to be cut loose on them. Just what this country needs — yet another protracted investigation with dubious chance of anyone of consequence being prosecuted as an outcome.
If there is to be any closure in the pile of unresolved cases that is mounting as President Daang Matuwid works through the remainder of his term, he will have to make hard decisions about how "investigations" are conducted under his watch. With too many political-appointees leading what is by itself an already astoundingly political case, the whole effort certainly begs innovative approaches to getting real results achieved.
benign0 is the Webmaster of GetRealPhilippines.com.