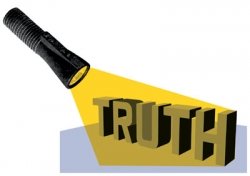 Fact is, one will be hard-pressed to find a totally objective account of history. Though ultimately historians either avoid bias to the greatest extent possible or purposefully show it, individual accounts will never truly be free of it. Ultimately each individual's account passes through a filter which is composed of his/her philosophies, belief systems, experiences, and aspirations.
It is also unavoidable that no two people will have the exact same view or outlook on an historical event. Again, this is due to the phenomenon I described above: filtering through one's own philosophies, belief systems, experiences, and aspirations.
Ultimately, it is also inevitable that the "winners" – those who emerge dominant in their respective societies or areas of influence – get to write history in a manner that suits each one of them best. Each "winner" would like to paint itself as a saint and/or a bastion of goodness and virtue, not only because it believes that such is true, but quite simply because each one of them has to. If it boils down to having to use propaganda, those who do so can use history to their advantage. And they often do.
What happens when people start seeing through the propaganda?
People start forming counter-assertions, and debate ensues. This needs to be accompanied by a systematic approach to determining which assertion is the one that objectively holds more water. However, all sides have to be open to the possibility that their point of view may not at all be entirely correct, or complete. If even just one side is utterly and inflexibly convinced of its correctness and righteousness, the process of systematically teasing out the truth becomes excruciating and cumbersome.
The last sentence in the paragraph above describes a situation all too common in the Philippines. And in recent times, the Aquino-Cojuangco clan is often involved in it. The state of affairs here in the Philippines has shown that the mystique of EDSA, People Power, and the veneer of saintliness of the Aquino-Cojuangcos have been fading away. Whereas before very few were willing to question the infallibility of these people and events, the portion of the population that has grown dissatisfied and disillusioned with them has grown larger. And Benigno Simeon "BS" Aquino's performance as the current president of the Philippines is contributing to this growing dissatisfaction and disillusionment. Much like his mother's performance as president did.
I think it is also worthwhile to mention two things here:
1)BS Aquino had attempted to call for a re-writing of Philippine history by getting books to mention that the Martial Law years were categorically bad, and;
2)Recently, ABS-CBN put up a post on their Facebook website, "Cory Aquino. Democracy Icon. How do you #RememberCoryAquino?", which was inundated with negative responses from commentators who no longer believe so.
The underlying point that can be easily overlooked here is that ultimately there is more than one valid point of view. In order to form a recounting of historical events that is as objective as possible, one has to draw from different sources. And when information from these different sources is cross-referenced and validated against each other, it is only then that the real account comes out.
That being said, I find it very disturbing if people suddenly come up and say that only they have the sole authoritative/definitive viewpoint. I also find it very disconcerting that there are people who have the gall to make summary and premature judgments on other people's views instead of accepting them at face value.
One thing that is often overlooked is that one can respect other people's viewpoints while subjecting them to scrutiny. It takes a logical and critical mind, and a systematic process for testing assertions to do so. That process is called the scientific method.
Accompanying Filipino society's ambivalence towards the truth – things are often sugarcoated here but people chase after accountability for past events like rabid dogs – is that Filipinos consistently fail to answer a simple question:
What happens next once the truth has been determined?
The ideal is that the events of the past should serve as a guide for the present and tools to help shape the future. Naturally, societies want to learn from their past mistakes so that those will not be repeated. They also want to know what worked before that they can consistently apply to their situations. They also want to know what changes should be expected when they look at their future.
I once came across a Russian proverb: "Dwell on the past, and you lose one eye. Forget the past, and you lose both eyes." Well, Filipino society has been described by some people as "the blind leading the blind".
Now we all know why.
[Photo courtesy Wicked Minds]
А вы, друзья, как ни садитесь, все в музыканты не годитесь. – But you, my friends, however you sit, not all as musicians fit.