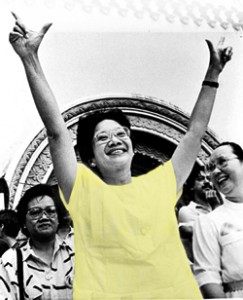 A friend of mine had shown me a post on the ABS-CBN Facebook site. It read "Cory Aquino. Democracy icon. How do you #RememberCoryAquino?" I was half expecting people who would leave comments there to still shower praises upon the former president and icon of the People Power Revolution here in the Philippines. And like benign0 before me had written, I was kinda surprised that what turned out was overwhelmingly the opposite.
The first questions that came to mind were: why did ABS-CBN suddenly bring up such a question (not that it's anything out of the blue for their usual pro-Aquino propaganda)? Was there any special reason for them to do so? It's not yet August 21, the day Ninoy Aquino was shot dead. So I asked around and looked on the Internet: August 1 is Cory Aquino's death anniversary.
Silly me. If I had not stumbled upon that Facebook post I would not have remembered! Does that make me a traitor to the Filipino people?
It should not.
Thus we now come to the categorical statement which I had made with the title of this post:
I don't remember Cory Aquino.
Growing up in the 80's I remember numerous coup attempts, lots of brown-outs (known as blackouts overseas).
After Cory stepped down, I remember her anointed successor Fidel Ramos having to deal with leftovers from her term and faring better than she did. She and her clan continued to meddle in politics until this very day.
When Erap Estrada came to power, she was among those who called for him to step down amid his unsuitability for president and the ongoing plunder trial. This is where EDSA II came in, but this time it had become a mere joke compared to the first one.
During former president Arroyo's terms as president, she quickly switched from being Arroyo's ally to being a vocal enemy of hers, most likely when Arroyo set her eyes on the Cojuangco clan's beloved Hacienda Luisita. What was supposed to be EDSA IV following an impeachment bid against Arroyo that didn't really go far instead fizzled out for lack of real direction and lack of a legitimate successor.
And then Cory died in 2009. This triggered the sympathy vote that catapulted her son Benigno Simeon "BS" Aquino to the highest government position in 2010. BS Aquino supposedly warned of another EDSA-like event if failure of elections, i.e. he didn't win, occurred. But nothing occurred, and by that time, street revolutions had lost all its attractiveness and usefulness.
Filipinos sure know how to milk and bleed everything dry.
Cory Aquino and her clan were once revered by the Filipino people as saints who rescued them from "the clutches of the evil dictator Marcos." This was once accepted as absolute truth. Fast forward almost 30 years later, we find a growing number of Filipinos disillusioned and disappointed with what her presidency was, and what the presidency of BS Aquino is turning out to be.
A lot of people will say that we simply traded one type of dictatorship for another one. In the end, we're no better off now compared to then. The same lack of direction and bahala-na mentality that, in hindsight, characterized EDSA I still remain today. The cronyism that is supposedly a hallmark of Marcos' period is still here; only the people have changed. The corruption that people were supposedly tired of merely continued on.
In other words, Filipinos pinned their hopes on Cory Aquino to change their futures for the better, and 30 years hence, they feel the sting same as ever. Let's be realistic, though; not everything was Cory's fault. Filipinos themselves are to blame for their own problems too. They never did anything about their weak government institutions, their culture of mediocrity and impunity, and failed to be vigilant in holding their leaders accountable. They were too caught up in the mystique of the then EDSA revolution to start thinking straight.
After her term, however, there should have been no excuses anymore.
Quite simply, I don't remember Cory Aquino for the simple reason that there's nothing to remember except all the failures of the Filipino people in the past along with it. This, however, seems to be no problem for a people lacking in foresight and forever stuck in their past.
Let's get real, people: EDSA is DEAD. The mystique of People Power is DEAD. Most of all, former President Corazon Aquino is DEAD. It's time for Filipinos to keep it that way.
А вы, друзья, как ни садитесь, все в музыканты не годитесь. – But you, my friends, however you sit, not all as musicians fit.