For all the feel-good news snippets we are receiving about the arrival of the Philippines' newest warship, the 3,200-tonne BRP Ramon Alcaraz which joins the 3,400-tonne frigate BRP Gregorio del Pilar also acquired from the United States last year in patrolling disputed waters off Palawan, one cannot help ask a simple question: Can anyone really stop China?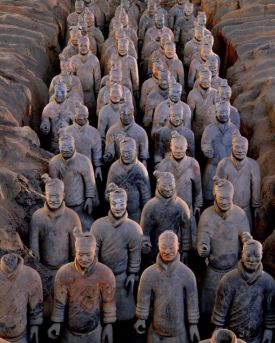 There really aren't too many options for a country like the Philippines — big in population and nationalist rhetoric but small where it counts. From these recent developments in the way it now belatedly joins a regional military buildup and gets back in bed with its former colonial master, the Philippine government seems to not have taken to heart the old cliche: Size does not matter. It is the motion of the ocean that counts.
In short, if you've got a small dick, you need to compensate for it by being creative in the sack.
The Philippines, unfortunately, is a society not exactly known for creative solutions. There are lots of examples of people doing vastly more with a lot less in the region that puts this flaccidness of Filipinos' wherewithal to succeed in proper perspective. Back in the really old days, Japan, an even more economically- and politically- isolated resource-poor feudal society at the time underwent an epic expansion in industrial and military capability funded mostly by domestic capital. Its navy then went on to sink two Russian fleets and subjugate an entire chunk of China before proceeding to start the Pacific stage of World War II.
Then there is Singapore. Newly-independent from a less-than-friendly Malay Federation to which it was dependent on for much of its fresh water supply, threatened all around it by Indonesia, and abandoned by a severely-weakened British Empire, the little city-state moved on and engaged the services of the Israeli military to help train its security forces all while it hunkered down to focus on the business of re-inventing itself into an economic force that propelled it to the wealthiest enclave in the region that it is today.
South Korea. Eviscerated after a pointless war with the North in the 1950s and now supplying half of the world's automobiles and smart phones. Its small immigrant force of shopkeepers now also prop up local economies across the Philippine archipelago. Enough said.
China is by no means coming from a position as disadvantaged as Japan, Korea, or Singapore was. As such, one can only imagine what it can achieve in the coming years. Indeed, the tide seems to be turning as far as the flow of wealth-creating technology goes. Gunpowder, printing, and long-haul maritime navigation — all invented in the East — became the death of China once Western European kings and queens grasped their potential for world domination. Today, we are seeing the same trend, this time going the other way. Greed and its spawn, perverse obsssession with profits and "shareholder value" has all but resulted in the West giving away its most prized and hard-earned technological marvels to China all in the name of "outsourcing". In terms of financial capital alone, China now pretty much holds the West by the nuts. It's not gonna stop there. Already much of humanity's digital data (containing precious personal and military information) flows through Chinese-made routers and switches.
You can beat a horse. You can even beat a child. But I don't think anyone can beat China when it comes to flooding the world with cheap trinkets and making war as well. The West has long lost its nerve and resolve to lay waste to any kindgom that stands in the way of its merchant and naval fleets. An entire generation of fructose-fed fat people in the West now take their respective governments to the small-minded task of ensuring their continued access to cheap fuel to power their SUVs, gigantic flat screen TVs, and fashionista lifestyles. So much for the sons and daughters of William the Conqueror.
China, on the other hand, remains an enormous centrally-controlled relatively homogenous society. Its previous emperors achieved what European warlords failed to do in the Middle Ages — carve out a vast unified land empire within which minerals, goods, and services flow to where they are most needed, driven as much by industrial and consumerist greed as by overall state-level interests as determined by its regents. It is big, old, and culturally profound enough to create its own geo-political standards of ethical behaviour — what Philippine diplomats are getting a taste of today as the Celestial Kingdom applies a sweeping our way or the highway negotiation approach when it comes to discussing the "issue" of the disputed "West Philippine Sea".
By contrast, Europe's great but comparatively lame experiment with economic unification is fraying at the seams, the United States's biggest industrial cities are rusting away, and southeast Asia's squabbling banana republics are nowhere near any similar such Holy Grails.
China is back on track to becoming the wondrous grand achievement of Confucian civilisation Marco Polo feasted his senses upon wide-eyed in the 14th Century. You gotta wonder then whether half-assed treaties referred to with euphemisms like "Visiting Forces Agreements" and aspirations to bump up military spending to an awe-inspiring 2.4% of GDP will resolve "disputes" with parties like these.
There are no pwede na yan solutions when it comes to dealing with a belligernent 10,000-year-old foreign power.
benign0 is the Webmaster of GetRealPhilippines.com.