Over on Fashion Pulis, they're asking if it was indeed Chito Miranda's own son that leaked the sex video with Neri Naig.
Various screen captures of Facebook updates reveal what seems to be signs of a festering conflict between father and son, among which the most telling one seems to be this: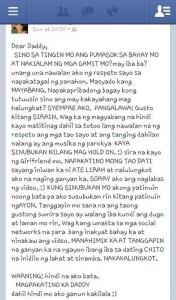 The Facebook Status updated which supposedly belongs to Alfonso Yanga Miranda reads:
Dear Daddy

Sino sa tingin mo ang pumasok sa bahay mo at nakialam ng mga gamit mo? May iba ba?

Unang-una nawalan ako ng respeto sayo sa napakatagal ng panahon. Masyado kang MAYABANG. Napakapribadong bagay kong tutuusin sino ang may kakayahang mag halungkat? SIYEMPRE AKO. PANGLAWA: Gusto kitang SIRAIN. Wag ka ng magmayabang na hindi kayo matitinag dahil sa totoo lang nawalan na ng respeto ang mga tao sayo at ang tanging dahilan nalang ay ang musika ng parokya KAYA SINUBUKAN NILANG MAG HOLD ON.

(Translation: Dear Daddy, Who else do you think went into your house and messed with your things? Is there someone else? First of all, I lost respect for you a long time ago. You're just too proud.  If you thought of it, this is really a very private matter which only someone who knows you might know about and whoelse would that be? Me, of course.  Second, I want to destroy you.  Don't be so proud and sure that you and Neri won't succumb, a lot of people have lost respect for you a long time ago.  It's only the music of Parokya Ni Edgar that has people holding on.)
There are other screen captures and more lurid details in Fashion Pulis, but that really doesn't matter as much as the dilemma that Chito might be facing and this may revolve around the possibility of filing charges against his own son — if the Facebook Status updates are really his son's.
I am not sure at all whether the country's laws prohibit the recording of a sex act — whether for private viewing or otherwise.  But it is clear though that the circulation, reproduction, and public viewing of such may be a criminal act if it is proven to be pornography.
It's bad enough that Chito had the apparent lack of good judgement to record his private sex act with Neri Naig.  The thing is, as with all records, these things have a life of its own and can be lost or stolen.  There is no method on earth that completely ensures private documents, video, pictures, etcetera can be kept secret — even if it is encrypted and stowed away in a vault.