One of the more remarkable events that occurred during the August 26 Luneta Rally (I wonder how many of them went on the spot where the Bus Hostage Crisis happened) , was the reported booing of former Chief Justice Renato Corona when he appeared at the rally. I also noticed a lot of rabid anti-Coronans at the GRP Facebook Community page too (who obviously can't carry out their outrage fad without violating group rules). Their reasoning is that Corona, being corrupt (as they insist), had no right to be at the rally and deserved the booing. The mass media makes it appear that many people are against Corona.
But let's look at a few things. Columnist Teddy Locsin tweeted that there was really no booing by a group, but by one woman: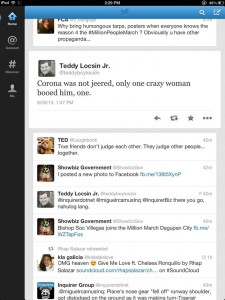 Another person, yoga personality Jane Uymatiao, reported hearing people booing, not knowing who they were booing:

In putting all together, I would conclude that the booing of Corona was overplayed by mass media, and contrary to what it is trying to depict, not that many people are against him. Or, if more than one person actually booed Corona, they were likely not aware of who was being booed. And what happened here seems to be a microcosm of what actually happens in our Philippines political situation, including Corona's own impeachment trial/kangaroo court: the people get fooled.
Why do I say the people are getting fooled?
Just look at so many things. Firstly, the Anti-Coronans say the properties he owned are proof of his corruption. But if anyone bothered to remember, that was debunked during the impeachment trial/kangaroo court and the prosecution received a powerful scolding for it. Another instance, related to pork barrel, is where people are calling for Jane Napoles to be caught. But only her, even if others (the very politicians we vote) get much more pork barrel and actually have more control over it.
Or let's look at another thing, something non-political. Many Filipinos, even educated ones, pass around fake Facebook messages and news, such as Morgan Freeman's or Jackie Chan's death and all. The kicker is that they believe it is true. That's the problem; many Filipinos don't bother to check whether something is true or not, or whether they understand something correctly or not. And that includes the surveys. Oh yes, even the cases when Filipinos never understood Katherine Ryan's joke or on Donald Trump Jr. and the recent Tubbataha Incident.
This is the phenomenon named groupthink. It happens when one sees people beating up someone, then they join in the beating without asking why, and later find out they are beating up a pregnant woman who her husband was beating. It is when people just follow other people around them, sometimes even if they realize they are doing wrong. They are afraid of being different from the rest, for fear of rejection, fear of not being "in" or even being attacked (which I understand considering the nature of Philippine society).
This led me to post this on my Facebook status that day:
Oh, so former CJ Corona was booed (by only 1 woman, according to Teddy Locsin) at the "anti-pork barrel" rally earlier. But that doesn't make sense. Pork barrel was instrumental in successfully impeaching him. So if you are anti-Corona, then you should be in favor of pork barrel. No pork barrel, Corona would have stayed.
Yes, I have the position that Corona had every right to be at the August 26 rally, because he is a victim of pork barrel. But some Filipinos, believing the propaganda hook, line and sinker, keep on hammering him as the symbol of corruption – even if in fact he never benefited from pork barrel. This is comparable to the thing that's happening with former President Gloria Arroyo (couple that with the president blaming her for pork barrel, when in fact pork barrel started during his mother's term). Yet some Filipinos lap up surveys, or believe whatever they hear on mainstream media. We have to be careful of our own outrage and check things before we rage.
It reminds me of what one eminent Philippine Politician, Richard Gordon, said
"Nakakahiya ang ating lipunan (our society is shameful) because we do not think… we react." (Around 3:00 of the following video)
Reacting without thinking means you don't know what you're doing. And yes, this is the problem of many of our people… they actually are not thinking properly. This is probably why problems like pork barrel persist; people are unable to get enough facts to make a more informed stand. Many Filipinos, including the supposedly enlightened, love to join outrage fads without actually thinking about what they are joining and getting all the facts. This is what makes Filipinos susceptible to media manipulation.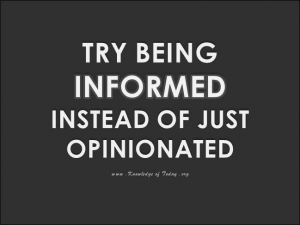 Now that the president has said, " I really don't think that we can have any conviction under my term," does it look like everything has been for naught? I reiterate that Filipinos have to accelerate their brain functions several notches up and be more careful and discerning… and not just believe everything they see and hear. Especially on mass media.
I believe, as my cohorts here do, that what Filipinos embrace as their culture is what actually pulls the country down. And those who seem to be anti-dictators, who may also believe themselves to be "heroes," are the real dictators.