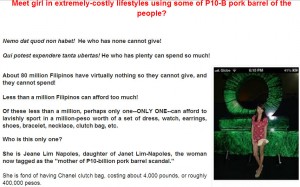 Be careful of what you post on Instagram, Twitter, or Facebook.  The taxman, or in this case, the tax woman may be watching and just might use this as a basis for looking into your financial records to see if you've been holding back on tax payments.
According to a news report from ABS-CBN News, the Bureau of Internal Revenue is investigating Janet Lim Napoles after they apparently got hold pictures of Lim-Napoles' daughter wearing designer clothes, jewelry, and shoes on Instagram.
The basis for the investigation, apparently, were pictures posted by Berteni "Toto" Causing on his blog  and these were later picked up by Rappler as well as other websites.
ABS-CBN News claims that a fashion designer/model friend of Janet Lim Napoles had sent them the pictures.  (The thing is I recall that a certain Eddie Badeo, supposedly a fashion designer and transgender model, had come out to confirm allegations made by his friend Benhur Luy regarding the supposed P10 Billion Pork Barrel Scam.  Could this be the same person who gave ABS-CBN the pictures?)
It is claimed that Jeane Napoles, the daughter of Janet Lim-Napoles, deleted her Instagram account perhaps in an effort to make the pictures it contained private.  But apparently, someone managed to get hold of the pictures before the account was taken down.
Anyway according to the report on ABS-CBN BIR chief Kim Henares said she has also received photos and information on the Napoles family.  The Tax Woman said her bureau is now looking into the family's properties.
She pointed out that there is nothing wrong in flaunting one's wealth as long as the person pays the right taxes.  She said tax evasion charges will be filed against Napoles if there is evidence to support the allegation.
"Sabi niyo mayaman kayo, kailangang ma establish kung ano yung asset. Check natin kung nagbayad ng tamang buwis. Kung talagang mayaman at nagbayad, walang problema. May problema lang kung hindi nagtutugma yung dalawa," Henares said.  (Translation: You said that you are rich, but we have to establish what your assets are. Let's check if you've paid the right taxes. If you're really rich and you've paid taxes, there ought to be no problem.)
Napoles, for her part said that the designer and luxury items worn by her daughter in the picture were bought using money she earned from her businesses.
"Wala po na nanggaling sa gobyerno, ni piso. Lahat pong yan ay hanapbuhay namin galing sa aming pinaghirapan," she said. "Kaming mag-asawa ay nagpapakamatay na maghanapbuhay para maibigay po namin sa aming mga anak. (Translation: "Not a single peso came from the government.  All of that you see in the pictures came from hardwork.  My husband and I work very hard to provide well for our children."
Recalling impeachment case of Supreme Court Chief Justice Renato Corona and how various properties were trotted out as a manner of proving that Corona had amassed "unexplained wealth", I'm given to thinking that the same thing is being done here to Napoles — except for the fact that all this is being played out in the "Court of Public Opinion", a dubious court to say the least.
Thinking about it some more, and just to be fair here, neither Toto Causing nor the other journalists who filed the report showing Jeanne Napoles' luxury goods have provided evidence that the goods were purchased using money acquired through illegal means.
And, what's more, why at all subject the daughter to what seems to be online harassment?  Is there any proof at all that Jeanne Napoles was involved in the Pork Barrel Scam enough to subject her to what is clearly a vilification campaign?
As I've said in the comment section of previous blog posts, perhaps these matters would be best tackled in court — the Sandiganbayan perhaps?
—
Anyway, on another rather well publicized "tax evasion" allegation that happened in January this year…
Apparently, an e-mail went the rounds claiming that the BIR would give a reward of P150 Million for anyone who would provide information on the alleged tax evasion being perpetrated by Silka Papaya — a popular skin whitening soap.
Dax Lucas, on Bizz Buzz came up with the story:
Not a few people were surprised when word appeared on social media that the Bureau of Internal Revenue has offered a P150-million reward for anyone who could provide "prima facie evidence" that supports what appears to be the agency's ongoing probe of Cosmetique Asia Silka Papaya (yes, the firm that makes that whitening soap product).

Such news item was even carried by TV5's news website Interaksyon.com based on a press statement that was e-mailed to some reporters, ostensibly by a BIR official, Tuesday morning.

In the statement, the BIR supposedly offered the reward—equivalent to 10 percent of the alleged P1.5 billion in taxes that the firm owes the government—to anyone who could give the agency positive leads to help its investigation.
Well and good, right?

Well, as it turned out, the BIR did not release any such statement, with no less than Internal Revenue Commissioner Kim Henares denying that such a press release was sent out.

A cursory glance at the e-mailed press statement showed that it was indeed of a dubious source. It was purportedly issued by a certain "Tess Idio," who is the officer in charge of the BIR's "incentives division." But the e-mail address it emanated from was a Gmail account instead of the official @bir.gov.ph format.

More importantly, the link to the reference material cited in the e-mail leads to an anonymously written blog, which has been carrying, for some time now, several anti-Silka Papaya articles. (Someone clearly has an issue against the firm's chief operating officer, calling him a "tax evader" and uploading a picture of him on a pricey Ducati from his Facebook account.)

Henares herself had to issue a statement Tuesday afternoon to clarify that the BIR issued no such press release and that any probe it conducts is done in secrecy.

Tsk tsk. So much for that P150-million reward.—Daxim L. Lucas
The site referred to by Lucas contains financial data which would easily be confirmed through an investigation and yet the BIR, it seems, hasn't gotten around to probing this.
Perhaps, while the BIR is at it, Henares might as well look into the Silka Papaya tax evasion brou-haha… After all, it's supposed to be a P4.5 Billion case and surely isn't peanuts at all.