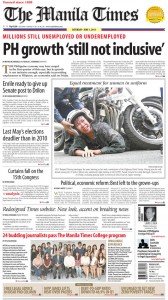 (From The Manila Times, Saturday, June 1. Apparently, the link to this article has been giving some readers a bit of trouble, which is probably attributable to the Times' website upgrade being only a couple days old. Please bear with us.)
While President Aquino and the presumptive new Senate President Franklin Drilon have both expressed their disagreement with recent calls for constitutional amendments to remove perceived barriers to foreign investment, there is a sense that some kind of significant political and economic reform is nevertheless not only necessary within the next 18 months, but is actually entirely possible. Even though the Administration's position that improved, more inclusive performance can be achieved through institutional corrections is spectrally opposite that of influential groups like the Makati Business Club and the Philippine Chamber of Commerce and Industry that the needed changes are structural in nature, a growing number of people on both sides have expressed an interest in raising what is ordinarily a contentious debate above the fray and exploring viable options.
The topic of "charter change" – for lack of a more succinct term for a comprehensive variety of possible political, social, and economic reforms – is a complex subject, and if any progress is to be made at all, those participating in the public debate have to remain open-minded to differing views. Despite the general official resistance to the idea of "charter change" in the strictest sense – meaning actual constitutional amendments – some key figures among the Administration and its allies have expressed an interest in continuing the discussion. For those who are inclined to take an open-minded, long view of the issues, there is reason for optimism that something can be accomplished.
Unfortunately, evidently not everyone is capable of flexible thinking. A small but vocal group of extremist reform "advocates" led by a Singapore-based OFW named Orion Perez Dumdum and ironically calling itself the "CoRRECT" Movement has recently raised the intensity of attacks against critics of Dumdum's prescription for reform, which includes a shift to a Parliamentary system of government, reconfiguring the present unitary system of administration to a Federal system, and removing all restrictions to foreign ownership and investment in the Constitution and other laws. Although no one has been spared, most of the vitriol from Dumdum and his small core group of followers has been directed against the group behind the long-running and popular Get Real Post website (http://getrealphilippines.com/), which has published an extensive series of articles (several of them authored by yours truly) critical of the "CoRRECT" agenda over the past three years.
The Get Real Philippines group (the collective authors of the Get Real Post, among of which, in the interest of full disclosure, I am considered a part of the "inner circle") evolved from a loose affiliation of like-minded participants in the old Pinoy Exchange forum more than a decade ago, and despite efforts to pigeonhole the group into a defined agenda, such as characterizing it as "anti-establishment", Get Real has studiously avoided developing a particular political orientation or imposing one on others. Although most of the group's published output, which is extensive, is harshly critical of the current Administration (as it was of the previous Administration) and the country's political system, if there is any sort of identifiable group ideology, it is a general understanding that the flaws and failures of the Philippines – and the likely solutions to those problems – have social and cultural causes rather than political ones, the latter being mere manifestations of deeper and more complex issues.
The "CoRRECT" agenda so fanatically pursued by Dumdum, who was one of the original members of the Get Real group, actually developed from group discussions in the months leading up to the 2010 elections. A schism developed, however, once Dumdum sought to promote the agenda as a group platform; not only did this run counter to the group's philosophy of being as broad-minded and collectively apolitical as possible, but many of the group – who are nothing if not skeptical – began to question the characterization of the agenda as not only the "best" solution, but the only solution.
What astonishes most of the current Get Real group is that, despite varying degrees of disagreement with the specific "CoRRECT" agenda, no one has ever taken the plainly contrarian view that its components are completely invalid. They are certainly debatable, but worth debating nonetheless, in the same way that other ideas – the Administration's "do something other than charter change" position, the economic liberalization advocacy of major business groups, and various ideas for progressive legislation – are worth debating. Because what is being proposed, nothing less than shaping the entire future of the Philippines, is so important, every idea should be subjected to intense scrutiny, and every idea should be expected to evolve as our collective understanding grows.
That, unfortunately, is unacceptable to Dumdum and his ironically-named "CoRRECT" movement, whose initial attempts to respond to criticism with some semblance of rhetorical maturity have devolved into gutter tactics intended to silence critics, including publicly divulging personal information about Get Real members and their supporters – including, in some cases, their spouses and children – and most recently, threatening legal action to take down the Get Real Post website, on the flimsy grounds that it "incites ethnic hatred".
Reform for the Philippines – in whatever form it can take – is critically important, too important for attention to be diverted by immature fanaticism. And it is most unfortunate that this fanaticism has raised its ugly head just when the country has achieved some measure of healthy stability and created an environment in which reform is not only possible, but has the best chance of success. The curious timing, in fact, has led some to speculate that the CoRRECT movement might actually be pursuing some ulterior motive; by presenting an "agenda" that is at best unrealistic and impractical at this stage of the country's development while silencing or vilifying all alternative views, the speculation is that CoRRECT may actually be attempting to prevent any sort of reform. For what reason and on whose behalf, no one knows, nor should anyone waste any time wandering down that unproductive path of inquiry. The need for reform, so long as otherwise sincere discussion is diverted, will only continue to grow, and the window of opportunity to accomplish reform is not limitless. Those who have demonstrated their inability to participate in a rational and inclusive public discussion should be given the attention they deserve – which is none whatsoever – while the rest of us grown-ups find ways to work together and find solutions for a better future.
I write a column for The Manila Times on Tuesdays, Thursdays, and Saturdays. Most of the energy sector and the heads of several government agencies probably wish I didn't.