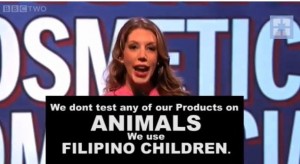 British Canadian comedienne Katherine Ryan is in Filipino crosshairs for yet another episode of misguided Filipino outrage. She recently told a joke which mentions "Filipinos," which you can see in the accompanying pic, at a cosmetics industry event. It was part of "things unlikely to be heard in a cosmetics factory," which obviously contains inside jokes. Humor-challenged Filipinos, in their tendency to give up higher order mental faculties to give in to knee-jerk reactions, once again take offense at this, saying their "race" had been slurred and insulted.
And since Adam Carolla's famous comments about Pacquiao fans, such things have served to demonstrate the schizophrenic insecurity of Filipino society. It's as if Filipinos have a radar for anything that offends them, including things that they really shouldn't be offended at – such as a plate number bearing the owner's name Kiki. And Filipinos who react violently to such only display how pretentiously high-browed and stiff-minded they can be.
I believe that Ryan's joke should not be a bother at all because of the hint it gives: many Filipino children are regularly used and abused in this country. They may take the form of the putas, who as children are pimped out by their parents to foreigners (or even their neighbors), or those whose parents force them to beg on the streets to get them some money. If you've seen the movie, Muro-Ami, you know about the condition of child labor in this country. Foreigners have seen this movie and will likely form their impressions of our country based on it. And there are more. Child labor and trafficking reports in the country remain at an alarming level.
Sure, it isn't funny for some. But neither is it a reason for outrage.
Even if it may be interpreted as a slur, it's still another of those things that tell us, we still have the same problem for years and we seem unable to do anything about it. Perhaps one could say, we are unwilling to do anything about it. This is one of the reasons for my recent article about accepting shame when needed. We know there are problems, but we prefer not to talk about then. We prefer to escape them by focusing on the "bright side" and hiding our problems, because we are trying to be happy. Even if something of urgency is staring us in the eye. No wonder nothing gets done.
Filipinos will be demanding an apology, but the problems that are likely to have contributed to Ryan's joke are likely to prevail long after.
Three years since Adam Carolla, and we as a people still have learned nothing. Sheesh. When will Filipinos ever learn.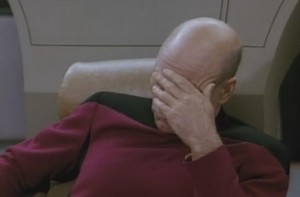 I believe, as my cohorts here do, that what Filipinos embrace as their culture is what actually pulls the country down. And those who seem to be anti-dictators, who may also believe themselves to be "heroes," are the real dictators.