Recently, a picture of certain Filipino historical figures was spread around on the Internet, to celebrate national hero Jose Rizal's birthday. It shows Rizal apparently drunk and clowning around with Felix Resurreccion Hidalgo, Trinidad H. Pardo de Tavera and Juan Luna.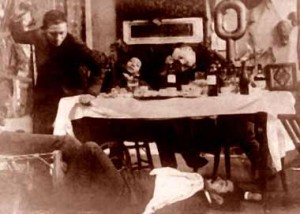 I do know it was supposed to show the heroes' human side, showing that they do goof around sometimes. But I for one find this picture disturbing. If they are really goofing, I wish they picked another activity than getting drunk. Some wise guy will say, "We should be like our heroes, right? They got drunk! So we should get drunk too."
It's the height of stupidity to do that, I know. But some might actually believe in this stupidity.
Like these, probably:
We all know this is not productive (And that man walking drunk in one video is inviting a fatal car accident, especially if it happened here in Metro Manila).
Or it can lead to worse things:
We all know about how people get killed in drunken brawls. Drunkenness, like KSP, is certainly the root of all kinds of evil, especially here in the Philippines.
But on the bright side, President B.S. Aquino recently signed a law criminalizing driving under the influence of drugs and alcohol. One of the bright spots in his administration, I would agree. Thing is, given what our heroes demonstrate and the examples above, will our fellow Filipinos get the hint and fix their behavior by controlling their alcoholic appetites?
It certainly doesn't help when our leader who signed the law has this pic:
And it could be as bad as this: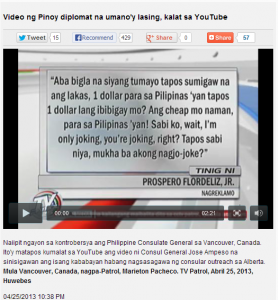 OK, back to the heroes. We read history and learn that Emilio Aguinaldo had Antonio Luna and Andres Bonifacio killed. Gregorio Del Pilar lost Tirad Pass because he also was drunk and reportedly was in an orgy the night before (source: Nick Joaquin's A Question of Heroes). And that's only part of the horror stories we might hear about our heroes of old.
This is why I believe we should be careful in how we study our national heroes. Perhaps we can learn from their stories, and perhaps acknowledge their efforts for the nation. But they may not really be good studies on personal conduct. There are times where we need to look for other role models (I know about that Hitler's-clean-living meme; not him either).
Clearly, a solution for our lives is: look for the right role models.
I believe, as my cohorts here do, that what Filipinos embrace as their culture is what actually pulls the country down. And those who seem to be anti-dictators, who may also believe themselves to be "heroes," are the real dictators.