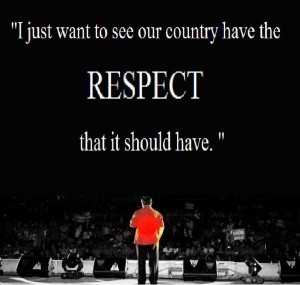 "Here we are again Kate… Ups and Downs." — Dick Gordon, May 20, 2010
Days after garnering 500,000 votes in the 2010 Presidential Elections
I cringe at the thought that after the second automated national and local elections to be held in the Philippines, a sizable portion of the country's electorate is back to square one.
For that portion of voters, again, it seems there are no winners or losers — just people who cheated or were cheated.
Well, we can all gripe and grouse over so many indications of irregularities, violations, and what-have-you that tend to eat away at our confidence with the automated election system. Â Certainly, these things must be investigated and if evidence is found that the second automated elections was RIGGED, then this should be exposed and the perpetrators hung by their heels on meat hooks.
Of course, the fact that people were only allowed to review the source code just a THREE DAYS before the coming elections, DOESN'T GIVE ME A LOT OF CONFIDENCE.
According to Cesar Flores Zavarce himself, a source code review "should take between 4 and 8 weeks, depending on what the auditors from PDP-Laban, LP and PPCRV want to focus on."
If my recollection serves me right, the source code review for the 2010 elections was conducted and concluded before the May 11 elections.
What if it turns out that there IS a serious "flaw" in the source code?
It doesn't help either that a news report came out in The Daily Tribune saying that a Smartmatic technician was purportedly caught manipulating election data:
Daton Cerino, a Smartmatic personnel was yesterday caught by United Nationalist Alliance (UNA)'s Information Technology expert manipulating data and tampering the election results.

Oddly enough, the same transparency server at the Pope Pius Center, where UNA and the Liberal Party as well as the media are hooked up, did not complain about this matter raised by the UNA IT expert.
UNA, in a statement issued yesterday said: "We are gravely alarmed that a certain Smartmatic personnel named Daton Cerino had manipulated data at the Pope Pius Center around 4:30 p.m. yesterday, as observed by IT personnel. This is highly irregular and raises suspicions on the integrity of the ongoing count."
Moreover, others seem to have looked at the results and come away with their own indicators of rigging:
Former Comelec IT director Ernie del Rosario adds: "The progressive tallies follow some sort of deterministic linear equation devoid of the influence of any probabilistic parameter or variable. This can only mean one thing — it is a pre-designed results reporting mechanism that fits the 9-3 survey instead of a tally of the actual votes. I will call it the 9-3 Formula. Notice that the rankings of the candidates in the entire tally (1st to 33rd place) from the time the first report was published to subsequent ones are practically unchanged. What happened to the individual candidates' known bailiwicks that should have caused some ranking movements in the tallied results? Smoothened by the 9-3 linear formula?" Mr. del Rosario then wryly remarks, "Magdadaya rin lang ang mga ito, medyo sana lagyan nila ng konting pag-iisip [These guys who planned to cheat should have maybe put a little more thought into it]."

Indeed, the count at the PPCRV operations center was suspiciously seen to be coming in almost 10 times faster than the count at the Namfrel center, presumably an impossibility since both entities are accredited citizens' arms of Comelec and supposedly getting exactly the same reports. The sudden stoppage of the by-then incredibly bloated count of the PPCRV at around 9 of Monday evening was the result of the realization that the tallying program used incorporated a massive error. This could not have been a "formatting error" as claimed by PPCRV spokesman Ana de Villa-Singson — an arithmetic (dagdag) operation was performed, hence it was a program error. Then, in her scramble to distance PPCRV from the error, Ms. Singson revealed that it was a Smartmatic problem and that it was a Smartmatic technician, Marlon Garcia (a Venezuelan), who was fixing it. – See more at: http://www.bworldonline.com/content.php?section=Opinion&title=Uncritical-media,-illegitimate-election&id=70275#sthash.pWY7XFkH.iaIZ7tzT.dpuf
But please, please, please… Let's not let the panda out of the box. Â If we're going to expose any automated election vote rigging, let's get people who are willing to show their faces and show real evidence of the purported rigging.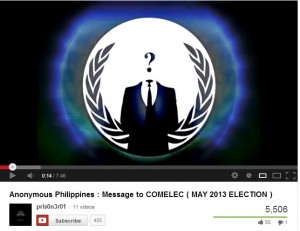 Does anybody have any idea of what this evidence could be? Calling the attention of ANONYMOUS PHILIPPINES, maybe you guys know something we don't.
Has the Comelec already purged its records of invalid and dead registrants? No. Can dead people vote? Why is it that those born in the 1900s up to 1930s who are already deceased or who are no longer capable of exercising their right to vote are still included in the voters' lists? Comelec, you know well that these registrants still exist in the voters' lists. Take note that the number of these invalid and dead registrants run up to millions, and these are significant figures that can alter the results of the election, in the local and more so in the national level. Cases of people using other people's information to vote and of political candidates committing electoral fraud through the use of unpurged voters' lists time and again are already sickening. This cycle has to stop. Comelec, you better clean your records.
In the meantime, while we are all waiting for that, let's reschedule the pity party and move up the meeting for "NEXT STEPS".
First off, we should all grow up and take things as they are. If we are really sincere and honest in working for political and economic reform, we should be willing to work with whoever is elected into office. Â Granted that it might be more difficult to work with some, more than others, those espousing political reform still have no choice but to work with them. Â It would also do well to remind those who have been elected, especially Senators, that they answer to the entire country — not just the people who voted for them or gave them campaign funds.
Second, we should come up with a list of stuff that we believe ought to happen in the next three years.
As I've pointed out before, democracy isn't just about elections and I do not subscribe to the thinking that elected officials are given a carte blanche to do whatever they see fit with their terms. Â Democracy is a continuous engagement between elected officials and citizens, a citizen's duty doesn't end after an elected official is proclaimed — this is actually just the start.
It's pretty much like a household deciding to all get physically fit and in deciding how, the decision on how to get physically fit was put up for voting. Â Probably some people voted for stationary bikes, others voted for yoga DVDs, and others went for sports equipment. Â Say, for example, most votes went to stationary bikes and all other options were junked — does that mean all those who didn't vote for stationary bikes should just lie around their asses until the next round of voting happens? Â Or should they keep people from riding their stationary bikes?
The more mature response should be to ride the stationary bike along with everybody else and make sure that the whole household achieves the goal of becoming physically fit.
I remember Gordon saying that the real definition of an idiot in a democracy is that of one that doesn't participate in a democracy's processes or one who engages in activities that are counterproductive to one's best interests.
Disengaging at the point where officials have been elected is tantamount to idiocy.
Granted that the previous election didn't feature a lot of candidates espousing specific legislative agendas, it doesn't necessarily mean that all hope is lost or that they can't be made to adopt one. Â The fact that there are candidates who won almost without a platform or plan for what to do with their term MEANS that there IS OPPORTUNITY to get them to adopt a plan or at least adopt items of a plan into their agenda.
The Philippine Chamber of Commerce and Industry PCCI, for one, recently announced that it has come up with a list of legislative measures that ought to be put in place:
PCCI has prepared a list of priority legislation that it will pursue in the 16th Congress.

The list includes the Competition bill seeking to prohibit or discourage the formation of anti-competitive mergers and anti-competitive conduct, as well as Fiscal Incentives Rationalization bill, which streamlines tax-breaks for businesses.

PCCI, likewise, wants a bill removing common carriers tax and gross Philippine billings tax on foreign cargo airlines enacted.

A similar measure was singed into law by President Benigno S. Aquino III on March 7. It, however, only covers passenger carriers.

Other measures the business group wants enacted are the Land Administration Reform bill, a bill creating the Department of Information and Communications Technology, an Anti-Smuggling bill, and the Customs Modernization bill.

Varela said it is also high time for the government to "consider looking into reforms that will lift the restrictive economic provisions of the Constitution such as the removal of the 60-40 equity limitation on foreign investors, expanding role of foreign investors in exploration, development and use of natural resources and extending land lease agreements."
It's good that there are people like Edward Miguel Roldan who have come up with such a list of reforms:
1) Open the Media to foreign ownership. – Dapat may competition and transparent!

2) Reform the entertainment (gambling) industry. – Dapat may entrance fee 20% of the minimum wage. Dapat it should give more to the society and not exploit our labor force.

3) Reform the election law. – May qualification dapat ang voters.

4) Open the culture of lobbying to the PHL society – Tama na dakdak, pag may problema dapat may solusyon. Pag alam mo solusyon, wag mo sa facebook sabihin dapat sa cong mo o sa chosen party list.

5) Empower the citizen, they should be given a chance not only to watch the debates but also give them an avenue to speak and exchange their thoughts with their cong. LIVE on national tv through an internet channel, tv channel owned by government like NBN4 or RPN, IBC. Sayang billions of subsidy. Gamitin na ang satellite ng PhilComSat ulit.
In the coming days, perhaps, this list can be refined and turned into proper position papers as well as draft bills.
AFTERNOTE:
With regard to constitutional reform especially the one cited by the PCCI, let me restate here that I was never completely against such a move — contrary to the claims of the supposed leader of a political reform group on Facebook.
The STRAWMAN raised by the leader of this group was that I was opposed to charter change. Â Thing is NO ONE CAN OPPOSE CHARTER CHANGE, it IS A PART OF THE CONSTITUTION.
The thing is, I had pointed out that for me to agree to any proposed change in the type of government, the group would have to come up with a specific proposal for charter change and that the specific proposal must be submitted as an actual position paper to the appropriate committee in congress or senate.
What they claim to be specific proposal for charter change are ALL BROAD STROKES with plenty of room for the usual vacuous wadding bluffers and dilettantes love to foist on people.
Moreover, in the three years after they came up with a three point agenda for constitutional reform, no position paper was ever submitted to any senate or congress committee.
This left me with nothing to respond to.
For all the noise they've generated, the substance of their campaign online can be reduced to a couple of vacuous buzz words and personal attacks on people who have but questioned the assumptions they've put out.