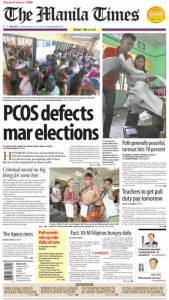 If outgoing Rep. Edgardo "Sonny" Angara Jr. of Aurora wins the election to the Senate seat of his father, as he is widely expected to do, it seems he will be starting his tenure in the upper house of the Philippine legislature under an extraordinary cloud of controversy.
Last week, in a statement whose timing was surprisingly not questioned by President Benigno Aquino 3rd given that Angara is one of his "Team PNoy" candidates, the National Economic and Development Authority (NEDA) equivocated on endorsing continued funding for the Aurora Pacific Economic Zone and Freeport (Apeco). Apeco was created by the Aurora Special Economic Zone Act of 2007 (Republic Act 9490), which was amended by RA 10083 in 2010; both laws were authored by the father-and-son Angara tandem. In its statement, NEDA concluded that, "Further investment support for the installation of all these additional facilities [which are spelled out in a forthcoming report] will be contingent on Apeco's completion of its master plan, and other essential corporate business plans and policies in place, including its land use plan." This, despite several billion pesos of government funds already having been spent on the project, which has little to show for its five years of existence.
Read the rest of the article here.
I write a column for The Manila Times on Tuesdays, Thursdays, and Saturdays. Most of the energy sector and the heads of several government agencies probably wish I didn't.