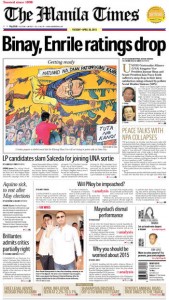 Already wrestling with the public relations fallout of the latest poverty statistics, the Aquino administration apparently was too busy last week to notice the press release from the Philippine Institute for Development Studies
(PIDS) announcing the results of a study that raises serious concerns about the preparedness of the Philippines' small- and medium-enterprise (SME) sector for regional economic integration in 2015.
The study, authored by PIDS Vice President Rafaelita Aldaba, specifically evaluated the outcomes of the Philippines' implementation of the Asean Strategic Action Plan for SME Development 2010 to 2015 (ASAPSD) and the Asean Policy Blueprint for SME Development 2004 to 2009 (APBSD), two frameworks that were intended to prepare SME's across the entire region for the final implementation of the Asean Free Trade Area (AFTA) agreement in 2015. The AFTA agreement, which has been developing in a step-by-step fashion for the past 20 years, will in 2015 remove virtually all tariff barriers to inter-Asean trade, as well as harmonizing some regulations to remove other non-tariff barriers. The PIDS study concluded that the ASAPSD "has been perceived to have little concrete impacts in terms of enhancing competitiveness and flexibility of SMEs in moving toward a single market and production base" and that the APBSD has had "limited impact on facilitating SMEs access to information, market, human resource development and skills, finance and technology."
The bottom line: The Philippines' micro, small, and medium enterprise (MSME) sector is not ready to face the competitive pressure of an Association of Southeast Asian Nations free market, and that means the Philippine economy in general is not ready for it, because MSMEs account for well over 90 percent of the country's business establishments.
Read the rest of the article here.
I write a column for The Manila Times on Tuesdays, Thursdays, and Saturdays. Most of the energy sector and the heads of several government agencies probably wish I didn't.