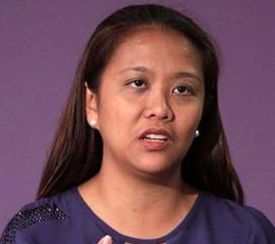 Well, ok, so lots of people are up in arms about the candidacy of Nancy Binay who, as the consensus amongst the chattering classes goes, has been deemed lacking in the needed chops to fill a Philippine senator's seat. I wonder though how many of these armchair "activists" voted for current President Benigno Simeon "BS" Aquino III back in 2010.
Back in 2010, then candidate BS Aquino ran on nothing more than a pedigree platform, and whatever semblance of a prospective platform he put forth drew heavily from the well of credibility of his mommy and daddy…
"I am determined to continue the fight started by my father and my mother to see that democracy takes root and is strengthened in our country. This cannot happen in a government that serves the interest of the powerful few. We must strengthen the institutions of government so that they truly serve the interests of our people."
The Philippines being renowned for its unique talent for progressiing in reverse sees the regressive evolution of pedigreeism in politics (now known by the activist buzzword "political dynasty") from the relative subtlety of Noynoy's 2010 con to the blatancy of Nancy Binay's bid for office today which Inquirer.net columnist describes in his recent article…
Nancy would not have been in any senatorial ticket had not her father been one of the three pillars of [the United Nationalist Alliance (UNA) party]. VP [Jejomar] Binay put her in the ticket despite her lack of qualifications, and the two others, Erap and Senate President Juan Ponce Enrile, could not protest because both of them have sons in the UNA ticket—JV and Jackie Enrile, respectively.

But at least JV and Jackie came from the House of Representatives. Nancy came from nowhere. She has not even served as kapitan or kagawad in any barangay in Makati, her family's turf.

When asked what were Nancy's qualifications to be a senator, VP Binay arrogantly answered: "She is my daughter." Huh! Just like that, as though it's a case of God the Father sending his Son to save the world.
Armed with only that terse Medieval-era endorsement, it is hardly surprising that Nancy Binay sidesteps any attempt to corner her into a discussion on national issues of consequence. "Let's win the Senate race first," she says in response to challenges from Team PNoy sellout Risa Hontiveros who is struggling to make the "Magic 12" in any one of those "surveys" on voter sentiment. Of course it is in the best interest of any vacuous politician to steer clear of any sort of event that could burst their public perception bubble. It's an old trick used by none other than BS Aquino himself. Ellen Tordesillas in a January 2010 blog post herself observed how then candidate BS Aquino also employed a minimalist media exposure strategy to ensure that his own vacuousness was not laid bare on national television…
Liberal Party presidential candidate Benigno "Noynoy" Aquino III, who is leading in all election surveys, has declined the invitation to participate in [a foreign policy forum for presidential candidates organised by the Carlos P Romulo Foundation, the Asian Institute of Management, and the ABS-CBN News Channel]. Surprisingly, Nacionalista Party presidential bet Manny Villar, who used to have a phobia with presidential fora, has agreed to attend.

This is not the first time that Aquino would be snubbing a foreign-policy related forum. He was also a no-show in the forum on Millenium Development Goals co-sponsored by the MDG Campaign and the Foreign Correspondents Association of the Philippines in October 2009.

Aquino's avoidance of the Jan. 14 event gives credence to talks that since he was not impressive in the past few presidential fora he has participated in, his handlers have decided to limit his exposure to such activity to protect his lead.
Indeed, history has shown that we ignore the obvious signs of the vacuousness of our politicians at our peril. Armed with this bit of hindsight, it is easy to see now why Philippine foreign affairs is in shambles today. BS Aquino had already exhibited his phobia of the topic of foreign policy even during his campaign for the presidency! But we digress…
With politcians' favourite strategy of debate avoidance to mask their lack of substance, the Philippine voter becomes the country's own worst enemy — forming a vast army of ignorance that will be marching to the polls to once again determine the fate of the nation in May.
The fact that many of the same folk who voted for BS Aquino back in 2010 fail to grasp the irony in the shock and "indignation" they now express over the affront to the "intelligent vote" that is senatorial candidate Nancy Binay points to the more fundamental dysfunction of Philippine society; that a widespread lack of a clear grounding on coherent principles that transends social class and political affiliation leads to laughable inconsistency in action over long timeframes. And speaking of long timeframes, another interesting national experiment to further measure the extent of the Philippine electorate's vacuousness looms in the horizon — the future presidency of presidential sister and current Media Queen Kris Aquino. Will the Yellow Mob who waxed epic lyric of the heroism and mystical pedigree of the Aquino-Cojuangco feudal clan throw the same nonsensical support behind the Third Aquino Presidency?
As always…
Abangan ang susunod na kabanata.
[Photo courtesy NowPlanet.tv.]
benign0 is the Webmaster of GetRealPhilippines.com.