"Diplomacy is the art of letting someone else have your way."
– Sir David Frost
A Pinoy Hang-up: Credentialism
It was only quite recently that I was told that Chefs do not refer to themselves as Chefs. Â When introducing themselves, they don't say "Hi, I'm Chef S0-and-so." Â It's a no-no among those in the know.
The title "Chef" is conferred upon them by other Chefs, it is bestowed upon them by their peers in recognition of their expertise.
So, if someone insists on calling themselves a Chef, it may be an indication that they have a need to compel others to grant them that recognition and that the title is undeserved.
On the others side of this, one of the biggest praises a chef can receive is to be called "Chef" by someone more accomplished than you are.
Now, consider the title "Cultural Activist" and just figure out what kind of arrogant, lazy asshole you'd really have to be to proclaim yourself as such.
Olivier Ochanine's simple, accessible definition of advocacy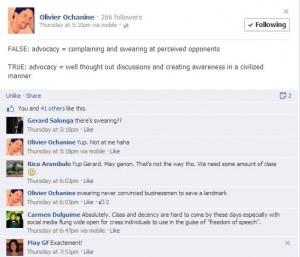 In a publicly posted status update on Facebook, Oliver Ochanine posted:
FALSE: advocacy = complaining and swearing at perceived opponents
TRUE: advocacy = well thought out discussions and creating awareness in a civilized manner
And this serves as a good indication of the right as well as effective way in pursuing an advocacy.
In my book, complaining isn't necessarily wrong.  It's how you complain that really marks the difference between a spoiled adolescent's loud protests and a grown up calmly going through a 'grievance' or 'conflict resolution' process.
Clearly, Olivier was referring to the former kind of complaining made even worse by the use of profanity directed against the very people who could actually do something to help.
Olivier's inclusion of "perceived opponents" in the phrase "False: advocacy" indicates that he approached the matter not as a confrontation but as an opportunity for negotiation — which is the really diplomatic approach, something that marks real Ambassadors and advocates.
Olivier articulates his idea on negotiation further in another Facebook Status update:
Sometimes, just sometimes, peaceful negotiations pay off.

It is not the end of the story yet, but this story is definitely getting better. Looking forward to seeing how it plays out.

We will not win everything, because winning it all means the other party loses it all. But coming to a decent middle ground that makes sense to both parties is not a bad end either.

Looking forward to more performances at Philam Life Theater.
Further on, he says:
Henry Sy Jr. listened carefully to our proposition and views concerning Philam Life Theater.

While I cannot say that all of the building at the current site will be preserved, I can say that he has agreed to preserve the concert hall, as he now understands the importance of this hall, both acoustically and historically.

There is a chance the hall may be moved slightly on the same property to accommodate safe building of condo towers, but these same towers will enable an immediate audience for future concerts in the hall. SMDC also understands the need for much more parking, as the current parking situation, as we all know, is lamentable.

More info to come when SMDC agrees to to it. A concert in honor of the hall is being planned; more info on that to come as well.

Another important point to keep in mind: if the hall is moved slightly, it will still be preserved the way it is, as buildings can be moved and have been done many times (even a much bigger concert hall in Shanghai was moved).

So far, a sort of win-win situation for both parties. More negotiations in progress. I can say that SMDC is comprised of people who do listen. Businessmen, but not unwilling to work to meet everyone's needs.
As BenignO would have said, "The solution is quite obvious…" Â and in the case of the Philamlife Building and Theater, the solution was "negotiation".
Instead of saying "Fuck You Sy Family", Olivier presented his position on the theater in terms that the Sys would appreciate and therefore agree to. Â Perhaps, instead of just focusing on what he wanted, maybe Olivier demonstrated to the Sys how keeping the Philamlife Theater would enhance the value of the property they acquired.
Who knows, maybe all that's needed to save the Philamlife Building is for foul loud mouthed pseudo advocates to just shut up and let the real advocates speak up.