It seems Nancy Binay has recently become the subject of a few satirical articles. The focus of such satire is her apparent aversion towards participation in any kind of political debate during the election cam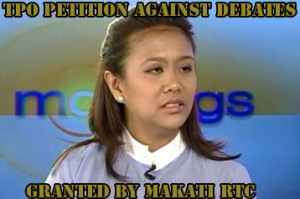 paign.
Court grants Nancy Binay's Temporary Protection Order (TPO) petition against debates
Nancy Binay reveals childhood trauma: "Papa forced me to debate him!"
It doesn't seem, though, that Binay's avoidance of debates is hurting her "popularity" rankings. That is, if the "pre-election survey" recently conducted by Social Weather Station (SWS) is anything to go by. She reportedly now holds third place among the senatorial candidates.
Now, it almost seems as if Filipinos are finally learning their lesson about expecting more from their candidates. Filipinos are now supposedly dead serious about taking to task candidates who do not make their positions very clear on issues of national importance.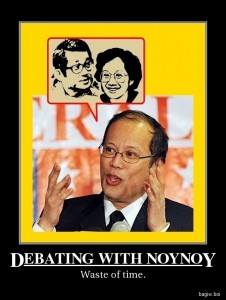 Then I remembered. This is the same electorate who essentially gave Benigno Simeon Aquino III (BS Aquino) a free pass to Malacañang despite his own aversion to participating in debates.
Filipinos did not evolve from their mediocrity at all after more than half a century, do you expect them to change the way they elect their leaders in three years?
It makes one wonder: Do Filipinos understand what debates are really all about?
For all we know, the average Filipino defines debate as "something you do when you're alone in a room."
Let's define what a debate is, first. Let's use the following definition:
A debate is, basically, an argument. That is not to say that it is an undisciplined shouting match between parties that passionately believe in a particular point of view. In fact the opposite is true. Debating has strict rules of conduct and quite sophisticated arguing techniques and you will often be in a position where you will have to argue the opposite of what you believe in.
Sophisticated arguing techniques. Big words.
For a debate to be meaningful and productive, there are a few things required of its participants and its audience:
(1) Focus on the issues
(2) Separate the position from the personality
(3) Maintain respect for your opponent and his stance while taking it apart
(4) Do not take things personally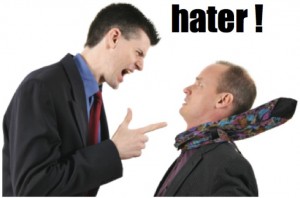 Hmm, it looks like a tall order for the average Filipino, especially the fourth item.
On the other hand, the average Filipino may find it hard to appreciate debates because of a few cultural traits:
Filipinos aren't exactly known for thinking – Politicians know very well that the people would rather have their politicos do the thinking for them. The people's duty, in their minds, ends when they've cast their ballot. Plus, they vote on basis of intentions (that the politicos don't really plan to keep once elected) instead of proven track records.
Let's not forget to mention that Filipinos have short attention spans; unless there's a dance or song number, or even a freebie from the candidate, don't expect to hold their attention for very long.
Filipinos are afraid of losing face – If there's one thing that Filipinos don't like it's mapahiya, to be shamed. When their arguments are proven to be flimsy or flawed, Filipinos cannot bear it and automatically assume the napahiya (embarrassed, shamed) mode.
Filipinos are emotional – Though emotion is a persuasion used not only in debates but in negotiations, Filipinos are not known for logical or critical thinking. They rely almost exclusively on emotions and carry it to extremes, especially when they get angry or carried away. It doesn't take much thinking to use emotion, right?
Filipinos do not take opposition well – Balat-sibuyas, pwede-na-yan, and an air of feeling superior combine to make a Filipino more fragile than glass.
Filipinos would prefer to discuss "happy" thoughts instead of "serious" issues – Not surprising for a people sorely lacking in substance. They want to feel happy all the time but cannot substantiate what to feel about. When their miserable reality kicks in, they fall apart. Then they convince themselves to be "happy" again. It's like a drug.
So, if Filipinos aren't naturally inclined as a society to discuss, much less debate issues, then why do the chattering classes insist on calling for debates during elections?
One pastime popular among Filipinos in the provinces triggered what I think is a most appropriate answer.
Sabong.
Yes, a cockfight. It is not hard to surmise that such a structured format for discussing important issues can be simplifed to a bloodsport between two manoks. Such is how the Filipino psyche works.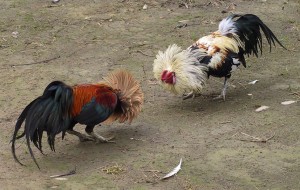 Filipinos exhibit a somewhat peculiar behavior when it comes to competition. On one hand, they disdain competition and would prefer to monopolize in a certain area or segment. On the other hand, they like gambling, betting on things and winning. And they especially have a tendency to get carried away and get fired up when the face-off gets more intense. And not surprisingly, they attach themselves to the success of their manok. When that manok wins, they treat it as if they themselves won, and carry it around with pride, as a source of validation that they're good.
The problem of government candidates generally not wanting to debate cannot be solved by simply calling them out for it. It will take a massive behavioral change for this non-thinking society that we call the Philippines to mature and discuss issues of national consequence. We need to actively participate in the running of our country, and not regard our politicians as gods who can do no wrong.
Where am I going with all this? To put it succinctly:
It is ultimately pointless for Filipinos to insist on debates during election campaigns, yet shy away from, shun, discourage, or outright condemn them outside of it.
And, most importantly:
Reducing and simplifying a debate into a cockfight is cockamamie bullshit.
Next time a politician says that debates are a waste of time, and that nobody listens to them anyway, try not to immediately get mad at him/her. He/she is only displaying how well he knows his/her target market. After all, politicians reflect the very society that they govern.
[Nancy Binay photo courtesy: pinoyRANTS.com]
[Noynoy Aquino photo courtesy: PinoyExchange]
[Hater photo courtesy: NOM blog]
[Sabong photo courtesy: Pinoy Sabungero]
А вы, друзья, как ни садитесь, все в музыканты не годитесь. – But you, my friends, however you sit, not all as musicians fit.