Is it just me, or a growing number of Filipino citizens are becoming more dissatisfied with president Benigno Simeon Aquino III's (BS Aquino) performance as time passes by? Those who are dissatisfied claim that nothing much has changed. BS Aquino apparently still hasn't managed to reduce poverty despite his "kung walang corrupt, walang mahirap" guiding principle. He's supposedly jailed the one he thinks is the "biggest fish" among those he deems as corrupt, but corruption remains the same. BS Aquino supposedly favors his KKK's and relentlessly persecutes his enemies without giving them due process. BS Aquino's alleged ultimate goal is to secure Hacienda Luis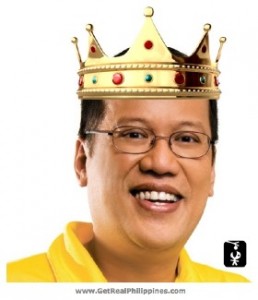 ita before 2014 when it is subject to the Comprehensive Agrarian Reform Program (CARP).
Unfortunately, for the dissatisfied, BS Aquino is the man until he steps down in 2016. While he's up there, the House of Aquino is the ruling dynasty. Their house, their rules.
Speaking of rules, though Filipinos are wont to disobey them anyway, the House of Aquino has a list of unwritten cardinal rules that every Filipino must obey without question. Filipinos would do best to know these rules by heart (isapuso) and live out these rules (isabuhay) so that they can find their way on the straight path (daang matuwid).
"Thou shall not give bad news about Noynoy's government."
If you're a Filipino living with or working for BS Aquino's government, you can forget all other laws and rules, but not this one.
Apparently, someone forget to remind the National Statistics Coordination Board (NSCB) of this when they released their report last week, which indicated that the percentage of Filipinos living below the poverty line remained practically the same between 2006 and 2012.
We can only imagine that BS Aquino was none too pleased with the report. In fact, he even went as far as to question the data used. "Are you comparing apples to apples?", he said in referring to what was a seeming discrepancy in the data used for a particular region, the Autonomous Region of Muslim Mindanao (ARMM)..
Every time BS Aquino is displeased with something, someone is usually on the other end receiving the brunt of it. This time, it happened to be none other than National Economic Development Authority head and Economic Planning secretary Arsenio Balisacan. Rumors went around that due to this displeasure, he was not included in BS Aquino's recent Brunei trip. Poor guy; but hope is not lost for him. There is no announcement yet that Balisacan will be sacked – for now.
"Thou shall not find fault with Noynoy in any way, shape or form."
Never blame BS Aquino for anything that goes wrong. That is a no-no. There's plenty of blame to go around for Gloria Arroyo (GMA), or to the people themselves. The worsening Mindanao power situation is GMA's fault. The people who were affected by typhoons Pablo and Sendong in the south only have themselves to blame for not listening to BS Aquino's government.
Remember, BS Aquino has only had three (3) years as president. It is a difficult job that nobody in his/her right mind can say that they will be 100% prepared for. On-the-job learning is inevitable; the presidency gets unique situations thrown at it everyday. Also remember, that being a president, owing to its uniqueness, is like starting with a blank slate; I guess in that regard, BS Aquino was the one most qualified for the job among the candidates last 2010. He has had nothing but a blank slate ever since.
Well, if you think about it, it's really hard to find fault with Noynoy because he hasn't really accomplished much in his life anyway.
"Thou shall not stop Noynoy from opening his mouth."
It's how he does his best thinking. Whether it's through campaigning, allegedly "negative" for the Liberal Party (LP) instead of working, or when he's talking about his many kabuwisitans that he says keeps him from doing his job, BS Aquino has to keep his mouth open. Even when he backtracks on his statements, like he did with the NSCB poverty report, where he had concerns more with the timing than the data, just let him be. Noynoy is just being himself; he is not afraid to express how he feels about things which displease him. And because his facial expressions are limited anyway.
BS Aquino with the open mouth, apparently, is the look that suits him best. Just ask the Philippine Daily Inquirer; they thought so too when they published what they thought was a Time magazine cover of BS Aquino.
So how hard is it to obey these cardinal rules for Filipinos? Not very. BS Aquino not only represents Filipinos, he is the quintessential Filipino. Actually, these cardinal rules not only apply to the House of Aquino, but to Filipinos in general too.
Remember these rules well, if you want to survive in Filipino society.
А вы, друзья, как ни садитесь, все в музыканты не годитесь. – But you, my friends, however you sit, not all as musicians fit.