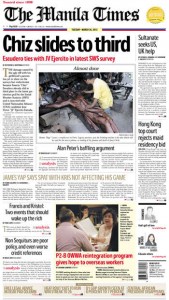 If there is one thing that has been thoroughly regrettable about the apparent economic progress of the Philippines in the Aquino 2.0 era, it is that it has led the Administration to believe that what it is doing is actually working. Perhaps we should not judge them too harshly for that – after all, far sharper minds than those currently wandering the halls of government also occasionally confuse correlation for cause – because for the most part, the country has found ways to progress economically in spite of the government.
The frustration for the rest of us, of course, is that we must sit by and watch enormous opportunities slip through our grasp as the Aquino Administration receives ill-advised affirmation for pursuing an economic strategy entirely based on non sequiturs. To be fair, the mission statement has been refined somewhat in the past three years: What started out as "when there is no corruption, there will be no poverty" during the 2010 campaign has been upgraded to the smarter-sounding "good governance and a level playing field will lead to inclusive growth."
Clearly, the Aquino Administration has no idea what any of those three key ideas: good governance, the "level playing field," and inclusive growth actually mean, and apparently, neither does the Board of Directors of the World Bank, who last week approved a $300 million (P12.26 billion) Development Policy Loan to the government "to support the Philippines' critical reforms for accelerating inclusive growth," according to the World Bank's press release.
Read the rest of the article here, and enjoy it, since The Manila Times will be taking a holiday break for the rest of the week.
I write a column for The Manila Times on Tuesdays, Thursdays, and Saturdays. Most of the energy sector and the heads of several government agencies probably wish I didn't.