Like her or hate her, Kris Aquino is not going to go away and fade into oblivion anytime soon. Especially not after she was recognized for her talk show Kris TV at the USTv Students' Choice Awards early this month.
That award which she won had got her declaring that she's happy to still be relevant. Plus, she's also been dubbed the "Queen of All Media".
If you think about it from another angle, Kris Aquino's popularity and staying power is not only a function of, or testament to, the forces at work designed to keep her and her family in the picture, it is also a function of the inability of the masses to keep themselves from watching her display herself with reckless abandon in front of the cameras.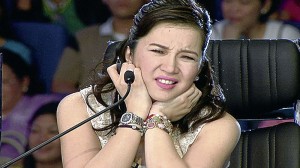 Filipinos collectively don't have enough emotional intelligence to just ignore her. Maybe the deck is stacked against the Filipinos in this regard. How in the world can you possibly ignore Kris Aquino when her face and voice are everywhere? You've got billboards, the newspapers, television, and sometimes radio all featuring her every chance they get. You've got the Inquirer, ABS-CBN, and Rappler on occasion leading the charge of the brainwashing brigade.
To be fair to these media outfits, though, they're only being guided by what James Bond in "Tomorrow Never Dies" mentioned is the first rule of mass media: give the people what they want.
The other side of this equation is that Kris is reputed for wearing her heart on her sleeves. She and her life are also open books for the Filipinos to listen to and read to. Why would this appeal to and make her click with Filipinos?
Filipinos are an emotional people,that's why. They respond to the slightest show of tears (crocodile or not), or the slightest show of drama (which Kris does not really need to put much effort into showing). Filipinos are drama junkies; if they're not glued to watching someone else's drama unfold, there's a big chance they will make their own.
Kris, as the quintessential embodiment of what GRP writer Gogs calls KSP (kulang sa pansin, neediness for attention), appeals to this raw instinct of KSP itself very much alive in the rest of the Filipino populace.
Filipinos are also insufferable gossips. Whether other countries' populaces are too is beside the point. Filipinos are fond of what we call tsismis and have in fact elevated it to a national pastime.
Now that Kris announced her resignation from showbiz she became a trending topic again this previous week. But when television executives cleared it up that she just can't quit immediately, I LOL'ed. Too bad for Filipinos; looks like they're stuck with what's-her-face at least until she finishes her contract.
Showbiz is considered a stepping stone to politics here in da Pinas
It was only a matter of time before we would encounter the day that Kris would enter politics, much like her father, mother, brother, and other relatives before her. She has announced plans to run for Tarlac governor when her brother Benigno Simeon Aquino III (BS Aquino) steps down from the Presidency in 2016. In fact, she is supposedly preparing for politics by supposedly studying governance and law.
What makes politics popular for showbiz personalities whose careers have gone past their prime? Showbiz and politics seem like mirror images here in the Philippines. Showbiz is a lucrative profession where you only need to be popular and do something popular to stay in the spotlight. Politics here counts on popularity too, and is a lucrative profession as well, just think of all the bonuses that politicians get here. And the pork! Oh yes, the pork barrel.
And the sad part is that Filipinos fall for the popularity trap in voting for their politicians each and every time. They keep saying they want change, but they easily fall for the glare of a politician who doesn't have much of a platform and who doesn't plan to keep his campaign promises one he/she is elected. Filipinos are not exactly known for holding them accountable either; they revere them to the extent that they are reluctant to criticize them for not serving the people.
In short, Filipinos are insane because they keep doing the same thing come election time and expect different results.
That Filipinos are fond of such an unproductive activity tells us that not much has changed: the national "issues discussion", if you can even call it that, is still focused on the droll, unintelligent, and trivial, and the Filipinos are still a nation of starstruck ignoramuses.
Kris Aquino's clan, the Cojuangcos, will be at the center of issues being discussed in the Philippines for a long time to come. You want to talk about dynasties? Their name comes to mind easily? You want to talk about Hacienda Luisita and the CARP? That's them. You want to talk about the personalities credited for "liberating the Philippines from the Marcos dictatorship"? You cannot not mention them.
Because the power of that clan largely depends on their ability to stay in the consciousness of the Filipino people, it is only but natural to throw every one of their offspring into the spotlight, and into politics. Noynoy, Bam Aquino, and Kris are some of their youngest generation, and that the Aquino and Cojuangco dynasties stay relevant to the Filipino people is a task that will be transferred to them.
With the mass media on the Aquino's side, and the willingness of the Filipinos to lap up whatever they are being fed, no, Kris Aquino will not need to be concerned with becoming irrelevant anytime soon. In fact, she may even become president someday.
А вы, друзья, как ни садитесь, все в музыканты не годитесь. – But you, my friends, however you sit, not all as musicians fit.