"We have a Pope!…and (he is) not from the Philippines."
Too bad, Cardinal Luis Tagle did not make it, no matter how hard the Filipinos hoped and prayed.
After Pope Benedict XVI announced his resignation, the Filipinos were ecstatic about the possibility of Cardinal Tagle becoming Pope, no thanks to the local media. Ahem, just because Tagle was ordained a cardinal last November 2012? At 55 years old, considered young for Pope standards, and new to the College of Cardinals, that was highly unlikely, of course.
Whatever people may say, even if you're voting for the head of a religious institution, you have to deal with the earthly politics of men. And that can be a bitch.
The Conclave, the meeting called to elect the Pope, is a very secretive one. The faithful see only the smoke, whether white or black, as the indicator of the result of that particular round of voting. As you may also have seen, there was a list of potential front-runners that international media displayed all over their channels. But as the election of this Pope showed, anything is possible.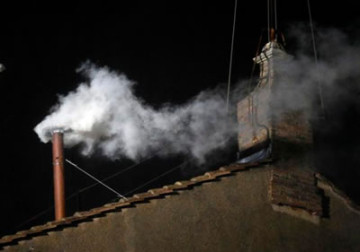 Too bad for Pinoys, there is no text voting involved in the Conclave. I'm pretty sure they would have loved a chance to make their manok win, just like how they did with Efren Peñaflorida in the 2009 CNN Hero of the Year.
I do wonder, I was half-expecting Filipinos to be indignant about Tagle not having been elected Pope. I was half-expecting someone to cry foul that there's a conspiracy against non-Europeans from becoming Pope. As if someone from the Philippines can speak for the 115 cardinals in that room with regards to what they value collectively.
However, I believe that the way the Conclave was portrayed in some media channels, as some sort of beauty pageant or dog and pony show, underscores some sort of missing the point and losing the plot with regards as to what the real implications and principles are at work when choosing the next Pope. As a bit of a nod to the Roman Catholic Church, the job of Pope is not merely as a symbol for it; he has an arduous and thankless job of deciding the direction of the Church and its flock with regards to propagating its faith. It requires a balance between adherence to fundamental beliefs, and a willingness to adjust to a rapidly changing world where the flock's number is slowly dwindling.
Filipinos may not have had an opportunity to shout Pinoy Pride, but the fact that Pope Francis is a Jesuit will most likely have a subgroup within the Filipinos tooting their own horns:
The Pope is a Jesuit! Atenista pride yeah!
Pope Francis, Cardinal Jorge Bergoglio, is supposedly a Pope of several firsts. He is the first Jesuit to become Pope. He is also the first Pope since Gregory III who isn't European-born. Naturally, he is the first from his country, Argentina, ever to be elected to that position.
He is supposedly known for living a simple, austere life, and is known to shun an ostentatious lifestyle. Whereas other cardinals have their own cars, for example, he would rather supposedly take public transport. He is also known for being very concerned with social inequality, especially around Latin America.
Payak na pamumuhay – doesn't that sound familiar to Ateneans, hmm?
The question is, though, are you still going to hold on to your Catholic beliefs, if you are one, once you learn of the hard line stance Pope Francis takes with regards to LGBT's (lesbian, gay, bisexual, transgender)? Are you still going to consider yourself a member of the Church once this Pope reveals the extent of his conservatism?
If I remember correctly, the Church discourages "supermarket" Catholicism, where you can pick the things you want to believe in and ignore the rest. It's either you believe in every detail of the stance that the Church takes, or you don't.
In the context of the Philippines, I guess it was wishful thinking to assume that Pinoy Pride died when Manny Pacquiao lost to Juan Manuel Marquez last December, coincidentally at the same time that typhoon Pablo hit southern Mindanao. An additional nail in the coffin would have been Janine Tugonon losing the Miss Universe 2012 last December
To briefly define Pinoy Pride, or Filipino pride here, it is "a knee-jerk reaction of Filipinos whenever someone with a semblance of Filipino blood makes it big outside the Philippines."
The trouble with Pinoy Pride is that Pinoys want to take the individual accomplishment of that Filipino, and brandish it as one of the entire ethnic group. In other words, they ride on the success of one individual and use it as an excuse to claim that their society is great, even when their current social, political, and economical situation proves otherwise.
For a more detailed explanation of Pinoy Pride, check out this article of mine.
Pinoy Pride, I guess, never truly dies; it merely lies dormant and waits for the next individual Filipino to make a name with the rest of the world. Then it sticks itself like the leech it is.
Could you imagine the outpouring of Pinoy Pride that would have occurred if Cardinal Tagle was elected? A Manny Pacquiao win, a concert from any or all of Jessica Sanchez, Charice, and Arnel Pineda, all combined would pale in comparison.
And yet the ugly side of Filipino Catholicism and Filipino society will not be able to keep from showing itself to the rest of the world.
Filipinos are a judgmental and self-righteous people. They would have taken the election of a Filipino Pope as validation that Filipino Catholicism is not only important to the world, but superior. Filipino society values religiousness but not spirituality. Only in Filipino society can sex be not openly discussed, while at the same time philandering and machismo, with emphasis on having as many women as possible, is tolerated and even encouraged.
We've already got enough people here claiming that "God is on their side" to emphasize whatever righteousness they believe their causes have. We don't need a whole nation collectively declaring it.
What is it that Filipinos often like to say? That if you don't get what you want, then God has better plans for you? I think, then, that we should stop worrying ourselves to death over what God's plans are, and focus more on carving a path in life where we are in control.
Until then, we can only dream of the day where our sense of self-worth doesn't require the validation from others that we indeed possess good qualities.
[Photo courtesy: The Punch]
А вы, друзья, как ни садитесь, все в музыканты не годитесь. – But you, my friends, however you sit, not all as musicians fit.