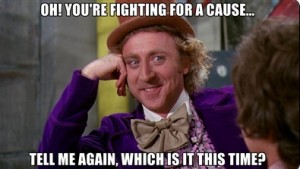 Nope, this won't be another 2,000 word entry just about Saving Manila Bay or Saving Baguio Pine Trees, I think people have had enough of that for now.
It's a Saturday morning in the Philippines. Â The sky is bright baby blue, the air is cool, birds are chirping in the yard, one of my house help is sweeping the huge front yard, and the other is cooking bacon, eggs, and hotcakes on the iron griddle I bought from a neighbor's yard sale.
I am sitting here behind my desk in my home office wondering about how the words "paid hack" or "paid cyber hack" could in any way be a proper response to the arguments I've put forward against the causes or advocacies I've encountered lately.
Project Save 182 up in Baguio City, protesting the balling of 182 pine trees on Luneta Hill for about a year now, is encumbered by so many inconsistencies which they haven't answered or responded to appropriately. Â Why protest just the balling of trees in Baguio and why protest the growing conversion of entire mountains into vegetable farms (pesticide laden, fertilizer soaked, and GMO laced)? Â Why only the balling of Luneta Hill pine trees and not the one of Goshen or St. Louis' University? Â Why make it seem that SM Baguio is entirely responsible for all the environmental damage happening in Baguio City?
When I first brought these issues up, I was accused of throwing them a "red herring" and then this progressed to being called a "paid hack", the second accusation really doesn't answer the issues raised against their cause but rather ungraciously sidestep them.
The only thing I can say about being accused of being a paid hack is that an unpaid hack might be worse and a hack that has to pay to hack is even more pathetic. Â Recently, it seems I've been promoted and been called a paid "cyber hack" — which I assume to be the same as a "hack", only more "techie".
Personally, I would prefer to be called a troll.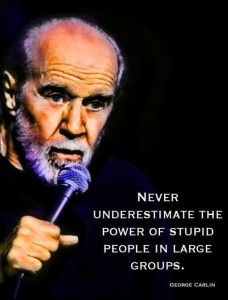 Going back , unlike mining or building construction, vegetable farming is virtually unregulated in Benguet. Â I doubt if the Department of Agriculture sends field personnel to check if upland vegetable farms are over-saturating the soil with fertilizers or over-spraying it with insecticides/fungicides. Â I doubt if the government still checks whether or not slash and burn practices have really been stopped.
The truth is, vegetable farming in Benguet accounts for the loss of hundreds if not thousands of hectares of Benguet Pine forests. Moreover, scientific studies have already pointed out, time and again, that fertilizer/pesticide intensive farming produces more green house gases than mining or building construction. Â Never mind, too, that the primary cause of water run off during the rainy season is caused by the decimation of "water sheds".
Funny thing is that it seems SM's development on Luneta Hill, being just a small portion of the entire Baguio City, is being blamed for a whole gamut of "environmental evils".
Considering these two things, SM possibly killing a few dozen trees in the process of balling them up and thousands of farmers creating tons of green house gases/causing water run off every year, which do you think ought to be stopped first? Â Which of the two should cause greater uproar?
I'd say it would have to be unsustainable vegetable farming, but that's just me. Â I don't know if you've really thought that the salad or vegetable dish you're about to eat is actually causes more Climate Change than a mall's parking lot.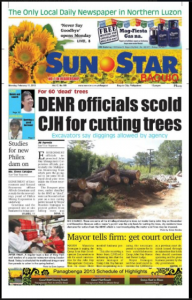 Oh! And just to just show sincere and well thought out Project Save 182 is as an environmental conservation movement, just consider that Karlo Altomonte (a prime mover for Save 182) actually held another concert at Camp John Hay — a real tree killer corporation, worse than SM Baguio.
(I wonder if Karlo is related to former Advertising Big Boss Emily Altomonte Abrera, a key figure at the head of the "Save Manila Bay" movement?)
In fact, it was the tree balling in Camp John Hay that Michael Bengwayan, another Save 182 proponent, cited in the court case to prove that balling has a tendency to kill trees.
Here's an excerpt from Sunstar Baguio announcing Karlo Altomonte's Open Space 2013 event in Camp John Hay:
"Open Spaces 2013 – The 3rd Baguio Music Festival" promises to be an exciting showcase of musical talents. And as in the previous festivals, this year's four-day event will take audiences on a diverse musical journey highlighting the richness of the local music scene in various venues at Camp John Hay.

"What are the events lined up this year? Maybe we can jam, just like before," Abby Clutario of Manila-based group, Fuseboxx asked Open Spaces Executive Director Karlo Marko Altomonte.

The group performed during the 2011 launch and is returning again this time as one of the featured bands at the festival's finale.

On February 14, "Open Spaces" 2013 opens with a Valentine's Day concert at the Bell Amphitheater, Camp John Hay entitled, "Arias," which features some of the city's foremost classical and musical theater vocalists.
The thing is Camp John Hay that managed by John Hay Management Corp. (JHMC)Â  Operations Group Manager Frank Daytec, the brother of Lawyer Cheryl Daytec Yangot — a prime mover of Save 182. Â Daytec-Yangot is the wife of Acting Baguio Vice Mayor/Councilor Leandro Yangot, a JHMC board member and mother of Councilor Karrmin Yangot.
It seems that Altomonte, Abrera, and the Yangots are somewhat connected, whether loosely or tightly I have no way of knowing right now. Â Not that it really matters at all, even if you factor in that a common personality involved in Save 182 and Save Manila Bay is Jim Libiran.
Rounding up the gang of people involved in the "Save" brand of movements on the internet are Lory Tan (CEO of WWF), Paulo Alcazaren (Columnist, Architect), Bobby Capco (former Arroyo Undersecretary now PR guy), Sylvia Mayuga, Ninotcha Rosca, and others of the somewhat "social set".
If at all something links them as a common denominator, it may be something that George Carlin touched on in his often quoted "Save The Earth" spiel.
"We're so self-important. Everybody's going to save something now. "Save the trees, save the bees, save the whales, save those snails." And the greatest arrogance of all: save the planet. Save the planet, we don't even know how to take care of ourselves yet. I'm tired of this shit. I'm tired of f-ing Earth Day.

"I'm tired of these self-righteous environmentalists, these white, bourgeois liberals who think the only thing wrong with this country is that there aren't enough bicycle paths. People trying to make the world safe for Volvos.

Besides, environmentalists don't give a shit about the planet. Not in the abstract they don't. You know what they're interested in? A clean place to live. Their own habitat. They're worried that some day in the future they might be personally inconvenienced. Narrow, unenlightened self-interest doesn't impress me.
Which probably why Jim Libiran's tweet the other day on why he opposes a reclamation project on Manila Bay seems to underscore what Carlin said a few years ago.

Now, if you are asking why I am taking issue with these "causes" and their big name "proponents", it is basically because I am a blogger and not a journalist. Â Perhaps someone who explained best the blogger's role in the universe of media and critical discussion is Andrew Sullivan of The Atlantic.
…before the blogosphere, reporters and columnists were largely shielded from this kind of direct hazing. Yes, letters to the editor would arrive in due course and subscriptions would be canceled. But reporters and columnists tended to operate in a relative sanctuary, answerable mainly to their editors, not readers. For a long time, columns were essentially monologues published to applause, muffled murmurs, silence, or a distant heckle….

…Unlike newspapers, which would eventually publish corrections in a box of printed spinach far from the original error, bloggers had to walk the walk of self-correction in the same space and in the same format as the original screwup. The form was more accountable, not less, because there is nothing more conducive to professionalism than being publicly humiliated for sloppiness.

…In an era when the traditional media found itself beset by scandals as disparate as Stephen Glass, Jayson Blair, and Dan Rather, bloggers survived the first assault on their worth.

In time, in fact, the high standards expected of well-trafficked bloggers spilled over into greater accountability, transparency, and punctiliousness among the media powers that were. Even New York Times columnists were forced to admit when they had been wrong."
Nowhere else is this kind of journalistic accountability more pronounced than in Get Real Philippines — as even its webmaster's views is subjected to an acid bath of criticism. Â This is perhaps why its readership base has expanded to 10,000 and why its community of more than 3,000 people on Facebook is so divergent, taking the phrase "Beg To Differ" quite seriously.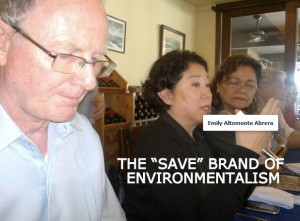 It takes a lot of guts and brains to write for this blog, especially if you consider that the webmaster is one of the most popular political and social blogging critics since before the blogosphere.
If at all there is anything false, misleading or illogical in any of the writings on this blog, it will get found out and it will get bashed to bits.
We don't rely on credibility based on our last names, degrees, or titles. We rely merely on our ability to dissect issues and present it without the hype or appeals to emotion.