Thanks to the heightened intensity with which "social news network" Rappler is covering the 'Team PNoy' campaign in the Philippine hinterlands, we are getting a fair idea of how far the quality of Da Pinoy Vote has progressed in the last 27 years. Aside from joining the administration ticket on their campaign trail in northern Mindanao and diligently "live-tweeting" the speech of President Benigno Simeon "BS" Aquino III in Cagayan de Oro City, "reporter" Natashya Gutierrez wrote how "when President Benigno Aquino III joined his bets, the stadium squealed excitedly, welcoming him warmly as if a celebrity."
Apparently, the sights and sounds over in that "rally" were quite familiar:
There was a lot of dancing, singing, and a whole lot of squealing.

In Misamis Oriental and the city of Cagayan de Oro (CDO), supporters of all ages wore simple clothes, but brought extraordinary energy. Tagging along their children, friends and family members, thousands of voters responded enthusiastically to questions of candidates on stage and swayed with the jingles of the senatorial bets booming from the speakers.

Top-ranked candidate Loren Legarda was greeted with cries of appreciation when she came up on stage in Alubijid, Misamis Oriental in front of one of the smallest crowds thus far. In response, an upbeat Legarda asked a 70-year-old lady in the crowd to dance to her jingle, which she did openly for the amusement of the crowd and the coalition.
Sounds like a real smart bunch of voters over there.
As if stirring up that Kool Aid party weren't enough, the latest "survey" results on who the "leading" candidates are in this year's elections have just been published by polling firm SWS. And the cheering squad, as expected, are now all over it delivering "insights" gleaned from the numbers in fast-breaking reports…
Spirits are high among Team PNoy as the latest Social Weather Stations (SWS) survey revealed that 9 of the candidates in the Magic 12 are members of the coalition.

Presidential cousin and social entrepreneur Bam Aquino, the biggest winner in the surveys rising 8 survey points from number 15 to number 9-10, said his volunteers were cheering and jumping upon hearing the news. He expressed his gratefulness for the improvement and thanked his volunteers for their hard work on Tuesday, February 25 in Alubijid, Misamis Oriental where Team PNoy was hosting a sortie. (Read: What can a 6th Aquino bring to the Senate)

"When I heard the news, I kept quiet, prayed, and said thank you to volunteers," he said in Filipino.
Seems like the spirit of Pinoy-style fiesta elections cannot be dampened by the fact that Mindanao still reels from a series of devastating tropical cyclones that had swept through it in recent months. Of course not. Not when you've got celebrities like Leah Navarro lending her glitz to the occasion…
Daghang salamat CDO! 20k attended Team PNoy rally at Sports Complex. As sweet as pastel. 🙂
Oh wait, storm devastation does serve a purpose for campaigning politicians…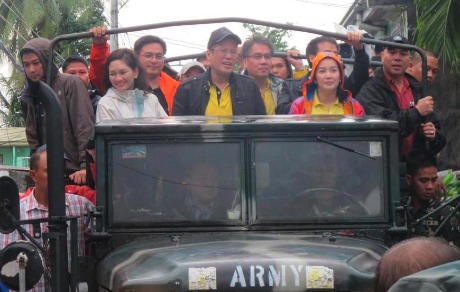 As to how different the longer-term outcome of this noble "democratic" exercise might be, don't hold your breath as one cannot sensibly expect different results while doing pretty much the same uninspiring thing all over again…
As in every election in this country, we seem to be saddled with a group of candidates who are largely unworthy of the offices they seek, have few concrete ideas, are competing on the basis of name recall and political association, and who will be selected by a process that is, from top to bottom, unreliable and inefficient.
That's entertainment. That's Philippine politics.
benign0 is the Webmaster of GetRealPhilippines.com.