The recent issue of tour guide and activist Carlos Celdran's imprisonment raised discussions on "offense." Some say the Catholic Church was onion-skinned and should not have taken offense at his action. Thus, Celdran's supporters would say that the church was oppressive by using its power to imprison an opponent.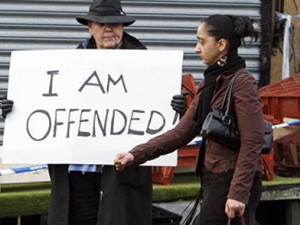 Some also hit Article 133 of the Penal Code under which Celdran was cited, saying it is outdated and needless, and should be scrapped. Some have cried foul over it, calling it a tool for protecting the Church against any sort of criticism. But is it? My own pondering on the issue found otherwise.
Another question is, are Celdran, and other parties who are angry at the Church for its anti-RH stance, entitled to a purported "right to offend?"
Firstly, why would people so vehemently defend their "right" to offend? Because they enjoy another's squirming when receiving an offense? Schadenfreude? That would be immature and uncivilized.
I believe there is no right to offend. Because "offend" in the law's sense is having malice for or intention to harm someone. That is also why they call a violation of a law an "offense." And ethics and wisdom dictate that if you have malice, or wish evil for someone, then you are one of the dregs of society. You are not "helping the Philippines," which some critics of GRP accuse us of failing to do.
Some people say that offending someone or something is the only way to draw attention to a topic, or is the best thing you could to do to try and at least discomfit an "oppressor."
But does it really help?
It likely does not. The Spinbusters article puts it nicely:
It doesn't even matter that what Celdran disrupted was not a Mass. The same law applies in case Celdran summons the courage to invade the Quiapo Golden Mosque and call the ululating imams terrorists; or sneak inside the INC central spaceship, er, temple, and call the late Felix Manalo a rapist and a charlatan. There's a reason Celdran's offense is still in the statute books along with sundry crimes like slander and estafa.

What Celdran did was a publicity stunt, not an exercise of freedom of speech. He can't badmouth the bishops in their own cathedral any more than we can show up unannounced at his dinner table and call him a retard and a hopeless reprobate. In the same vein, we can't disrupt the editors of PDI in the middle of their story conference just to exercise our free speech and call them out for being jaundiced journalists.
The article also points out that the "People of the Republic of the Philippines" is the prosecuting party. The government is the one charging Celdran. Not the Church.
Loudly and intrusively offending and insulting people is a juvenile, primitive, usually unthinking and unnecessarily noisy action. It is not even freedom of expression, but rather an abuse of it, in my view. That is what Article 133 of the Penal Code may seek to impress on people. If you seek to actively offend people, you're not helping. You're only KSP (Kulang Sa Pansin).
But let's look at the other side. Say, if someone is "offended" by, let's say, your being dark-skinned, by you're being a Goth, your being a lover of metal music or by any faculty of yours that is natural or is harmless to others? Sometimes there are people offended by you being yourself. Then it means the other party chose to be offended and is making a mountain out of a molehill. Let's say, a person practices religion, but an atheist is offended by it. The atheist is the one who chose to see someone else's practice as offensive and is actually offending themselves. The religious person never offended them (and the one who feels "insulted" is actually KSP). I agree that there are such situations.
But another rule actually operates in the case at hand: what you do defines what you are. If you offend others loudly, with the intention to destroy or humiliate based only on little or no evidence, what does that reflect about you? It may mean that you have no respect for the rights of others.
Article 133 and the part on libel exist in the Penal Code to remind people of their responsibilities on what they say and do to others. If you say something that may harm a person, even emotionally or mentally, then you should be held responsible for it. You can't just get away with anything you say or do. You can't go scot-free. Everything we do has consequences.
What if the defaming statement leads to a person losing their job or causing their family to leave them? And this happens even if the charge is proven false? Then the defamer has wrongly ruined a person's life! That's what anti-defamation laws are trying to prevent (With the DOJ now working on a new Criminal Code, I wonder how it will word the new anti-defamation provision, if there still will be any). Your "right to offend" ends when someone else's security in life is compromised.
The problem with some "free speech" advocates is that they want to be able to insult or offend others without reaping the consequences. In other words, they want impunity (one of the parts of the great Filipino Cultural Trinity of dysfunctions). They want to escape responsibility, and want no punishment even if their words create unreasonable damage. If they say the person they defamed deserves the misfortune encountered through the defamation, then they prove to be no better than society's "dregs." This certainly adds to, rather than helps solve, the dysfunctions of our country.
If we criticize the government and others, we do so in our own space and without any need to invade anyone else's privacy, or without destroying someone's life or an institution's reputation. Basically, the lesson here is, you may have the right intention, but the way you do it matters. The end does not justify the means.
I believe, as my cohorts here do, that what Filipinos embrace as their culture is what actually pulls the country down. And those who seem to be anti-dictators, who may also believe themselves to be "heroes," are the real dictators.