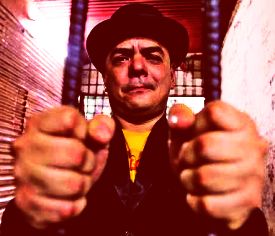 Let me first say that I have no beef against Carlos Celdran on a personal level. Heck, I don't even know the guy. The stunt that he did back in 2010, well… that was something he felt he had to do to make a point, I suppose. While I do admire his courage (and creativity) to stick it to the clergy in front of their faces, he still broke the law and I think the judgment on his case was the right one. It doesn't matter if the law on his case is "archaic" or if we feel that freedom of speech ought to trump ridiculous laws. It doesn't even matter if we feel that the penalty of imprisonment is too harsh for such a stunt pulled. Dura lex sed lex, is the message. If we have a problem with the law, it is not the Church that we should target our disdain on. Instead, we should get our legislators to change the laws we are objecting to. So now that those points are out of the way, I would like to focus on Celdran's vocal supporters, particularly a few professed atheists.
What's up with the outrage of these atheists? We hear shouts of Catholic Church oppression here, religious tyranny there; these guys are starting to sound like a bunch of folks who are angrier than a pack of jackals with hemorrhoids! It seems to me that these folks would not hesitate to pounce at any chance they could get to bash religion particularly the Christian fold. Never mind that their hero Celdran himself said that it is not the Catholic Church itself that sued him but laypersons of the Catholic Church, for his atheist supporters it seems that the Church is still to blame because its followers are defending the Church with so much zeal. It's like saying that:
1. The Catholic Church opposes Celdran's views.
2. Person X is a zealous adherent of the Catholic Church.
3. Person X sued Celdran.
4. Therefore the Catholic Church is to blame because of its influence on Person X.
Well, if that is the case then I suppose we could blame atheism for its influence on serial killer Jeffrey Dahmer for brutally killing seventeen men and boys. Afterall, Dahmer did say: "If a person doesn't think that there is a God to be accountable to, then what's the point of trying to modify your behavior to keep it within acceptable ranges?". Of course Dahmer converted to Christianity when he was already in jail but don't we wish he became a Christian before he murdered many people? That way, the Christian influence might have just resulted in lawsuits against heckling atheists rather than serial killings. Anyway, so is it fair game to blame the influence of atheism to Dahmer's murderous acts?
No! Of course not! At least not to the atheist supporters of Celdran. Blaming the Catholic Church is okay because Celdran stood up for something the atheists like – the RH law, which the Catholic Church opposes. However, we better not dare blame atheism for Dahmer's notorious acts because it wasn't atheism that killed Dahmer's victims but Dahmer's deranged mind. Now why is it okay to blame the Catholic Church (who incidentally did not sue Celdran) or the Church's influence on the actual plaintiffs but not atheism or atheism's influence on Jeffrey Dahmer? Is it because Dahmer may have committed the crimes not because of atheism but because of his mental condition? Well isn't it possible as well that the plaintiffs sued Celdran not really because of the instructions or influence of the Church but because their individual religious sentiments were actually offended by Celdran's act?
It seems to me that Celdran's atheist supporters are hard on the Catholic Church because their outrage fits perfectly well with their assumptions. Of course their assumption always hinges on Christian Church tyranny and oppression. Why are these atheists tolerant of offending a party (the Catholic Church, its clergy, and its adherents) only if this party belongs to a category that these atheists do not like? This is the problem with the phony outrage of these atheists – the outrage isn't really about the wrong application of the law but about not getting what they want (which is to flip the bird to the Church and get away with it). For these folks if Dan Barker and his demeanor were to offend a Christian, you wouldn't hear an outcry. However if a priest prays at the World Trade Center Cross, atheists would sue the heck out of this priest and the outrage lasts as long as a case of herpes.
I suppose by raising all these objections to the phony outrage of atheists I will be lambasted till Kingdom come. That's fine as I understand this comes with the territory. Hmmm… perhaps they'll dub me as someone who supports religious credulity? I suppose I should be expecting to be labeled by some passionate atheist readers as someone who supports religious tyranny and bigotry. Maybe they'll call me an idiot for questioning their support of Celdran or for sounding so supportive of the Church. Gee… heaven forbid that they throw the worst insult an atheist can give to another human being – and that is to be dubbed as a "Christian".
[Photo courtesy Inquirer.net.]
Calling a spade, a spade…