In dealing with your enemy, the best weapon is patience. Vindication could take a while but time will eventually reveal the true nature of your opponent. When you feel that your enemy is unfairly prosecuting you, do not worry. You won't even have to say much because insecure people in general have this tendency to talk too much. The more they talk, the more they expose their irrational behavior and likewise prove their own inconsistency to other people.
Initially, there will be people who will listen to what your opponent has to say but once the novelty of his news wears off, the same people will get tired of hearing the same rants over and over especially when it becomes obvious that the stuff your adversary has been spreading around is not only inaccurate but grossly exaggerated if not completely false.
It is inherent in humans to look for faults in other people. It's like a coping mechanism — to find dirt or see who is doing worse than them just to make themselves feel better. This is the reason why people are intrigued when there appears to be a showdown between two opponents; they would love to catch a glimpse of a fight. While there are others who can contain themselves and take the rational approach, which is to listen to both sides of the story before jumping to conclusions, others can't help but quickly join in throwing the proverbial stone after only hearing one side or without using their critical analysis. Truth be told, you will have to wait things out a while when the number of men and women who do not use their critical analysis outnumber those who do.
Take the case of former President Gloria Arroyo. The incumbent President, Benigno Simeon Aquino has been relentlessly going on and on about GMA's case since stepping into power in 2010. It has been BS Aquino's Number One priority to pursue the prosecution and persecution of GMA that he hopes can lead to her imprisonment. Majority of Filipinos support him on this even if some of what he is saying are baseless. BS Aquino and his mouthpieces have been telling the Filipino people that he has "vowed to triple government efforts to pin down his predecessor."
In June 2011, Malacañang spokesperson, Edwin Lacierda went on record to say that they "don't want to file a case which is half-cooked" and that they "will file our cases when there's evidence to do so, when evidence warrants, not based on innuendoes, not based on half-truths, not based on propaganda."
In November 2011 Lacierda also bragged that the filing of charges against GMA were on track:
"There are cases already that have been filed before the Department of Justice and the Office of the Ombudsman. We cannot speak for the Office of the Ombudsman, insofar as the DOJ is concerned, the cases are in the preliminary investigation stage. We do not want to preempt the Secretary of Justice as to when it will be filed. Certainly yes, cases have been filed, and this is public knowledge, cases being filed by some congressmen and also by private individuals," he added.
Fast forward to 2013, almost three years of Malacañang's unyielding commitment to putting GMA behind bars has only resulted in the dismissal of the charges. Obviously the charges against GMA have been filed even when the evidence was still "half-cooked". And it seems like the evidence were based on "innuendoes, half-truths and propaganda".
The complaint for criminal negligence that was filed against GMA in connection with the Maguindanao massacre in 2009 was dismissed by the Manila Prosecutors' Office for lack of evidence. In a news report, "the Manila Prosecutors' Office said there is nothing to show that Arroyo was negligent in her duties that could have prevented the mass murder."
The resolution cited "There is no evidence presented to show criminal negligence on the part of the respondent. The allegations made are more of generalizations and conclusions without supporting proof to show personal culpability of the respondent." And that Arroyo "has no direct causal connection nor even proximate cause of the Maguindanao massacre."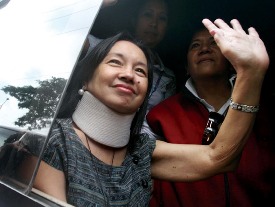 Well, it's good to know that there are still people who can use their sound judgment in Philippine courts. Majority of Filipinos seem to be lining up to throw some stones at GMA just because BS Aquino says she should be accountable for all the transgressions that happened during her term. Following his logic, then BS Aquino should be accountable for all the alleged transgressions that are happening during his term. Someone even said that the Ampatuans came into power during Cory Aquino's term. In that case, anyone who accuses BS Aquino's late mother of being accountable for the Maguindanao massacre would be in line with her son's reasoning.
One can be forgiven for thinking that Malacañang is just trying to hide their embarrassment. Their lack of coordination is evident in their press statements. After Lacierda's promise of being thorough, another spokersperson, Secretary Ricky Carandang distanced Malacañang from the dodgy cases and said that third parties filed those cases. He also admits that those who filed "may have not had the case build-up" or not conducted "the proper investigation". He assures the public that Malacañang Palace is not "disturbed" by the series of dismissals. I don't think he is really fooling anyone by saying that though.
In an article from The Daily Tribune, columnist Louie Logarta itemized the "fast-fading cases against GMA". He highlighted some cases that were thrown out by the Department of Justice. One of them was the non-bailable crime of plunder filed against her and a few other former cabinet members in connection with the allegations that the sale of over P1 billion of prime land where the old Iloilo Airport used to sit to Megaworld Corp. in October 2007 was illegal. The case was dismissed because the whistleblower did not provide any evidence to prove the respondents had "acquired ill-gotten wealth in the manner described under Section 1(d) of the Anti-Plunder Law."
The same thing happened to the plunder case filed against GMA before the Office of the Ombudsman in connection with the alleged misappropriation of some P530 million in funds of the Overseas Workers Welfare Administration (OWWA). The case was also dismissed after it was concluded that the funds "reached the intended OFW beneficiaries as their contingency fund during the ongoing Middle East crisis which commenced when the Bush administration attacked Afghanistan and Iraq."
Some other ongoing cases are in danger of being dropped or dismissed due to lack of credible witnesses or probable cause. One of them is the alleged rigging of the 2007 senatorial elections. The sole witness, former Maguindanao provincial engineer Norie Unas, is "considered unreliable as it is uncorroborated or hearsay evidence". We should be able to predict the outcome of this one easily. The filing of this case was quite suspect. Some said it was done in haste just to prevent GMA from leaving for her medical treatment abroad in 2011.
GMA has been under hospital arrest ever since and it looks like they want to keep her there even when the case seems weak. GMA's lawyer Benjamin Santos recently cited that her right to a speedy trial is being denied since the Commissions on Elections who filed the electoral sabotage case wants to suspend the trial for two months. This means further delay for GMA before she could see her day in court. The lawyer for Comelec is trying to justify the delay saying that their witnesses — Comelec personnel will be involved in the preparations for the senatorial elections this coming May. Their excuse is a bit lame. With the number of Filipinos needing jobs, it is surprising that Comelec can't even hire temporary staff for this coming election just so GMA's trial can proceed uninterrupted.
If BS Aquino can't get GMA on vote rigging, he will try her on plunder again and again. Along with some people involved with Philippine Charity Sweepstakes Office (PCSO) during GMA's term, a case was filed against her for the allegedly conspiring to pocket intelligence and confidential funds of the PCSO amounting to some P365 million. Unfortunately, the main witness admitted that there is no solid proof to link GMA and her co-accused to the allegedly plundered public funds. The incompetence in BS Aquino's administration is very evident. I'm surprised no heads have rolled.
Don't get me wrong, I am for the prosecution of corrupt government officials, I just wish BS Aquino's minions did their homework first. The problem is, they keep shooting first and asking questions later. If they don't shape up, GMA is going to start looking like a victim of persecution and be admired for her steely stance despite her medical condition. She certainly knows a thing or two about dealing with her enemy. BS Aquino has shown his true nature, indeed. Like what someone once said, the thing with some people, they come across as okay enough at first, at least to a lot of people. You only fully grasp how dumb they are later on.
In life, things are not always what they seem.