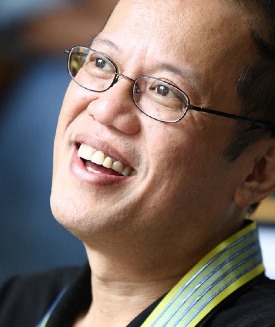 The behaviour of a large complex system like the Philippine economy cannot be described using the preferred indicators of a world economic body that mainly represents the interests of the global private sector. Even less credible are people who rely on the much-vaunted Gross Domestic Product (GDP) metric as the kernel of their efforts to spin their "good news". Yet that tunnel-visioned viewpoint is exactly what Malacañang propaganda chief Ricky Carandang uses to frame the "success" of President BS Aquino's "harvest" in this year's World Economic Forum held in Davos, Switzerland…
The IMF's higher growth forecasts of 6 percent this year and 5.5 percent next year for the Philippines represent a substantial upgrade from its earlier forecast of 4.8-percent growth for both years.

"They said that based on their analysis, things were looking very positive for the Philippines and that they were confident that the growth targets could be attained, given the momentum that we've had," Communications Secretary Ricky Carandang said in a briefing for Filipino reporters.
In real terms, however, the well-being of ordinary people as a whole is the ultimate measure of how well the country is doing — a property that GDP as an "economic indicator" has consistently failed to correlated with. Manila Times columnist Ben Kritz, using just a small set of indicators illustrates how that favourite be-all-end-all measure of economic health fails in the Philippine setting in the context of other measurable factors…
The population continues to grow at a little less than half a percent a quarter, but as it does so, GDP continues to shrink in real-time terms, price inflation remains steady within a range between 2.6 percent and 4.0 percent and the combined unemployment-underemployment percentage remains stuck at around 25 percent. The government can claim what it likes, simple math says everyone today is a little worse off economically than they were yesterday.
It's not how much you make, it's how much you spend. And in a country like the Philippines where people are in the habit of entering into commitments they are inherently unable to honour, poverty will always rule indeed.
For that matter, there is very little evidence that heads of governments (who they are or what they do) serving over a short period (such as the length of the average presidential term in the Philippines) apply much relevant influence over the long-term overall trajectory a national economy takes.
Beautiful gardens flourish not in rental properties but in owner-occupied houses.
It has long been known, as a matter of fact, that much if not all of President BS Aquino's claim to the economic "achievements" that have been reported during his term are underwritten by foundations laid during the nine-year term of his predecessor former President Gloria Macapagal-Arroyo. This simple reality always becomes starkly evident whenever Aquino stammers through an interview with real journalists — the sorts who are cluey enough to ask the right questions.
Back in mid-2012, top-notch CNN reporter Anna Coren with just a handful of such questions undid millions of taxpayers' pesos spent by Malacañang's propaganda machinery in efforts to prop up the illusion of economic progress in the Philippines…
When Coren asked PNoy how he would rate his progress on his promise to eradicate poverty, his answer was so far off course. Instead of giving Coren facts and figures, PNoy simply gave the journalist a narration of how when he was a congressman he spoke to about 80 graduating nurses and asked them how many of them were willing to stay and work in the country; he noticed that there were only about two or three students who raised their hand. To him this meant that in the past, the Filipino people were voting with their feet. PNoy didn't say how many people are still willing to stay in the country now though. In other words, his response to Coren's question was not really a valid answer.

PNoy wasn't specific about how he formed the perception that poverty in the country is on its way out. Coren was too polite to bring up the poor's favourite dish pagpag. Maybe PNoy didn't want to hear about it too just like how Senator Tito Sotto didn't want CNN featuring Filipinos eating their meals from garbage bins. Besides, I don't even know why PNoy thinks that Filipinos who are forced to leave have other options other than to look for opportunities abroad. And if the OFWs weren't willing to sacrifice leaving their family behind to look for a job overseas, our economy would be worse off without their remittances. It seems PNoy doesn't even know what he is talking about.
The question that remains unanswered, Mr President, is quite simple, really:
Where are the results?
Filipinos want real results and not just indications of economic health. The power to achieve those results is not in the hands of any president, much less one whose only claim to the throne is popularity.
When Filipinos no longer need to work abroad to feed their non-parented offspring, when Filipinos no longer rely on a steady inflow of cheap trinkets from China to serve as a pretense of robust "economic activity", when Filipinos learn to make stuff that people want and need, and when Filipinos learn to spend income rather than principal to sustain their way of life, only then can Filipinos consider themselves to be truly prosperous.
[…] Mr. Aquino said the Philippines—with a story to be proud of—was now willing to boost its participation in global events. "We can participate in the world stage and not feel—how should I put it—like a second-class citizen. Yung parang hindi na nakakadiyahe o nakakahiya na magpapa-participate tayo dito. Meron naman yata tayong puwedeng ipagmalaki na rin (It's no longer shameful for us to participate because we have something to be proud of," he said.
Whatever you say, Mr President. In the end, Manny Pacquiao got his Forbes Park home, but he will never be admitted into the prestigious Manila Polo Club. In the same way, the Philippines' representatives may acquire their right to strut around "global events" in a suit and attended to by a planeload of aides. But to earn real respect and admiration requires an effort from the bottom-up.
[Photo courtesy Flickr.com.]
benign0 is the Webmaster of GetRealPhilippines.com.